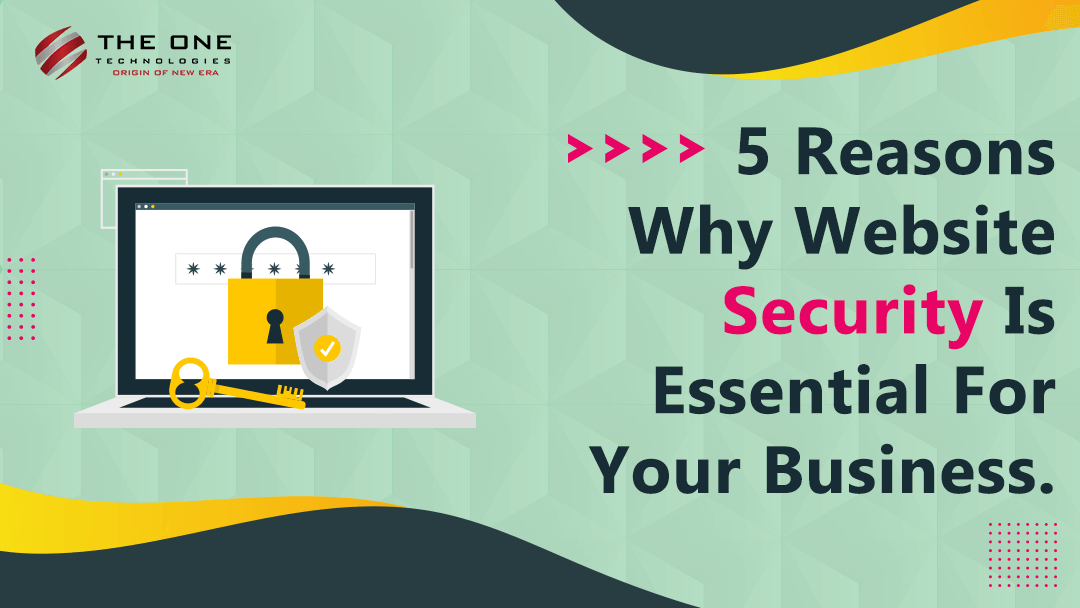 In this digital era, the year 2020 so far could be called the year of ransomware. Every day you will find some news of ransomware attacks and cyber threats. Based on the trends so far, we can expect that the situation might get even worse.
However, many organizations are aware of these attacks and putting their efforts to protect their business and websites against ransomware. Being secure and safe on the internet becomes more and more essential every day. It's really important to protect your website and the data it holds now.
With the web development of more sophisticated cyber threats, website security is gaining more attention as business owners are keen on protecting their websites and data from dangerous cyber threats and ransomware attacks.
As we know cybercrime is indeed a vast field and cybercriminals are always on the verge of looking out for weakness in your website.
Cyber and ransomware attacks are mostly caused by malware that can:
Steal personal data and traffic
Crash or slow down your website
Eliminate your website from the search engines
Steal sensitive information of customers
Do you know?
56% of all internet traffic is generated from an automated source such as hacking tools, scrapers and spammers, impersonators, and bots.
So, after knowing this fact, what really do you think about your website? Is it really protected and secure from hackers?
Therefore, website security is very important to protect your business, brand, and reputation and also prevent financial loss and shutting down of your business website. By implementing website security, you will be able to protect your reputation and retain customers.
As a website development company, we have a long list of reasons why website security is essential for your business. However, we can't list all of them down here, we can narrow it down.
Here are the five most essential factors why you should consider stepping up your website security.
Why Is Website Security Important?
The advent of websites was a huge breakthrough when it came to leveraging the potential of the internet. They have evolved over the years and are now important to grow the businesses. As important as these websites are for your business, they are like open doors for cybercriminals.
Let's walk through some of the important reasons on a commercial level.
1. Loss of Business Reputation and Revenue
For business owners, it's essential to understand their market reputation and impression in the eye of customers. And none of them get many chances to create and maintain it. If potential customers visit your website and find malicious malware attacking their personal information, then even forget loyalty, your website will go down the drain. This would cause your brand and reputation to be damaged. Customers will choose your competitors over you.
Additionally, every website should have been well-developed and secured. Websites with not HTTPS integrated are marked as insecure websites. They restrict your customers from visiting and sharing their data on your website.
Once your website is attacked and gets hacked, customers will not choose your service. This will lead to losing customers and business reputation. The potential customers cannot get access to the network once it's hacked and added to the Google blacklist.
Thus, your brand damage would be viral over the internet within no time.
2. Not Easy to Recover from Blacklist Tag
Imagine waking up one day, knowing that your website is completely wiped off the world of the Internet.
Well, that's scary. Isn't it?
But it's true. Yes, Google does blacklist thousands of websites every day. Thus, it causes about 95% loss of organic views or potential customers. Well, this is the scariest scenario for any business.
As a digital marketing company, it's important to secure your website and make it SEO-friendly (maintained, updated, and free from even trolling). If your website is hacked, search engines immediately come to know about it. Then they check their existing blocklist or potential customers from finding your website through the search engines.
Let me throw some spotlight on the facts that recovering your website from a blacklist is not all that easy. It takes time to remove from it and causes a major loss of revenue and sales. It's like rebuilding an image. As the webmaster, you need to petition each server individually in order to remove your website from the blacklist, once the website is secure again.
The longer time you take to act, the more companies you will need to clear your record with. This can be a time-consuming process and expensive endeavor that could be easily avoided by implementing up-to-date security measures.

3. Your Customers are at Risk
One of the most important digital security tips for any business is to protect your customer's information first. There are thousands of malware which malicious attackers use to hack websites. If the website is under attack, the hackers steal the customer's sensitive information like credit card information, dates of birth, contact details, and many. Even, they hijack the entire computer resources as well. So, don't give this opportunity to the criminals.
What you have to do is to protect your website and customers' information, encrypt it before it is sent anywhere and take internal measures so that your employees understand the importance of safeguarding sensitive information.
4. Hackers Don't Choose Which Websites to Attack
Well, the hackers don't choose the website by shuffling the dice on the game board. In fact, their process of hacking is quite random. Hackers choose their target by broadly searching for common vulnerabilities.
As per the study by Symantec, "over the last three to four years, more than 75% of the websites that were scanned contained unpatched vulnerabilities. Almost 15% were deemed to be critical." Well, this is not good news for small business owners. They might be thinking that hackers won't waste their time on small operations. Don't underestimate them.
The truth is that hackers can attack any website irrespective of their business size and gain access to penetrate. Therefore, businesses need someone who can keep them on the website, making sure components are up to date and continuously keep updating firewall software.
5. Data Breaches are Expensive
A data breach could cost you a hefty amount of money. As per the research, the average global cost for each lost or stolen data record that contains confidential and sensitive information is $154.
When we talk about the healthcare sector, the amount gets increased - with each lost or stolen record costs $363. Additionally, the costliest data breaches occur in the United States, which each comprised record costing businesses $217.
As per the study, 86% of all websites have at least one security vulnerability, which puts their customers and businesses at risk. Not protecting your website could end up with financial loss (of course penalties) and stolen information, and jeopardize customer and business relationships. Therefore, you should invest in web security and protect your sensitive information.
However, there are many other ways to protect your websites from malware and hackers. But once you venture down the rabbit hole of website vulnerabilities, you will be faced with complex concepts and convoluted solutions.
By using penetration testing tools, we can identify security weaknesses in a network, server or web application. As a software testing company, here are some tools which we are using for our clients to safeguard their website.
Top 5 Penetration Testing Software & Tools We Use
Generally, penetration tools are used to identify the "unknown vulnerabilities" in the software and networking applications that can cause a security breach.
1. Zed Attack Proxy
ZAP is one of the most open-source security testing tools provided and maintained by the OWASP community. It's an ideal tool for developers and testers that have not deep knowledge of penetration testing.
ZAP helps users to find security vulnerabilities in web applications during the development and testing phases. It runs in a cross-platform environment which creates a proxy between the client and your website.
Features:
It identifies the security holes present in the website by simulating an actual attack
Passive scanning analyzes the responses from the server to identify certain issues
You can find out the open ports on the target website
Provides an interactive Java shell which can be used to execute BeanShell scripts
Supplies invalid data to crash it or to produce unexpected results
Attempts brute force access to files and directories
2. Burp Suite Pen Tester
Burp is used to check web-based applications. The tool maps the surface and analyzes requests between a browser and user servers. The framework uses Web Penetration Testing on the Java platform.
A Burp is an industry-standard tool that is used by security experts. Burp Suite comes up with two different versions for developers. The free version offers the necessary and essential tools needed for scanning activities. Whereas, you can choose the second version if you need advanced penetration testing.
The main advantage of using Burp Suite is that you can use it across platforms - Windows, Linux, Mac OS X.
Features:
Targeted data is arranged in a target site map
WebSockets messages get their own specific history - allowing you to view and modify them
Speeds up granular workflows
Conducts manually testing for out-of-band vulnerabilities
Removes HTTPS effectively
3. Netspark
Netspark is a popular automotive web application security scanner for penetration testing. The software automatically identifies SQL injection, XSS, and other vulnerabilities in your websites, web applications and web services.
The software is available as on-premises and SAAS solutions. It is powerful enough to scan anything between 500 and 1000 websites at one go. It also allows you to customize your security scan with attack options, authentication, and URL rewrite rules.
Features:
Detects the dead vulnerability with the unique Proof-Based Scanning Technology
Requires minimum configuration. The scanner automatically scans URL rewrite rules, custom 404 error pages.
REST API for seamless integration
Fully scalable solution

4. Acunetix
Acunetix is a complete automated penetration testing tool. The web application security scanner of Acunetix scans HTML5, JavaScript, and SAPs accurately. This tool is capable of auditing complex, authenticated web applications and issues with compliance and management reports. The tool can handle a wide range of web and network vulnerabilities.
Features:
Scans everything - SQL Injection, XSS, and 4500+ additional vulnerabilities
Identifies vulnerabilities from over 1200 WordPress core, theme, and plugin
Crawls many web pages without any interruptions
Available as on-premises and cloud solution
5. W3af
W3af is a web application and audit framework that focuses on finding and exploiting vulnerabilities in web applications. Its three types of plugins are provided for discovery, audit, and attack. The software then passes these on to an audit tool that checks the flaws in the security.
Features:
Easy to use for less experienced users and powerful enough for developers
Can complete automated HTTP request generation and raw HTTP requests
Capability to be configured to run as a MITM proxy
Conclusion
In this digital era, you can't put an end to cyber and ransomware attacks. What you can do is to implement various ways to prevent it. Hence, you have to consider website security as the topmost priority. The trend of hacking is not going to stop so it's only better to be safe than sorry.
You just need to make sure that your website is being watched and monitored by a reputed web development company, which will clean it on a regular basis and ensure that the data stored on it is safe and secure for both users and you.
So, if you're concerned about your web security for your business, our security experts at The One Technologies can help you out.