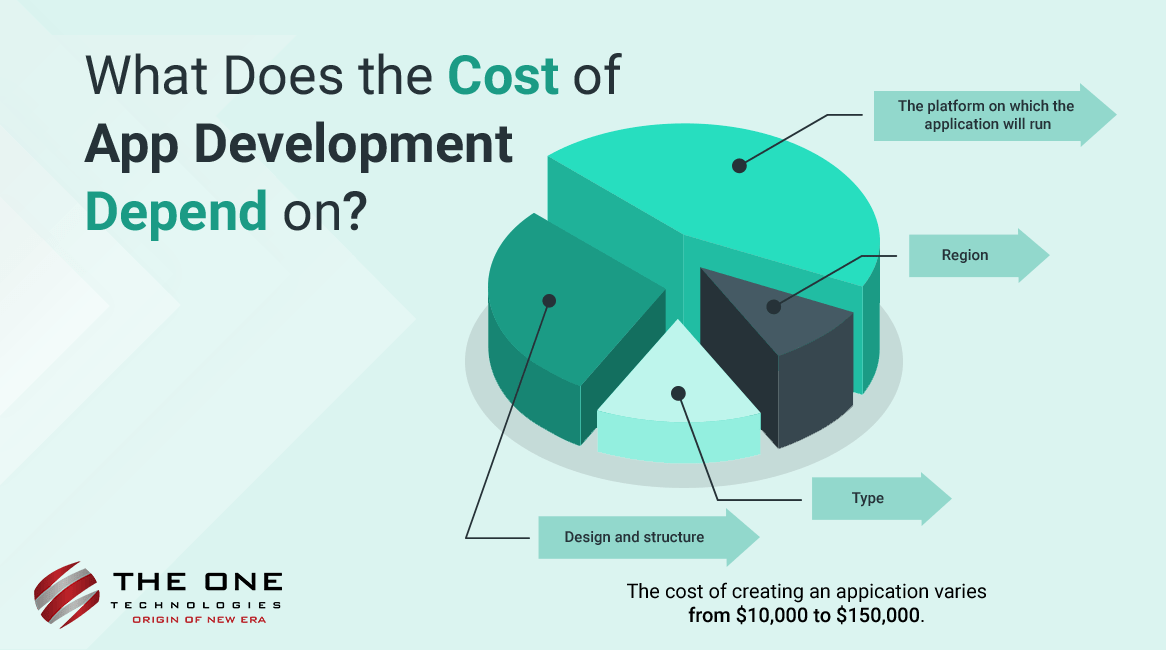 For any entrepreneur, a major question is How much does a mobile app development company charge to make an app for your business?
The first question is to solve the app criteria and functionalities of an app while you start determining app development costs in 2021. There are various factors that affect the price of app development hugely. The average mobile app development cost in 2022 will be:
Development Cost for Simple Application – $40,000 to $60,000
Development Cost for Average Application – $60,000 to $150,000
Development Cost for Complex Application – from $300,000
This blog will help you now all the costs of app development for an excellent solution.
Table of Content
Introduction to Cost of Mobile App Development
The answer to how much it costs for mobile app development is quickly the flight high. The estimation of any app development cost is based on the complexity of an app, app features, the location of hired app developers, and more.
You can hire app developers directly or can contact to leading app development company. A mobile app development agency will help you offer the best estimation by understanding app requirements.
On the other hand, the exact cost calculator consists of a wide category of mobile app development services and the required amount of time along with:
the design of application;
the complexity of the design;
stepwise development process;
quality assurance phase;
size of the development team;
number of functions and features;
the complexity of database;
the complexity of 3rd party integrations;
implementation of security protocols.
Cost of App Development by Region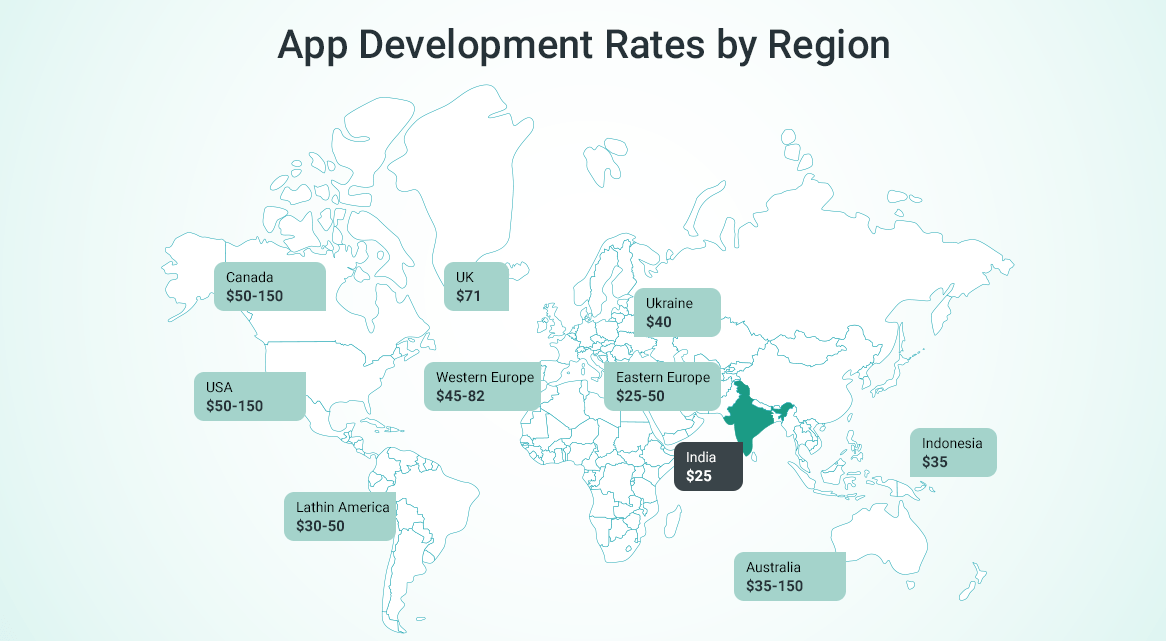 While hiring a mobile app development company, the cost is the key factor to evaluate and assure the quality of the app development services. Because the high price of the application does not always indicate a high-quality product.
Let's analyze the developers' rates as per various regions:
| | |
| --- | --- |
| Region | Hourly rate, $ |
| United States (USA) | 120-150 |
| Australia | 100-120 |
| United Kingdom (UK) | 110-120 |
| Western Europe | 90-100 |
| Eastern Europe | 40-50 |
| India | 20-30 |
The outsourcing cost of app development is different at every location. You can find cost-effective app development services in India as compared to the United States, while the same product can cost you different per hour in Australia.
Here, it is very essential to understand the developer's skill and experience level that cost you the hourly rate depending on the:
Know the programming language of the app development such as Java, Swift, Kotlin, PHP, JavaScript, Golang, and more.
IT also depends on project complexity and specialists for designers, developers, testers, scrum masters, project managers, and more.
App developer's skills and expertise.
More information will help you choose the right outsourcing partner for your app development. It will give you several proposals to select the right that fits your business requirements.
The hourly rate of developers for successful application.

Also Read: Top 5 Reasons Why You Should Outsource Software Development
Example of Profitable App Development: Uber
Uber app is a popular case of a successful ride-hailing app.
A ride-sharing app like Uber has 3 different applications: 2 mobile applications – for the passenger and driver, and one web application for the admin panel.
So, the app development cost can start from $50,000, and it can end as per your needs and required features in the on-demand app.
The features of the app combine the following needs:
ride choose panel,
payment integration,
geolocation,
routing and advanced route,
SMS and push notifications,
and more such features.
Example of Profitable Mobile App Development: TikTok
TikTok is another most popular social media app which is widely used by millions of users to share innovative videos.
The cost of an app like TikTok can rise by the range of app features and creative functionalities for the users. It can start from $70,000 and can hold approximately 1,200 hours.
The features of video-sharing app consist of:
online messaging,
sharing videos,
video calls,
multi-language support,
user connecting, and much more.

Factors that Influence Outsource App Development Cost
For custom software development, the complex process compromises various factors that influence the overall app development cost. Sometimes it is difficult to determine app development costs without knowing the project specifications and features to be included
Let's see the list of factors that affect the cost:
The complexity of features of the app.
Developer team.
Outsourcing app development costs from various regions.
1. Development Team
App development companies have all the required infrastructure and resources for developing creative and excellent applications. When it comes to the app development cost, the developing team size and level of developers play an essential role.
In India, you will find highly qualified and trained professionals to guide you for robust and feature-rich apps. We undergo a detailed process from planning till the deployment phase with the help of our dedicated team of specialists:
Business Analyst
UI/UX Designers
iOS/Android Developers
Quality Assurance Engineer
Project Manager
For example, simple app development needs less time and requires a small size development team to complete a project and make it live. Whereas an app with more integration and complex features requires an experienced team with more hours to complete the development process and test it well before the app live.
Besides, one should follow a detailed MVP (minimum viable product) structure to create a successful application that earns you well. For the bigger success of the application, you will need the right process with the right resources.
Also, the outsourcing cost may be influenced by the engagement model you choose for your business needs.
2. Features and App Complexity
The complexity of an app and the development time it takes to spin around the features where a specific feature can take more than usual.
Here a custom software development company will help you choose the right hiring model and offer the best app development services. Hiring an outsourcing software company enables access to a hub of experts and technical resources from across the globe.
3. UI/UX Designers
There is no explanation needed to show how important app designing is. An engaging app design brings more users and results in the success of the application.
A less friendly and not so effective interface may lead users to leave the application.
More loading screen time and excess ads are the reasons users are leaving the app in less time.
So, successful app development needs expert UI/UX designers who will understand the need and create attractive and relevant app designs. To create wireframes and show the structure of the application, experienced app designers are required who will assist you with the best app design.
The average designer's cost in India stands around $10,499 and $85,499/year in the US.
4. Backend infrastructure of mobile app development
Backend infrastructure consists of the server to run the software. It will facilitate the app to interact with data sources where you will get multiple options to empower your mobile app with relevant backend infrastructure.
Data storage.
Data sharing.
Analytics for data.
Storing and updating content on the app.
Reuse the maintained a centralized space for business apps.
5. Android/iOS Developers
Developers are the ones who are bound for the overall app development. For flawless application development, technology and experts and developers with problem-solving attitudes will see the project stack and offer excellent app development.
Software engineers are a tech enthusiast who is developing great applications and thus they influence the total cost of outsourcing mobile app development in 2022.
iOS app development company in India charge $25/ hour and Android developers earn $35/hour. Thus, companies have various options to pick their app development partner based on their business needs and budget dimension.
6. Mobile app development security requirements
Your application must keep the data safe by recovering it from users as app security is the most essential factor. Losing data may create your image irresponsible to your existing and potential customers and lead to huge losses.
The collection of data storage of users helps you run the mobile app well and improves performs various functions. Any data gaps in the security can end in long-lasting damage to the business.
On the basis of the app scale and kind of user engagement, you can ask for data security ad app security services from your app development partner as they will suggest the most important security best practices.
7. App Updates and Maintenance
Mobile apps need periodical maintenance and regular updates. Also, app developers need to provide sufficient technical assistance for seamless app functioning.
Organizations need to renew the app integrations as the app platform transforms into advanced technologies. These can add too little cost even after launching the application.
Also, removing the hidden bugs and app issues by app maintenance administrators helps your app with smooth functioning.
Cost of Hiring App Developer
If any business determines to develop an app, the question that naturally comes is how much does it cost. As per the Indeed.com report, to hire an Indian mobile app developer, companies need to pay $4,000 a year, and it goes to $89,000 / year if a company hires from the US.
Mainly, the major factors of the app development are based on business target users and services in order to help to build out the app budget design.
Choosing a business app model is the major thing to decide where development time and resources are important. So, as time and technology are evolving, the cost associated with it also increases.

Source: Indeed
Your Alternatives When It Comes to App Development
The final point to study for how much does it cost to make an app is a team you hire.
If you have heard of the opinion that the kind of development one chooses does not matter is not a valid one. On the opposite side, selecting the right app development team has various benefits along with lower costs and higher quality.
Here's some skilful cost. The selection of a team will determine how much it does cost to create an app you want.
Here are three things to be considered when you are looking to hire developers:
Product Focus
Don't mess with the Design
Constant Marketing
Here are the options to choose the App Development Company
Hire a leading Development Agency
Build an in-house Team
Work with Freelancers
Outsource App Development
When to Choose an App Development Company? [Checklist]
Many IT outsourcing companies assist different services but how to find a strong development partner who offers to deliver high-quality products?
First of all, you have to undergo research and study well for the app development outsourcing factors. Researching IT companies will ensure you meet the right set of skills for your product.
Tips that can help you outsource the IT company to develop an app you need:
Tip 1: Decide on the app requirements
Tip 2: Try to choose full-service companies
Tip 3: Interview the developers
Tip 4: Research the company's portfolio
Tip 5: Learn about the company's privacy
Tip 6: Know for data security policy & app maintenance
In addition, it's better to consider intellectual property rights before you finish the outsourcing partner. Along with property rights, many factors affect ensuring the protection of personal data.
Concluding Thoughts
When you start estimating the app development cost of their future app, you must undergo research and know factors that influence app development.
It can be app development team location, app complexity, and more factors that play a great impact on an overall development cost.
If you do choose to outsource an app development company from India, you can keep your development costs within budget by evaluating factors that ensure the quality of the product.
The One Technologies is a top mobile app development company in India offering customized app solutions at affordable prices. With a talented team of Business Analysts, consultants, designers, developers, testers, and project managers, we have delivered outstanding apps to our clientele.
FAQs
How much does it cost to create an app for your business?
The cost of any app massively depends on what type of business you're running. The app features you need play an essential role in determining the cost. As per the GoodFirms' report, the approximate cost to develop an application is $91,000 and $72,000 for an app like WhatsApp, TikTok, or any on-demand app
How long does it take to make an app?
The app development time depends on the development team you choose and the complexity of an app.
A basic features app may take 500-800 hours.
Medium complexity app will take 800-1200 development hours.
For complex and feature-rich apps, the development time may vary and can start from 1200 hours and above.
How much does it cost to make an app in India?
Every country has different costs of app development based on developers' hourly rates and app features. Of all the countries, India has the lowest rate and offers you excellent apps with the help of skilled developers. The fact is app-making costs in India wildly vary from the UK or North America.
Mobile app development companies in India will assist you with end-to-end services as per your business requirements. The customized app development cost in India is $10-$85 per hour.
How much does it cost to maintain a mobile app?
App maintenance costs depend on app requirements and updation. If the app needs any error solving it can range from 15% to 20% of their initial development cost.
How much does it cost to develop a mobile app in 2022?
As discussed, various factors affect the cost of mobile app development. The factors are app features, size, complexity, number of platforms, expenses on a development team, maintenance, and more.
For in detailed estimation of your app development, contact us.
The approximate costs are:
$90,000 for a simple app with basic features.
$100,000-$120,000 for a medium app complexity.
$240,000 or above for feature-rich app development.
Can I create an app for free?
Yes, anyone can create an app for free. But that may give a limitation in terms of technology, skills, choosing a platform, and required features. Developing a Mobile Apps with a cross-platform app development company is the ideal choice.
If you find this blog useful and are curious to know more about mobile app development, please go through the below-mentioned blogs.