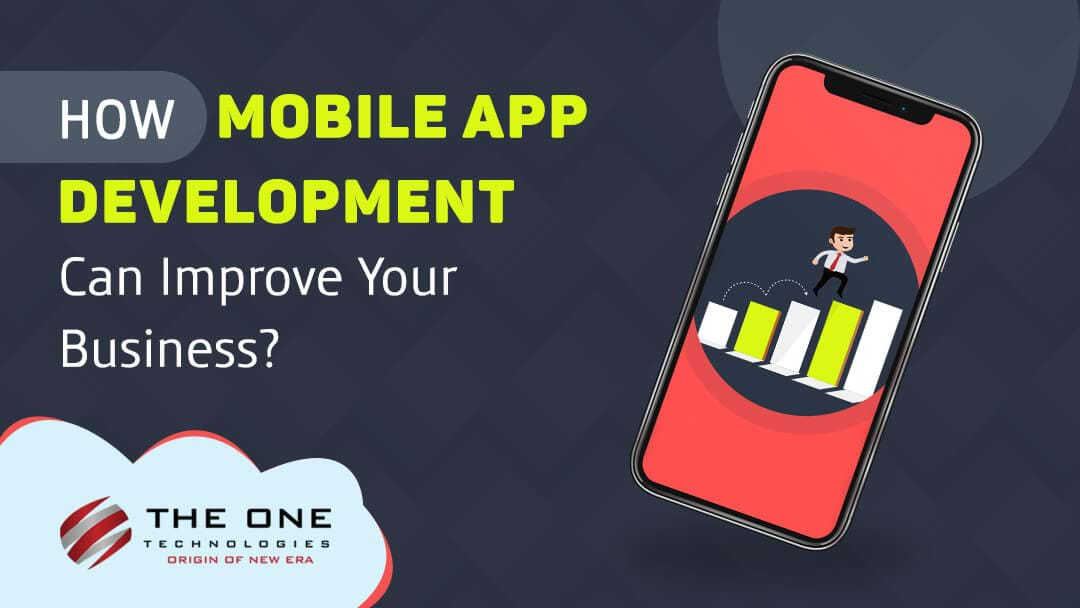 As the number of smartphone users grows around the world, mobile applications have become a foundational business tool to connect with your customers in a very easy way. The world has become more portable than ever and it's no wonder that companies across the world are looking into mobile applications to enhance their brand and their business. The versatility of mobile applications, mobile app development, and endless possibilities are attracting more and more businesses worldwide.

Mobile technology, especially mobile app development, is exploring its feet in this segment and making people or users trouble-free to run their business or to grab the user's attention. Nowadays, offering a mobile app is one of the best ways to enhance and expand your business globally.
Benefits of Mobile App Development For Your Business
The mobile device world is evolving and growing rapidly. It's creating staggering opportunities for businesses that market themselves through mobile apps. You will find numerous advantages of having a mobile app for your business. Let's go through some of them here.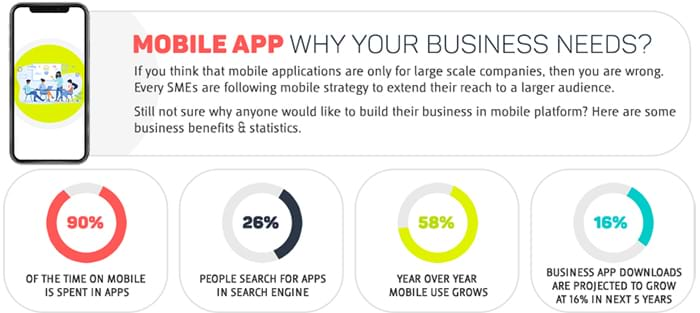 Faster Than Website
I guess this is one of the most important reasons why you should always look for mobile app development for your organization. With the advent of smartphones, scrolling the web browser from anywhere just on your smartphone has made everyone's life easier.
However, the mobile app provides a much faster user experience as compared to web browsers.
Apps to Make a Deal
Smartphones are nothing without apps. It's like a soul to the body. In this small world, nothing is far away and everything can be done with just one click in your app. You can easily pay the bills, purchase items, and even sell it on the respective app.
Hence, to reach out to the customer globally, an app is inevitable. This will help a customer to fetch your product by just downloading an app.
An Alert to The Customers
A great way to grab the attention of the customer is to remind their favorite products to purchase it through periodic notifications. You can also announce a sale, special discount or new offers to the specific customer who is willing to buy that product or much interested in buying it.
In simple words, apps prove to the finest result of generating revenue and a way of taking your services to the global market.
Enhanced Visibility
Mobile app development enhances service visibility. Since apps remain installed in a smartphone, therefore users have a tendency to scroll and open it multiple times in a day. The app grabs the user's attention and if any notification pops up on the screen, then, it forces users to have a glance at your app at least once.
So, more users download the app thus escalating your venture's conversion rates.
Even, so there's no debate about how a mobile application can make a business further itself, it still needs to be priced at length.
So, let's look at how a business stands to benefit from a mobile application.

Marketing Reaches to the Next Level
Mobile apps have found their way of reaching out to the customer in the easiest way. That gives you such a broad audience to check your product with.
By developing an app, you don't need to wait too long to see the final outcome. You will see traffic increasing if you are on the right way.

ROI For Business
The mobile app makes it easier for users to engross with your service through an app. Coming up with a new and interesting UI, it makes a user more engaged. As the level of engagement increases so does the conversion rate of the visitors into buyers, which in turn boosts the revenue of the business.
For Better Management
Instead of using the old methods for office purposes, you can now switch it to the app by creating it. Not only to communicate, but you can also share work status, files, and make edits to various projects, you can expect to get out of a well-made and user-friendly app. It helps to optimize your business better.
Conclusion
We can clearly see a business on a new horizon in the eye of customers. This is the era of digital and electronic devices; one should stay updated with the latest gadgets and apps to improve their ventures. Turning to the mobile app just because it's trendy has no importance to it until you use them appropriately for your business. The use of apps should add value to your management system and increase your revenues as well as enhance your overall productivity.
The above factors clearly demonstrate how a mobile website or app development is becoming crucial for your business growth. If you are looking for similar services, you should contact the trusted and experienced mobile app development company in India. As a prominent company, The One Technologies can be the best choice to build a mobile app for your business. Contact us today for detailed information. With a team of proficient mobile app developers, we will provide you with the best mobile app development services, exactly as your business needs.