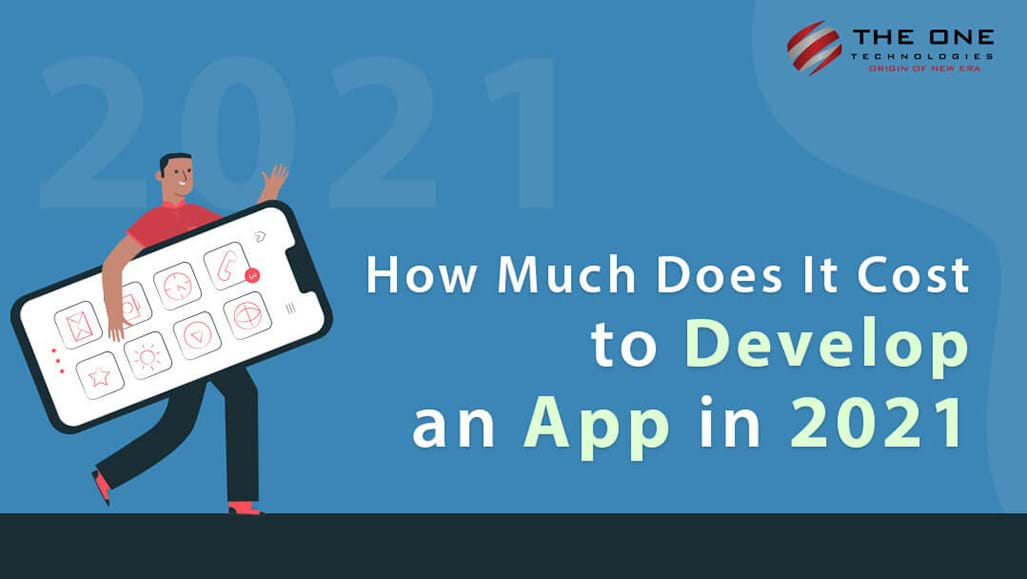 Emerging your business by leveraging the benefits of the latest technologies and tools has become the need in this market. Many organizations are in the race of competing with each other by adopting emerging technologies and satisfying their customers' needs. They are harnessing the benefits of mobile applications that are rapidly growing in recent times.
As per the report by Research and Markets, the market value of mobile applications globally is increasing day by day and is expected to reach $407.31 billion by 2026. So every company is on the verge of developing a mobile application for their businesses. You simply can't carry your luggage and go out for a picnic. First, you have to plan for it and decide the destination. Likewise, you have to plan for an app, estimate its cost, time and choose the reliable mobile app development company that can guide you to your destination.
But the foremost and most important question comes in your mind is - How much does it cost to build a mobile app in 2020? Is it really too costly or affordable? Everyone has the same question in their mind when they are planning to develop an app. However, by stepping into your shoes, we have decided to curate this article by clearing the fog in the air and giving you accurate information about the estimation of developing an app.
Well, to give you an apt answer and to quench your thirst, on average, the cost of the app development is between a price range of $1000 - $500000.
What? Are you serious? Well, it's the fact that the app development cost is based on a great number of factors that make up the overall experience and it can vary widely.
Table of contents:
How much does it cost to build an app?
How Much Does It Cost to Build an App?
As per the report by Statista, there were around 204 billion mobile apps downloaded last year.
The number itself displays that smartphones have penetrated our day-to-day lives - users spend an average of three hours and 15 minutes on their phones every day. And this trend shows no sign of slowing down, and if you want to enhance your business to the next level, a mobile app is your pathway to success.
There are many factors that we have to consider and impact the cost range to develop an app. Different developer costs, project features & complexity, manpower, types of app, outsourced or local app development, app design, and other specific features & functionalities.
We are going to explain all these factors in this article which tells you how much it costs to build an app for your business. Let's hear it.
1. Business Model
When we plan to develop a mobile app, the importance of having a business model is vital for mobile app development. This plays an important role in determining the cost to develop an app. Before taking out the estimation of developing an app, you must first analyze where it will fit into your overall business model.
So, now the question comes, what exactly is a Business Model?
Well, the business model is an assortment of factors that include determining the target audience and their pain points, providing robust solutions, making it a direct source of revenue through sales, etc. and most importantly, prioritizing the customer's demand in this model.
Let's take an example. eBay failed miserably in winning the trust of its customers as it compromised quality over quantity. It could not capture the market and win the customers while Amazon and Walmart gained huge acceptance by coming up with exclusive launches. eBay has lost its value and market by not understanding its customer base.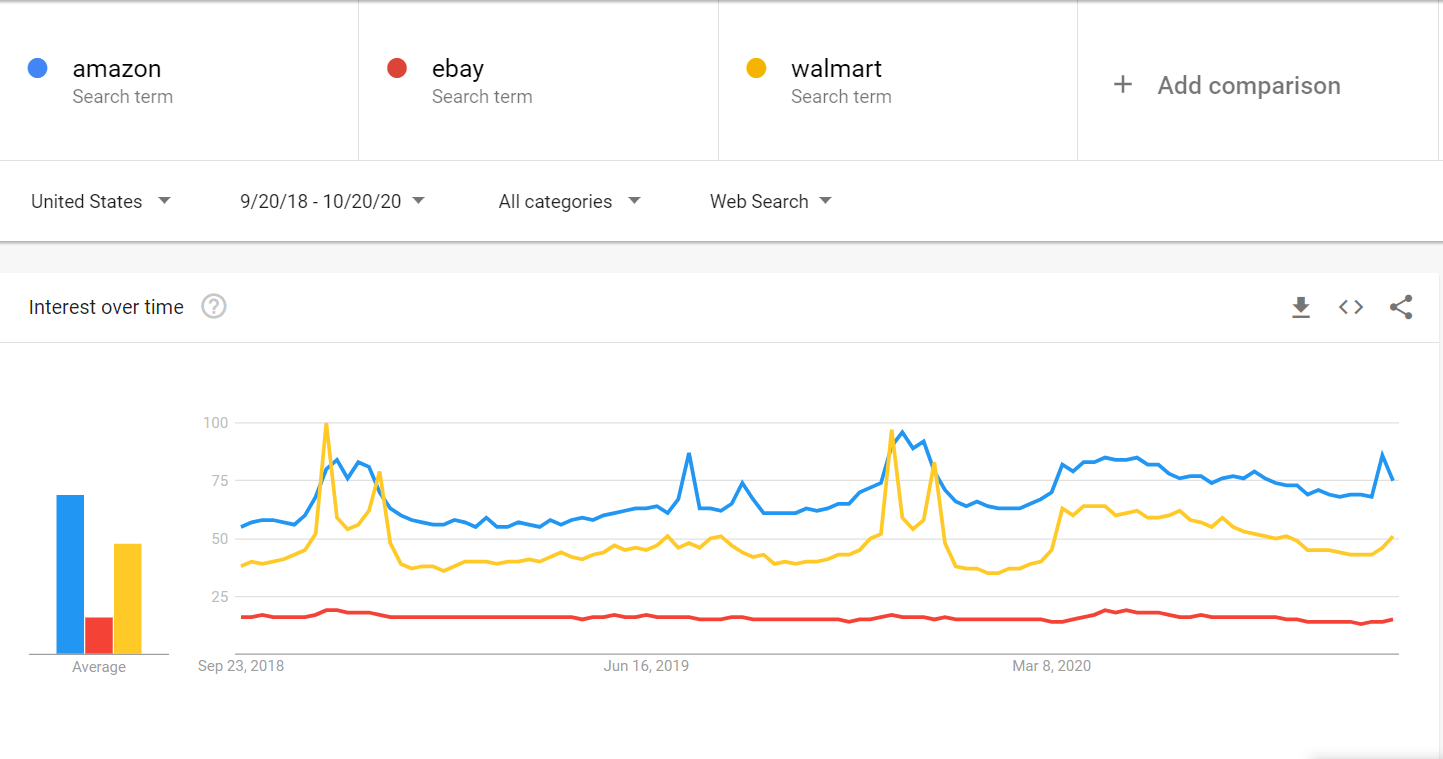 All the factors of the business model will tend to the cost estimation of the mobile app development project. This leads to the type of app you wish to develop.

2. App Type
After having a business model, you will come across various technologies and platforms that you have to choose to develop an app. Then you have to identify an app type in order to estimate the cost of developing an app.
Based on the complexity and requirements, the application type will be categorized as follow:
Native App
Native apps are specifically designed to create a single operating system. These apps are faster and give more reliable performance. Native app development is more efficient for the resources of mobile devices than other types of mobile apps
Users can easily navigate an intuitive interface as it integrates with the mobile operating system flawlessly. If you are planning to develop a native app for the iOS platform, it will use Swift or Objective C, and for the Android platform, it will use Java or Kotlin. Native apps are the most complex of all, but as the app is built and optimized for a specific reason, it gives you the best and high level of performance. Hence, native apps turn out to be expensive.
Consult Android app development company or iPhone app development company today!
Hybrid/Cross-Platform App
Hybrid apps are known as cross platform apps as well. These apps are built using a combination of web and native technologies. This is the best option for your business to cater to the needs of a large audience. These apps can be deployed on various operating systems like Android, iOs, Windows and even run across multiple browsers.
As compared to other approaches, the cost of development and maintenance cost is low. But when we compare hybrid apps with native apps, they are not considered as the best in terms of capabilities because of limited access to smartphone hardware.
Web App
A web app is a mobile version of a website. Based upon the method of 'mobile-responsiveness it uses responsive design to ensure a smooth user interface across all screen sizes. It gives users limited features and lower performance as compared to native apps. Moreover, 85% of smartphone users prefer apps over mobile websites. Web apps are easy to perform, update and are installed on the server. It's easy to maintain as well. This is one of the cheapest options and the least complex of all the options.
To help you in this decision-making process and understanding how much does it cost to make an app, here's a list of comparisons between Native vs Hybrid vs Web application developments: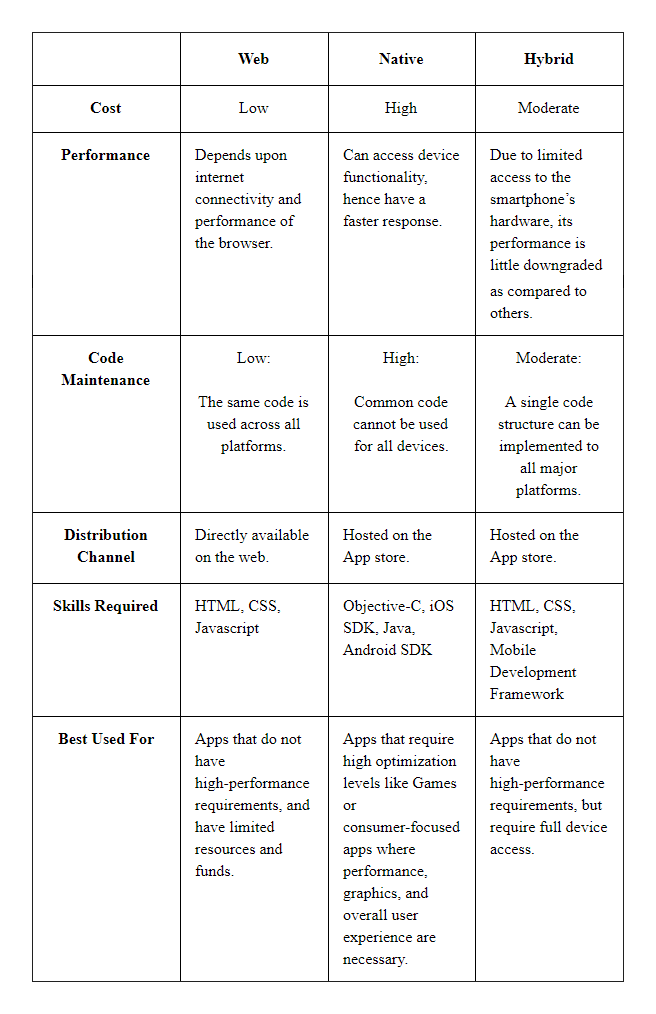 3. App Platforms
To develop an app, it's important to know which platform to choose. You should know which platform would turn out to be worthy of your investment and cater to the long needs of your business.
So on which platform have you planned to deploy your app? Is it Apple's iOS or Android? Well, you should know the target audience, thus, helping to decide on the final results. However, an ideal approach is to develop an app for both platforms at the same time. But that turns out to be an expensive and risky option as well. For example, Instagram was first launched on the iOS platform in 2010. Then it became available for the Android platform only four years later, in 2014.
As per Statista, Android covers 85% of the global market share as compared to other mobile platforms. However, Apple captures a large share of the American market by holding more than 40% of the US audience.
Both platforms have different offerings, cases, features, results, and functionalities. And if you are considering both app stores, then you should go with the native app development.
Market Shar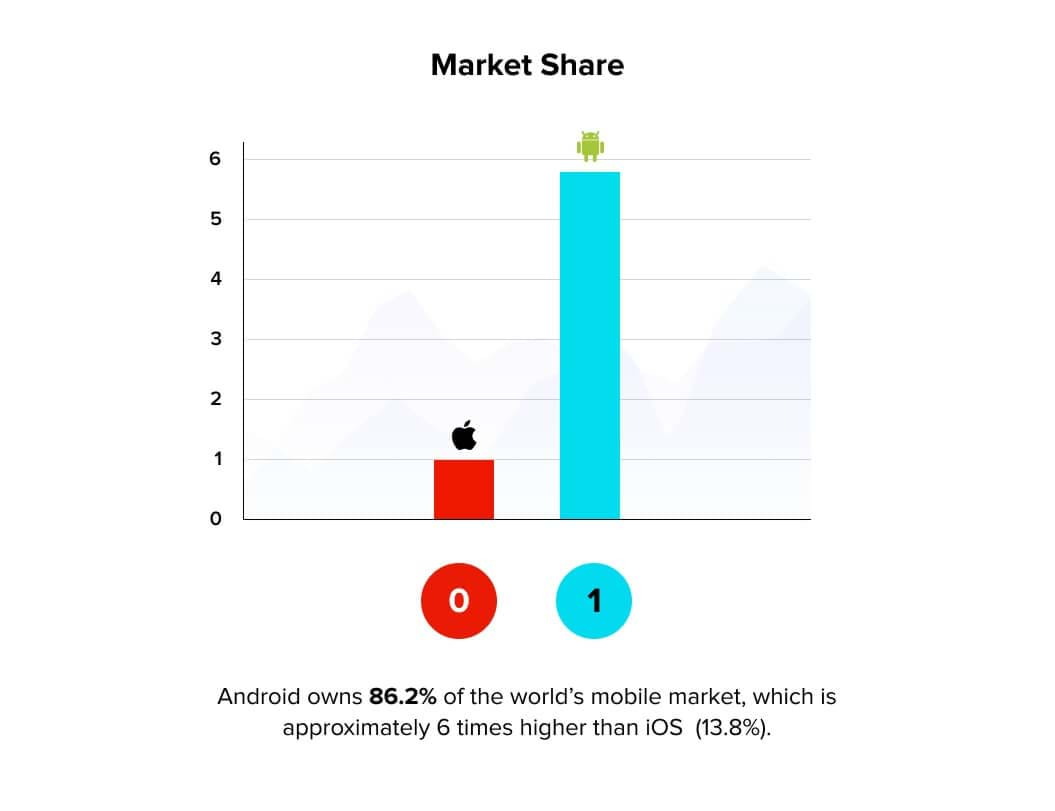 In the year 2012, iOS would seem to outsmart Android in the worldwide mobile share market with a share of 61%. However, the situation has changed completely, and by 2022 Android is likely to own 86.2% of the world's mobile market. It's approximately 6 times higher than iOS - 13.8%.
Development Complexity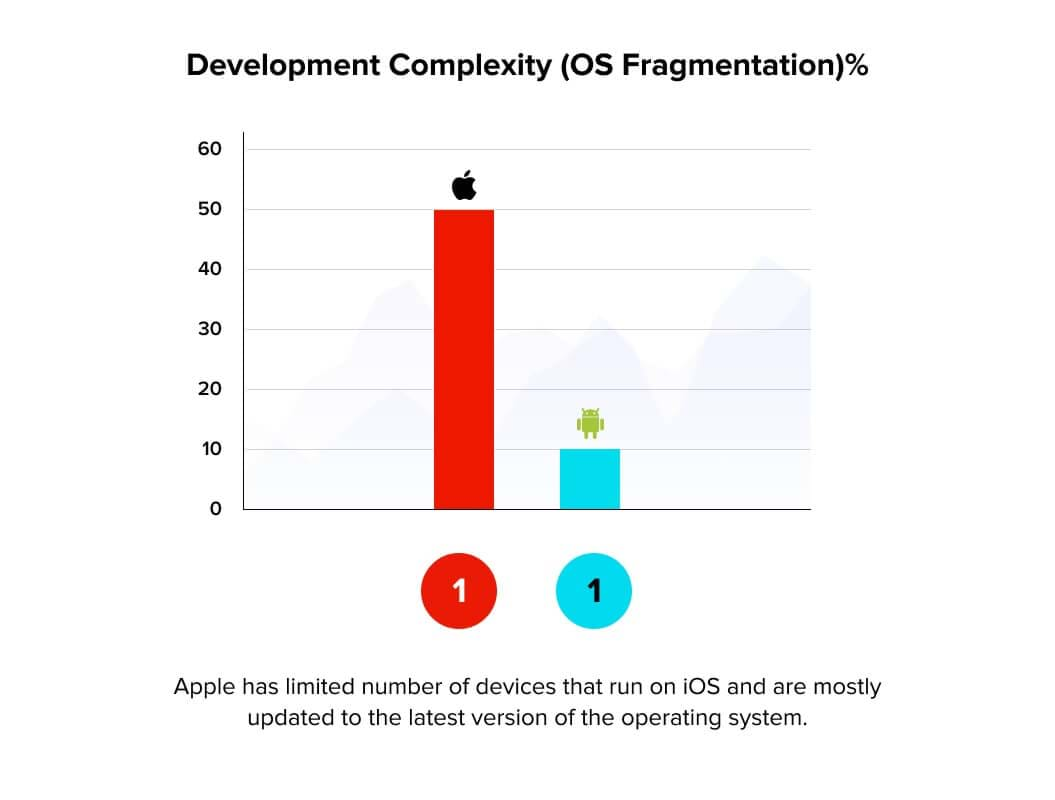 The issue of complexity and fragmentation, we should always consider while choosing the platform to launch an app. When we talk about Apple, it has a limited number of devices that run on iOS such as iPhone, iPad, and iPod, which are mostly updated to the latest version of the OS. But when we look at the Android side, it has plenty of smartphones and tablets that run on Android OS with varied screen size and aspect ratios. This means the app you developed on Android will be suitable and compatible with all of them. Moreover, you can't find any Android OS which is used by more than 50% of Android device owners.
Publishing Cost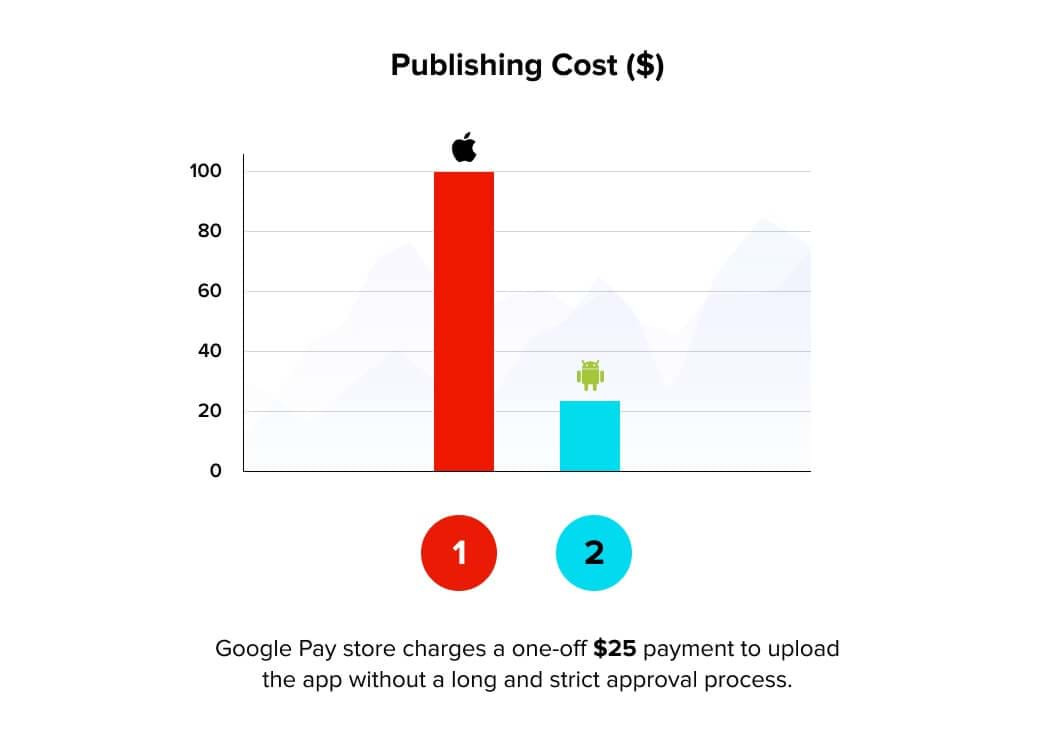 It's said that iOS apps are cheaper and faster to design. However, it's very difficult to pass the procedure of publishing your Apple app on the Apple app store. This adds on a little extra cost to the app development.
Whereas, Google Play Store charges a one-off $25 payment to upload your app without a long and strict approval process. On the other hand, you would be charged with a $99 annual fee, if your app undergoes a rigorous approval process in the Apple App Store.
Hence, Android has taken its number one spot in the publishing process and cost
Development Time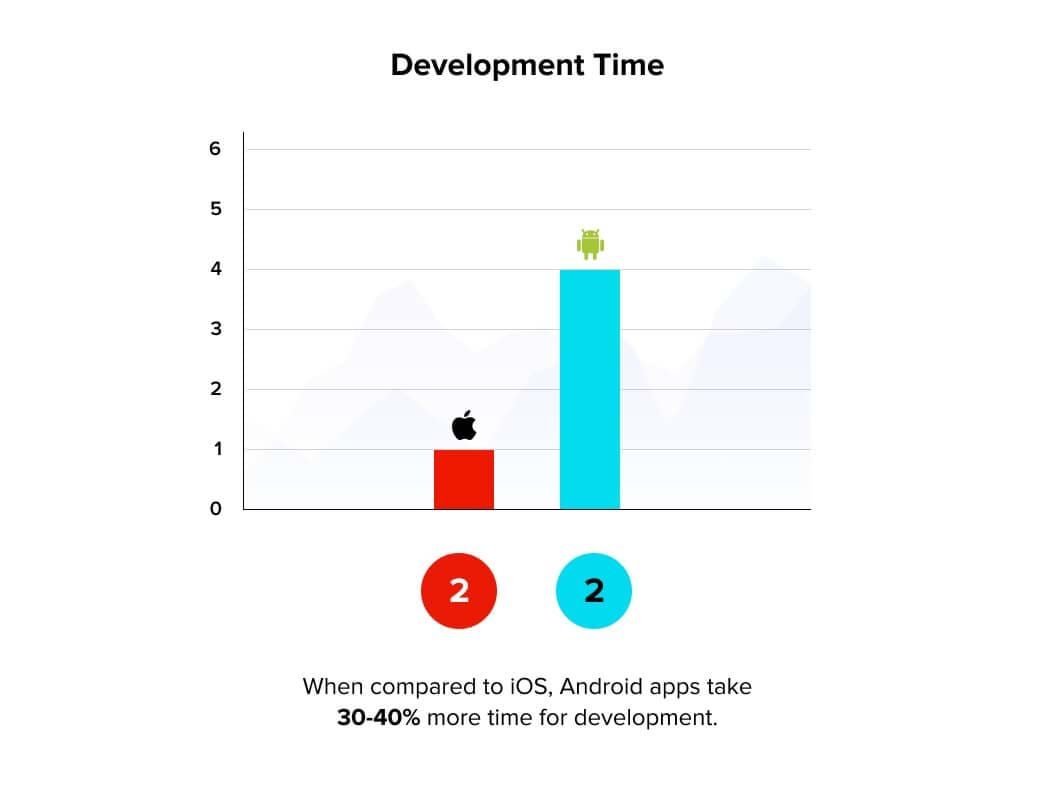 Now, we can easily conclude that the iOS app can be built faster than Android apps. Generally, Android apps take 30 to 40% longer than iOS to build. And the main reason is the fragmentation. Hence, the average cost to develop an iOS app is less than the cost of an Android app.
In the end, apps are the way to grow your business and to reach the target audience. In order to make your business more successful with your mobile apps, you have got to have a strong marketing strategy as the first parameter.
4. Functionality
The estimation of developing an app is a lot like planning to buy a home. With the consideration of base price, it will keep on increasing with the implementation of new features and functionalities. Since the apps become more advanced, we can have no limit while implementing ideas into the app development. Hence, we can't give you an accurate figure to cost an app, it may range anywhere between a few hundred dollars to a few million.
It's mandatory to have a thorough understanding of the basic app development. We can easily add features and the technologies that back them while building your estimate. Let's consider your base price $25 and maximum hour price as $50. Let's have a rough estimate by implementing features.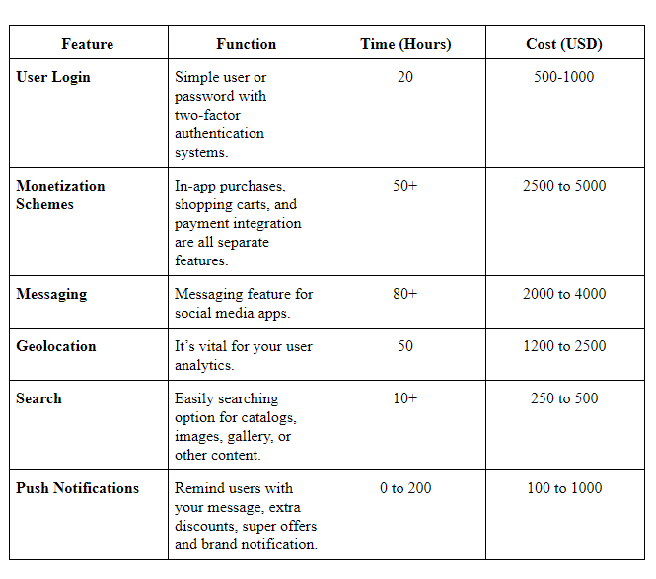 5. Design and Development
By this point, we have covered major factors that are very important to the app development cost - business model, types of apps, functionalities and features. However, design and development is another most important factor that also determines the cost to develop an app. It completely depends on who you hire or outsource your requirements.
You can now easily get the option of hiring freelancers and newbies. And these both options seem feasible and economical options for your business. They may cost you more in the long run. However, you simply can't rely on freelancers; as it's a big question mark on their skill-set, experience and consistency.
On the other side, many big outsourcing companies provide exceptional developers for hire which may cost you higher than freelancers, but they are worthy of the investment. Because of their experience, guarantee, and work portfolio, they bring on the table. Such companies are fully equipped and backed with great hands-on experience, catering to all your business needs related to mobile apps.
Hence, it's advisable to hire mobile app developers or outsource to a mobile app company for better consistency and skillfulness of your project.
Mobile App Development Cost
The outsourcing companies charge on an hourly basis. They vary from region to region. If you have a budget constraint, it's better to prefer somewhat good quality over lower app development costs. Otherwise, if you have a budget, it would be a great idea to choose a high price model.
Country Wise Mobile App Development Cost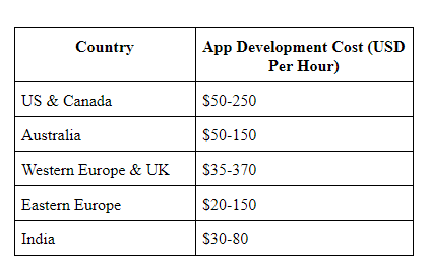 Fortunately, The One Technologies is a renowned and experienced top mobile app development companies. By considering us as your offshore mobile app development company, you will be able to stick to your app development budget and also get professional and seamless mobile app development services in return.
Conclusion
It's always advisable to consult a mobile app development company, The One Technologies for the complexity of problems and get good results. As an expert, we will help you by developing a mobile app and understanding the requirements of your business.
In addition, having a plethora of experience and insightful knowledge, it would be easier for us to determine the actual cost of an iPhone app development and Android app development.
By following the above points, we will be able to offer you a robust and high-quality app that will fit your projected costs.