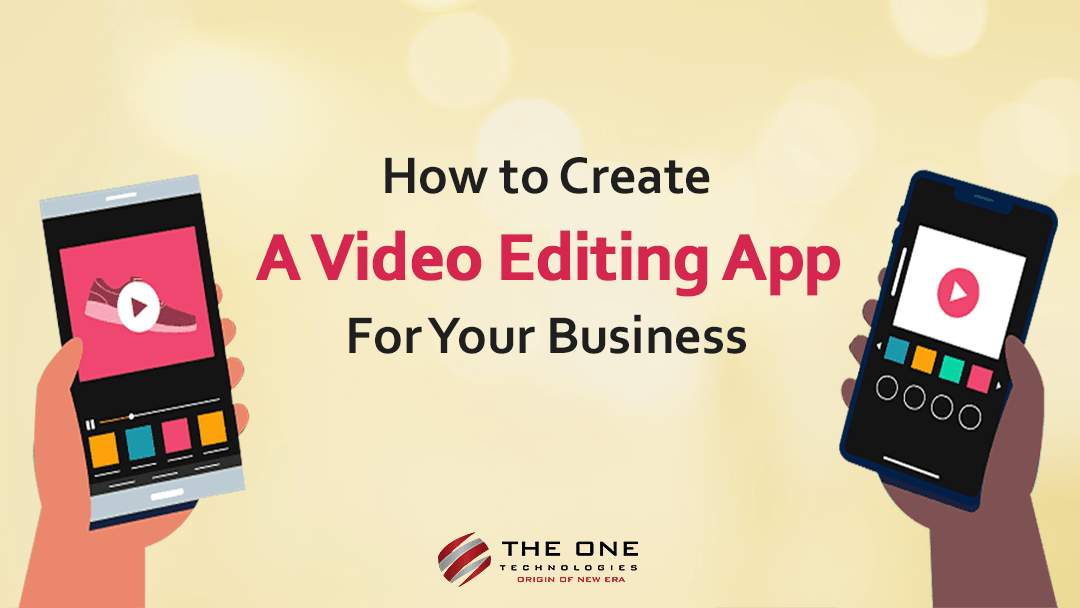 In 2021, there is no doubt that video marketing has become an integral part of our life. Whether we need to learn something new in cooking or a coding tutorial, we watch videos of it. As per the research by Cisco, videos have a share of 79% in the global internet market in 2020, while it was 63% in 2015.
Whether you are a vlogger or an amateur video creator, the chances are you have a video editor on your desktop. However, wouldn't it be great if you could edit your videos on your handy devices? Your Phone!
Video marketing continues to rise; therefore, many people are accessing it on their mobile phones. Business owners are leveraging the power of this medium and video marketing.
So, if you might be wondering whether it's the right time to invest time and money into a video editing app, well, we can certainly say, yes, it's.
Video editing apps play a major role in the creation and popularization of video content.
Such huge popularity of videos laid the need for video editing apps for creating amazing and interactive videos.
"As per the report by HubSpot, around 70% have confirmed that their video marketing has helped them to generate more sales. And with 85% of customers relying more on videos to make buying decisions."
However, mobile video editing apps have changed the paradigm of content creation and marketing. Now, as an independent creator, you can also create compelling and engaging videos.
As an Android app development company and iPhone app development company, we are going to share how to develop a video editing app, its development cost, and key features to consider for both Android and iOS platforms.
Let's begin it.
Table of Contents:
The Rise of Video Editing Apps
In this competitive world, there are several video editing apps available in the market that have made their benchmark with their unique features.
Are you still wondering which could it be?
Well, it's TikTok. As we know, every person has a TikTok application on their mobile phones. It's the perfect example of a music video editing app as well as a video-sharing app.
This app allows you to create, edit, publish and share videos with their unique features - customized filters and themes. Everyone - be it individual or business owners is using this app to endorse their products and services. Due to its high audience base, you can easily engage with your target audience to convert them into a customer.
Types of Video Apps
As we said earlier, there are plenty of video editing apps available for both platforms. They may offer various solutions such as quick editing, adding various filters & animations, or other effects.
Here, we have bifurcated different types of video editing apps, such as:
Video Recording Application
Video Editing Application
Video Editing & Recording Application (An app that does both)
Screen Recording Application
Screen Recording and Editing Application (An app that does both)
Popular Video Editing Apps to Look Out For
When you are planning to enter the market with a video editing app, you need to analyze the market. Before developing an app for your business, determine how your app will look like and what types of features it will have.
The market analysis will help you understand your competitors, what tools and features they offer, and what issues their customers face.
Let us go through the four most popular video editing apps available in the market.
Adobe Premiere Rush

Adobe Premiere Rush is a cross-platform video editing mobile application. This has everything that you are looking for. It allows you to create highly professional videos for your business. This app also allows you to share the video across social media platforms.
Adobe Premiere Rush app is available for both devices on their App Store. Moreover, it offers a desktop application. This app is designed for users who don't have enough knowledge of video editing. This app lets you record a video and edit it as well. Once you capture the video, you can edit it using various animated graphics, titles, and overlays.
Features:
You can add music and titles to videos
Apply some effects to clips within a multitrack timeline
Professional camera functionalities for capturing high-quality content
Arrange video, audio, graphics, and photos with drag and drop option
Quick

Just a few buttons on the Quick app and you can create an attractive video. This app was developed by the GoPro team. The main goal of this app was to promote their brand among non-users and bring more value to them.
Through this app, you can choose certain pictures and video clips. And in a while, the app will automatically find animations, beautiful transitions, and syncs everything to the beat of the music. The unique feature about this app is it finds out the best moments and highlights them, such as panoramic views, high jumps, smiles, high-speed moments, etc. Additionally, you can also add text and music to the story.
Apart from this, you can add customizable titles, filters, trims, and photos. Quick is bundled with GoPro cameras for creating a powerful ecosystem where you can export videos to the apps directly from GoPro cameras.
This app is free and available on Android and iOS.
Features:
You can add up to 75 photos and videos clips
Plenty of theme options with different graphics and transitions
Speed up the video or play in slow-motion
Choose a cinema, square, or portrait formatting
Splice
Splice is a real gem and highly professional video editing apps. This app offers many tools, through which you can add fonts, transitions, arrange video clips, add effects, and music tracks.
The iOS users can sync this app with their iTunes account and add music directly from iTunes.
Features:
Offers GPS stickers to show how fast you were doing things
Choose a formant: cinema, square, or portrait
Automation activation of audio while detecting voice
Video acceleration or slow motion
App Platforms:iOS
iMovie

iMovie tops among other best video editing apps. It's quite similar to Splice but has its unique features. The app offers 14 different templates and 8 themes to apply to your video. This will help you create Hollywood-style videos.
This app allows you to add fancy credit rolls, studio logos, customizable backgrounds, and many special effects which makes your video unique.
It also supports 4K resolution and can also fix shaky videos. Furthermore, this app supports 4K resolution videos. Also, it can fix blurred or shaky videos.
As the name suggests, iMovie was developed by Apple. Henceforth, it's only available for iOS users. Moreover, via iCloud or Airdrop, users can easily transfer their projects across their Apple devices.
Do Your Analysis
Before you hire Android developers or hire iPhone developers to create a video app, you need to brainstorm and polish your ideas. This will help you minimize the risks and get a quality product.
Before hitting the industry, you need to analyze your target audience, competitors, requirements of apps, determine their strengths and weaknesses.
Validate Your Ideas
In this competitive market, you will find plenty of video editing apps in the market. So, if you are developing such an app, what's new in that? The question must be, how different your app would be from the existing ones?
Well, you have to incorporate some unique features in your idea. No user would want to have an app from the above-given apps. They would surely choose you if you offer a better user experience or some extra features.
So before jumping into the sea, you must be aware of swimming. Therefore, you have to start with better research of your competitors. You must offer unique solutions to your users. You should also know what features your competitors do provide and what they lack, etc.
Define Your Target Audience
If you don't know about your destination, there is no way of leading that path.
Therefore, as a mobile app development company, we can advise you that you must know for whom you are developing a mobile app. It's vital to understand your audience's interests and the problems that they want to solve.
Since this blog is about how to create a video editing app, the target audience will more likely be sports, travel, vlogger, etc. Generally, video editing apps are for those who are amateur photographers and like to create interesting videos.
You can divide your users as per the following categories:
Age
Location
Interests
Income
This bifurcation will help you narrow down your target audience. Moreover, you can also ask your audience regarding their experience with video editing apps and note down their opinions.
Social Media Integration
Social Media Integration is the most vital feature for any video editing app. Once users create an interesting video, they would want to showcase to the people and share it instantly on other social media platforms, such as Twitter, Facebook, Instagram, TikTok, etc. Along with video-sharing, your app can also be visible to other users. It's a wise choice to add as many social media channels to your video editing app.
Monetization
It's essential to launch an MVP to generate revenue out of your app. This will help you test various monetization approaches such as premium features, subscriptions, and in-app purchases.
Video editing apps can enhance your business revenue. Snapchat and Instagram stores allow promoters to promote their products through video ads. However, your app should have unique features such as face filters, animations, effects, geotags, etc, to let users use them more efficiently.
This will help you incorporate those features that users want to see.

Features to Consider
It's not possible to create a video editing app if you can't define its features. Figure out the features that you want to include before implementing an idea.
You can bifurcate the features into MVP and Additional Features.
MVP
Minimum Viable Product (MVP) is an app which consists of vital features, ensuring the execution of basic tasks. It plays a vital role in mobile app development services.
An MVP allows you to launch an app quickly by integrating essential features. This version gives you such important data as market response and user feedback. Besides, once you get the feedback, you can decide which features you can add, what improvements are needed, etc.
Additional Features
MVP doesn't come up with Additional Features. If your MVP has stood up to the expectations of users, then it's time to add the additional features to it. It offers a better user experience and an attractive user interface.
However, you can add more features once your app hits the path of success.
For example, when a taxi booking app - Uber was launched, their developers made a lot of complex features after the release of the MVP version: scheduling a ride, carpooling, split fares, etc.
Additional Features can bring more complex and unique functionality. Therefore, you can implement these features in future updates once the MVP release.
Here, to create a video editing app MVP for your business, you can consider the following features:
Trimming and adding frames
Merge files into one
Special sound effects
Social network sharing
Save video
Color correction and transition settings
Now, it's time to launch an MVP with these features. If it becomes popular then you can add the following additional features:
AI editing assistance
Cloud storage
Reverse video option
Syncing with different music platforms
Speed up/slow down settings
Picture-in-picture option
Choose The App Revenue Model
Once you complete the development process of your video editing app, the first thing that will come to your mind is to monetize an app.
There are many ways by which you can monetize your video editing apps such as in-app advertising, freemium model, subscription, and Paymium model.
In-app Advertising
From walking up in the morning to going to bed at night, we will come across many advertisements such as YouTube, TV, billboard, newspaper, website, etc. Obviously, it's the most common method to generate revenue.
When it comes to web mobile applications, you can incorporate other apps to make money. E.g VivaVideo and Cameo.
In-app advertising speaks for itself. When users open your app (free app), they can see ads. VivaVideo is a great example of a free video editing app with ads.
Freemium Model
As the name suggests, a Freemium model comprises two different models: Free + Premium.
The app comes with no cost in the freemium model. However, users can use the app without paying any cost. But, they can only utilize its premium features by paying for it. We can consider InShot, PowerDirector, and FilmoraGo for the Freemium Model apps.
Subscription Model
Well, there's a quite difference between Freemium Model and Subscription Model. In both models, users can download the apps free of cost. However, unlike the Freemium Model, where the users have to pay for premium features for one time, in the Subscription Model they can subscribe for a while to use premium features.
KineMaster, Adobe Premier Rush, and Videoshop are examples of subscription models.
Paymium Model
The Paymium model is a very rare monetization model among video editing apps. For this, users have to pay to download the app and have in-app purchases at the same time.
The most popular apps with the Paymium model are LumaFusion, FiLMiC Pro, and VideoGrade.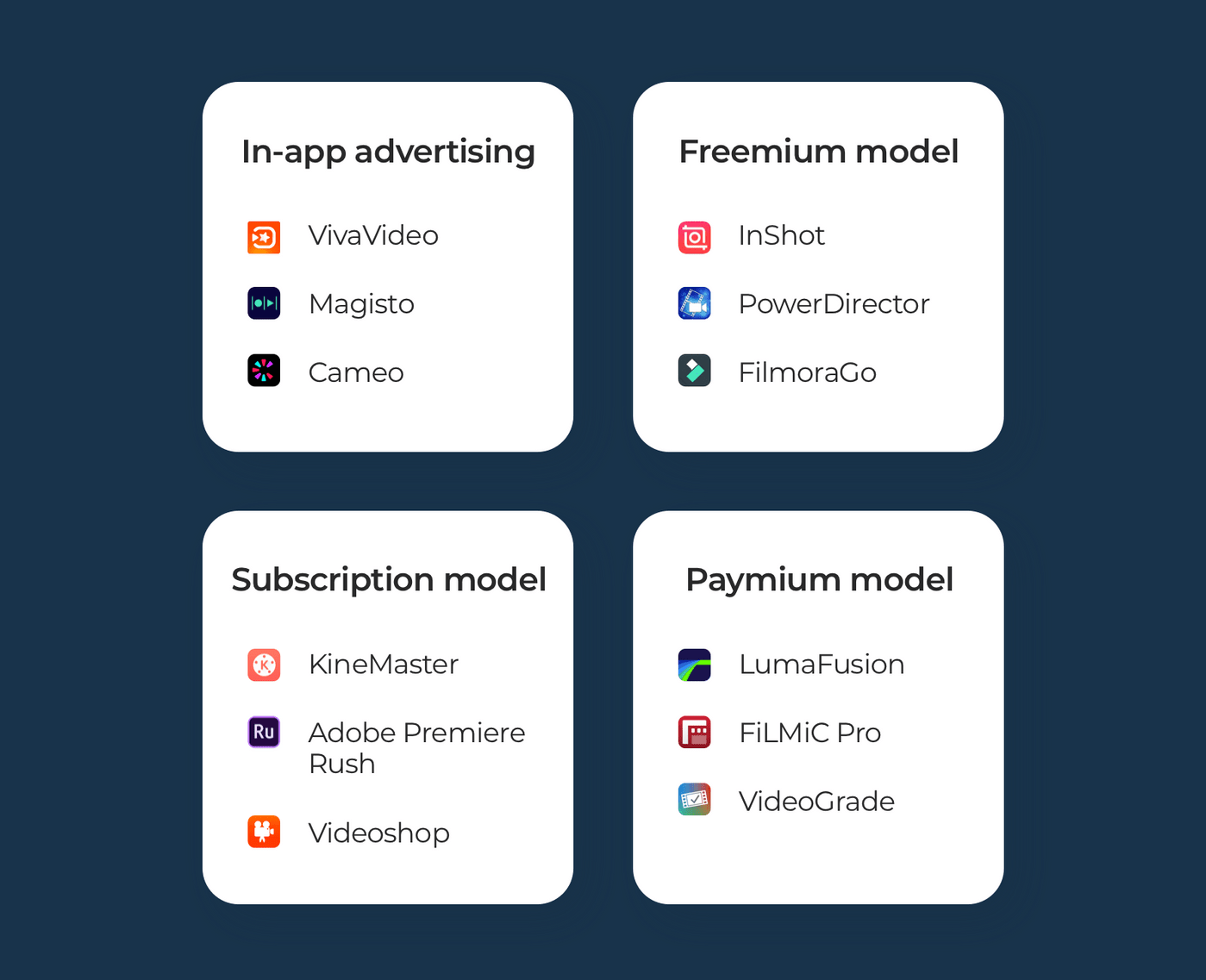 Tech Challenges Developers Face While Developing a Video Editing App
Video editing apps for iOS and Android platforms are not a cakewalk to develop. Despite not considering the various OS, developers face many tech challenges.
Well, it's time to discuss those challenges for iOS app development services and Android app development services. Let's unleash them.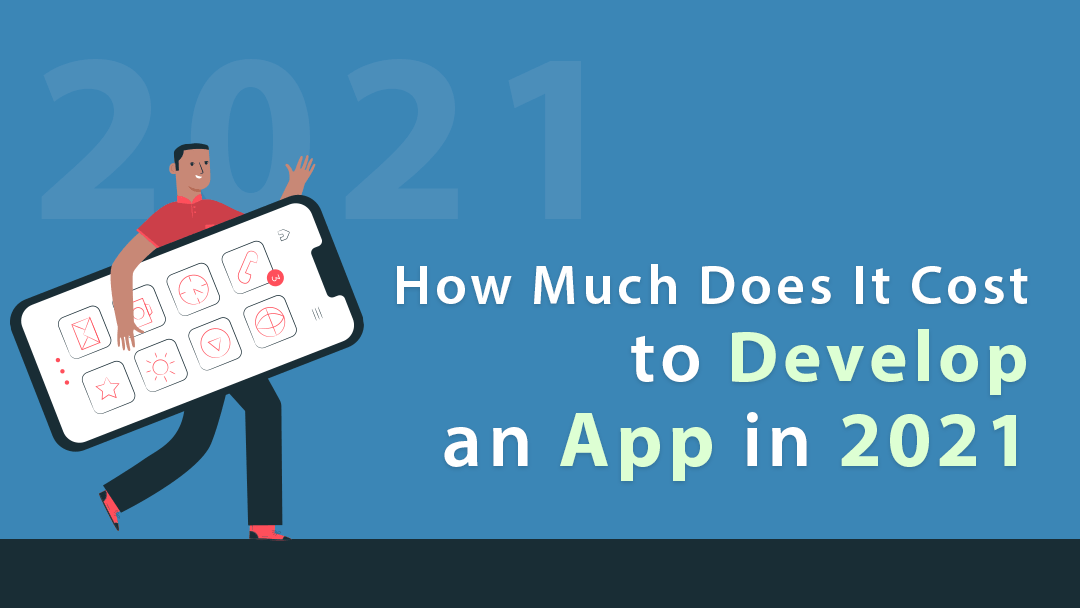 Challenges of Android App Development Services
Video Rendering Performance
For Android app development services, video rendering performance is the biggest challenge for video editing app development. FFmpeg and Transcoder are the special video processing tools for Android OS.
FFmpeg offers many options, but it has a low processing speed. Whereas the Transcoder has exceptional processing speed, but it doesn't offer good functionality. Moreover, it's not a bit complicated tool to utilize.
Undo/Redo Management
It's critical to analyze which actions can be canceled when a developer develops a video editing app with complex functionality. Its primary task is to gather all functions into a single mechanism that will merge all the user actions and apply them to the video.
Filters
There are many ready-made solutions to implement different types of filters in the video editing app. But the problems occur when the existing library doesn't provide the necessary filters.
Challenges of iPhone App Development Services
Images and Video Orientation
Managing images and video orientation in iOS is quite difficult. They can turn over, especially if the development goes simultaneously with an Android version.
Video Merging with Pictures
Developers have to work with pixels very accurately, to get the correct aspect ratios for video merging with pictures or text.
Auto Audio Track Correction
It's a tricky task to add an audio track to the video. In iPhone app development services, it's a tedious task to manage scalable audio volume levels.
Development Cost & Time
Well, until now, we have read - how to create a video editing app for your business and its must-have features. But, now the time has come to answer the most important question - " How much does it cost to develop a video editing app?".
However, it takes time to develop a feature-rich video editing app for both platforms. You can incorporate many features such as Login & Signup, My Videos, adding Photos or videos from the cloud/gallery, adding frames, file merging option, filters, color correction, etc.
Well, video editing app development can take around 700 to 800 hours. In fact, the more features you want to incorporate, the longer it takes time to develop. Henceforth, the development cost completely depends on your specific requirements and the features you want to implement.
Tech Stack for iOS and Android Platforms
There are many tech stacks available for video editing apps for Android and iOS.
Here's the list of technologies developers can use for Android app development services and iPhone app development services.

Let Us Build Your Video Editing App
The One Technologies is the renowned and best cross platform mobile app development company, having an expert team of developers who are proficient in developing video editing apps for both platforms. Irrespective of your industry or business size, our developers will help you develop a feature-rich app.
So, what are you waiting for? Be the winner of this battle. Let us know your requirements via email and we will be at your help.
If you find this blog useful and are curious to know more about Android app development, please go through the below-mentioned blogs.