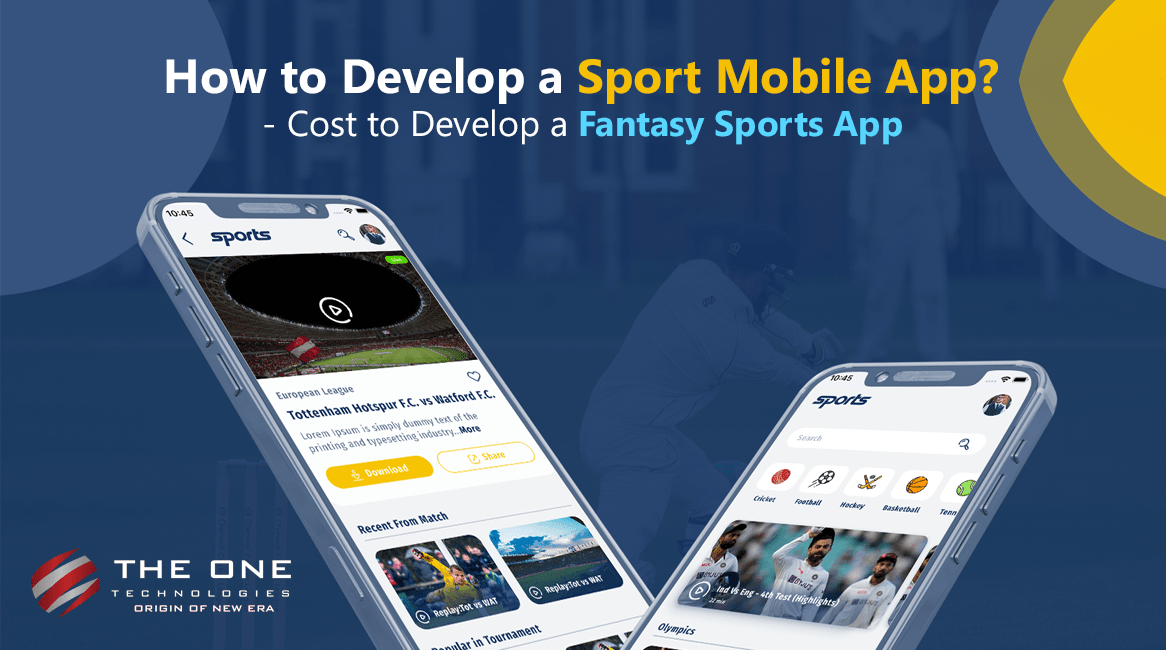 The mobile app is now a necessity for every other industry. For the sports industry, the mobile app is a need of an hour. Sports is no more an option, especially in a digital-driven world.
Let's see how to develop sports software solution effectively.
As per the Forbes report 2019, the expectation of the sports industry in the global market will reach $73.5 billion by the next couple of years. So, if you are in the sports industry, here is the right time to develop a sports app by offering features that flourish your business's future.
Table of Content
Sports mobile application development tips
Sports is not an option; it's as essential as another industry. Every geography has preferred sports worldwide to encourage and develop sustainable sports mobile applications.
A mobile app development process will help understand the target audience and thus the demands of users by the usability studies.
You will find challenges in making a mobile app for sports as every sport has different requirements and thus features.
Here are the steps to consider for Sports app development
For any app development process, choosing the right OS is the key. When it comes to sports custom software development services, one needs to identify the OS your target audience prefers.
Suppose your audience is majority from India; both Android and iOS OS are equally important and if your target audience is in the USA; it is suggested to go for iOS. When developing any sports software solutions, selecting between a Native or Hybrid app plays an important role.
Mobile app designing is the critical part as it determines your app's success. A sports solution needs a user-friendly interface with simple onboarding, quick navigation, and a clear design for users that will help them use it effectively.
Attractive and easy-to-use sports apps will be more likely to visit by the audience, and they will go viral in no time.
Allow sports fans to live stream videos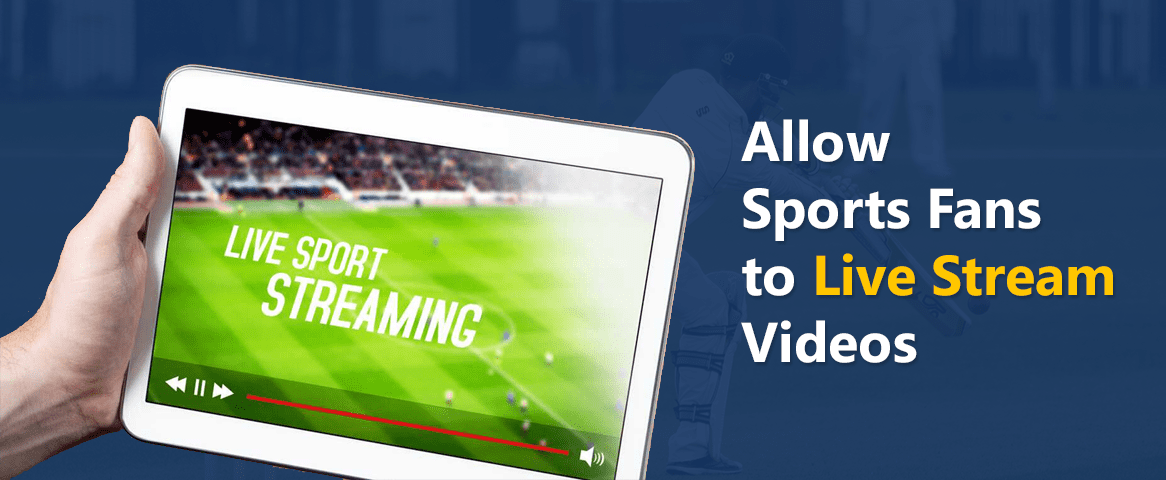 In mobile entertainment apps, especially for games and sports apps, users may not be able to catch a live match on TV. Thus, if your sports mobile application offers live streaming, it must be a great hit amongst sports enthusiasts who will never miss a game.
Your sports software solution features are highly dependent on the region you target your audience. If you go with India, cricket and football live match scores and the streaming facility are the best feature. For the USA, baseball and Basketball are considered more.
For a robust and successful sports mobile app solution, a leading mobile app development company can be a savior for Fantasy Sports App Development.
Use of multiple languages
Sports lovers are everywhere, and all enthusiastic sports love to watch their favorite sports in their preferred language. Offering a multiple language feature in sports app solutions is a winning chance for more app downloads.
Let's say your target is 229.7 million US people speak English and 40.5 million people speak Spanish, and the rest of others speak different languages.
-> Thus, supporting multiple languages is the best feature if you want a successful and most visited sports app.
The majority of the sports app supports English, Spanish and Chinese, covering a broader range of audiences and raising the number of in-app purchasing.
Also Read: Ultimate Guide Of Competitive Analysis In 2021 For Mobile App Development
As we mentioned, the UX of any mobile app plays a crucial role. The app's usability will increase with the attractive and straightforward UX and make the application popular.
The app must not freeze while it's functioning. When it comes to the UX of an app, it must not stop responding while match streaming or visiting the scores. It may not lead the user to close the app. In the competitive sports app development market, the user is looking for a better experience and creativity for seamless use of an app.
The One Technologies offers the best UX to develop your sports app with a seamless experience ensuring users' needs with hassle-free access.
Social media encapsulation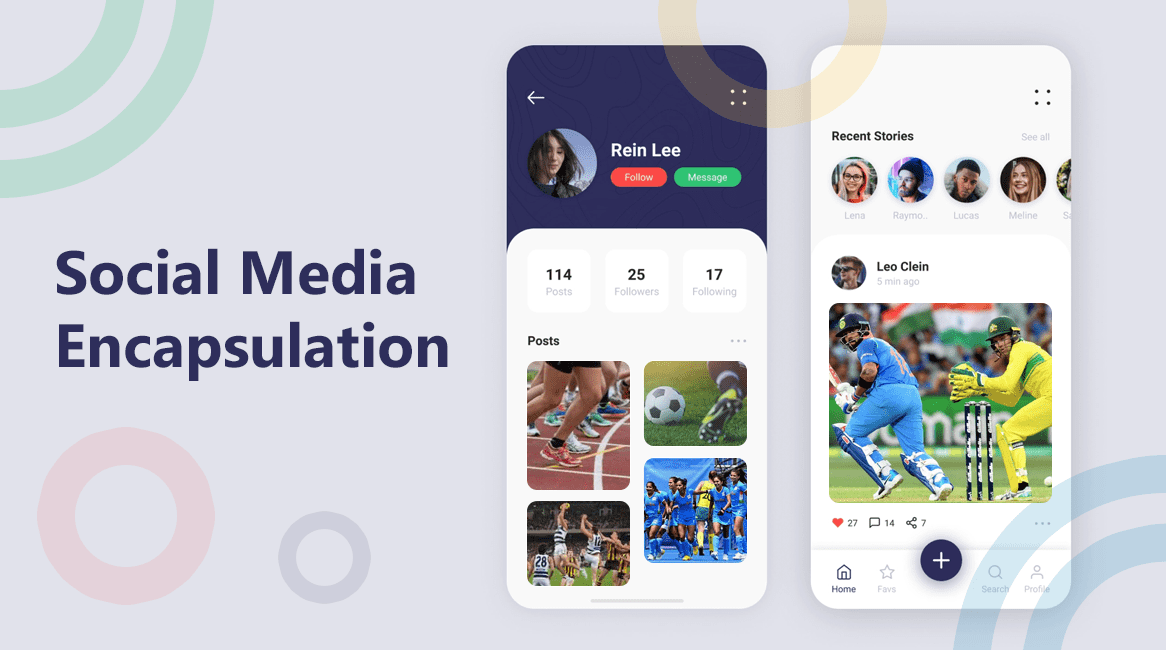 The most notable breakthrough after digitalization in the mobile app market is gaming and sports application. We have seen a radical alteration in the sports industry. Besides, integrating with social media gave huge benefits allowing users to flex their opinions.
As we are witnessing, social media is not an option, but it's a new standard even for businesses. It is now one of the most needed mobile apps in the market, where users are spending their time streaming and playing sports games.
It will further exponentially boost your app downloads. There's no better way you can market your app for free.
The sports industry is livelier and more attractive as coper to another market. Sports lovers will be surprised if you add a ticket purchasing feature to your sports app solution. Providing an accessible and demandable feature lets your users use the app more often and recommend others.
Attraction details like notification and easy ticket booking create the hype for your sports app for any sports gaming and live streaming sports. In addition to that, a payment gateway integration is a huge move to book tickets through your app.
Once you start selling merchandise, your sports app will help users buy your goodies, increasing popularity with more buyers.
Mostly it is found in eCommerce applications, but Sports Market is transforming a lot where merchandising. People are ready to invest in sports app solutions and specially branded merchandise.
Users are also buying player-themed stuff and goodies like mugs, t-shirts, caps, activewear, and more.
Offer Social Networking App
One more popular consideration for custom software development services is offering a game with an opposition. Users love to pair with others, and playing games with opponents need two or more people to play.
Being in the sports industry, your sport mobile app should be able to send friend requests, add connections, and enable users to have one-on-one and group chat for a complete sports app.
To play with the other users, one should first meet someone from the app and get directions to play effectively.
And, not to mention but security is the key, and all the features should be implemented through a secured gateway that guarantees complete security of users' information.
For a passionate Sports audience, a minor bug can be a mistake. It may lead to a negative impact on your sports business app.
Grants Access to Customized Content
Sports passionate people will love to know more about sports. If you update them with various sports events and the latest sports news, chances of app download will increase. Mobile app development company India will help you design and develop a Sports app solution that gives access to customized content and offers valuable information about the status of the game.
Analytical reviews of both the participated games, information of winning team, and more will add to users' desire to use the sports app.

Fantasy Sports App – The breakthrough in Sports Industry?
If you are planning to develop Fantasy sports apps, it will be a tremendous profit-earning app opportunity. Fantasy Sports App Development provides clients with the opportunity to play games through web and mobile.
The mobile app flow of the Fantasy app is simple, yet influential offering users to first create a team before a sports game starts. To play the game, users have to add a certain amount of capital to the app account, and once they win, they will get cash prices and rewards.
A fantasy mobile app has been in demand and a popular business model for five years now. It also ensures a significant number of business revenues and profits if executed and marketed well.
Factors Affecting the Cost of Development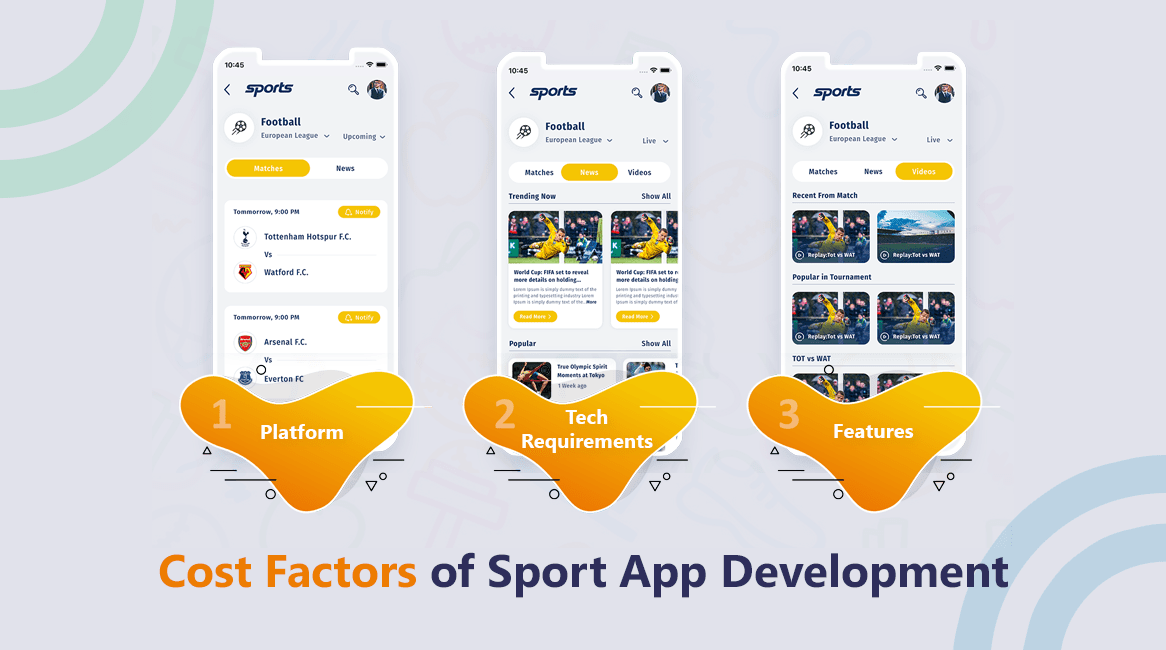 When planning to develop a profitable fantasy sports app, the cost is surely one of the important factors. To evaluate the cost of fantasy Prots app development, you can contact experienced developers or hire a fantasy sports app development company.
Here are four essential aspects that influence mobile app development cost in real-time:
1. Development Platform
Choosing the right mobile app development will help you give the desired outcome of the application. While planning a Fantasy mobile app development application, the platform is the first thing to decide till launching an app.
For any mobile app solution, you have two options that are iOS and Android. The platform of an application also depends on your targeted audience region, application budget, business needs, and more.
2. Tech Requirements
The next step for the app development is to decide the technology and consideration of the tech stack. You can ask following questions to your mobile app development service partner:
Which programming language is best for the application Or,
Which database will you use to store data?
Which suits best, developing your software on native or cross-platform?
All of the above will help you decide on the right technology, and thus your Fantasy app will develop effectively. It will also add information about the cost of the application and your overall investment in mobile app development.
3. The Features
Features of your sports app will eventually decide whether it succeeds or fails your app. In the highly competitive market, application features and user-friendly features are crucial and go without saying.
Most successful full applications are due to their functionality, affecting the price of the sports app development. If you choose to offer high-end features like multiplatform support, multilanguage support, expert analysis, and multiple payment modes, the cost of the mobile app development services will be more expensive.
Also Read: How Much Does It Cost to Outsource App Development in 2022?
Steps to Sports Mobile App Development?
Here are the steps for developing a sports app:
Step1: Define the type of sports app you require.
Video Streaming eSports App
Sports Updates and News App
Sports Training App
Fantasy Sports App
Team Management App
Step 2: UI/UX design of your app.
People will buy what they experience, and they pay for what they see and entertain about. UI/UX design is more important in the digital space that keeps the user more engaged.
When you spend good money on your app's UI/UX design, it will bring more visitors and users, and they will pay for paid versions of your app and the content you are offering.
Step 3: Business Models for app monetization.
Revenue generation of any app is essential, and a mobile app development company can help you monetize well. In the mobile app market, every application plays a different role. After an initial time of app lunch, businesses opt for app monetization.
Step 4: MVP Document for Service/Product description.
Step 5: Gather & analyze data.
Step 6: Execution of the app updates and implementation.
While preparing for a comprehensive sport mobile app development for your startup or established sports business, you also need to plan for app updates.
If you outsource an app development company, you must ask for app updates and maintenance services once the app is launched. To plan, develop, and execute your sports app, you can contact an experienced sports mobile app development company like The One Technologies.
How can The One Technologies help?
Sports mobile apps are booming and transforming the market with huge effects. There is a rapid expansion in the industry with golden open opportunities if you plan to develop a Sports app.
While the demand for fantasy sports apps keeps growing, it is predictable that the sports industry will rise even more.
We recognize your business needs, app goals and present the best suitable app plan and development service and customized solutions for your business.
We have dedicated resources for designing and app development to deliver the best experience in developing Sports Apps.
We update ourselves and work on languages like Flutter, ASP.net, Kotlin, Node JS, Xamarin, React Native, React JS, and more in terms of the latest technology.
Besides, if you hire our team, our skilled developers will work at your time, and project managers will help you coordinate the project as per your requirements.
We offer end-to-end mobile app development services with the help of tech experts and experienced professionals. Contact us for outstanding and reliable sports app development.
What Does the Future Hold for Fantasy Sports Apps?
Fantasy sports app development companies are offering an excellent application that generates revenue in less time. Sports apps are the most demanding apps these days, were building an ideal app for the clients is the need of an hour.
Businesses are also tying up for eye-catching advertisements and adding to the sports apps to engage users and build a brand reputation.
In the coming years, most of the applications will offer real-life experience by incorporating apps with Augmented Reality (AR) and Virtual Reality (VR).
Besides, Sports enthusiasts are willing to spend money on sports games and play their favorite games online.
FAQs
How long does it take to develop a sports app?
For any sports app development, the time to develop an app depends on the technology you choose, the platform you require, app design, and the features you want to incorporate in your app.
The business app development process needs analysis to share the app requirements details with us to know the sport app development cost.
What are the features the sports app must have?
Every sport and fantasy app has unique features as per the need of the Sports App. Some of the features to be considered are Live Streaming, Language Selection, Instant Updates, Sports lists, Team Lists, and more.
Why are mobile apps becoming a necessity for the sports industry?
The sport passionate people, sports app, is something that keeps the match and their enthusiasm lively. Like every industry, the sports industry is booming, and so is the mobile app market, where the new generation loves to keep updated.
How much does it cost to develop a sports app?
For successful sports app development, the cost factors depend on various aspects, and thus there is no accurate answer. The business app development process needs requirements analysis, designing, and the type of functionality you need to incorporate. You can share the app requirements details with us to know the sport app development cost.
If you find this blog useful and are curious to know more about mobile app development, please go through the below-mentioned blogs.