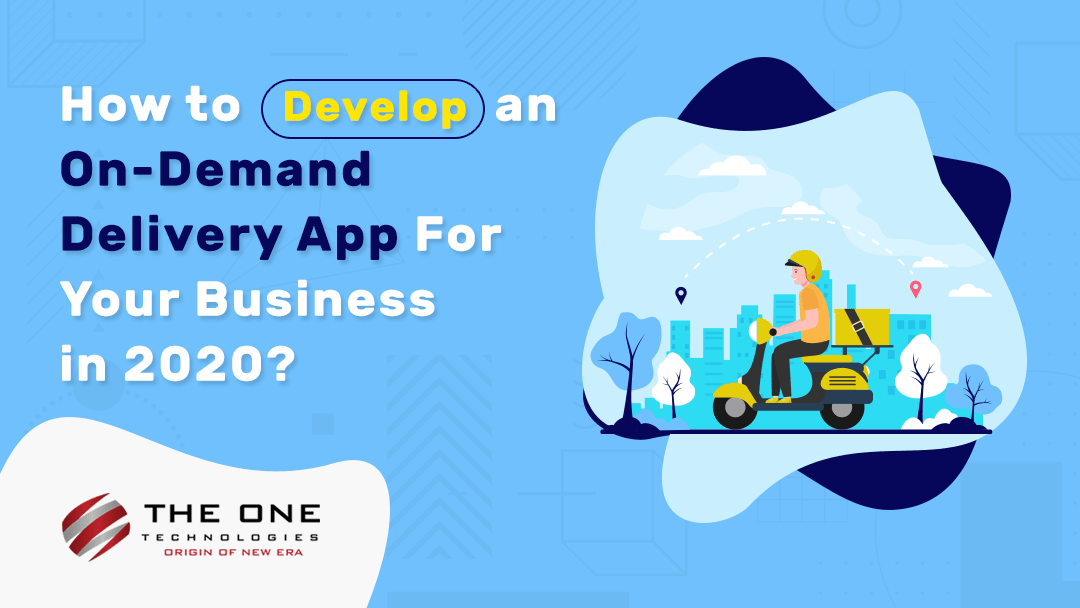 Since the occurrence of catastrophe - COVID-19, we have been told to stay at home, avoid going out and reduce human contact. Major countries have declared to follow the social distance and avoid social gatherings strictly. Hence, this pandemic and quarantine period have changed the way we perform our day-to-day operations in our life. Whether it's education, restaurant for food, work, or watching a movie in the cinema has changed drastically.
As business owners or vendors, you have shut down your offices and shops for a while, the market is shifting online. This lockdown was very tough and changed the way of every business they used to do before. It has witnessed massive demand and popularity for specific apps. Because of a sudden increase in demand for daily utilities and essentials like medicine, grocery, food, etc, on-demand delivery apps have seen a significant growth amidst the COVID-19 pandemic.
Many renowned food delivery companies have started delivering groceries and daily essentials in this lockdown. Upon understanding the requirements of users and changing time, entrepreneurs and business owners are moving online and shifting the paradigm like never before. They have adopted the on-demand delivery business model which might change their business horizons.
Talking about the other side of the coin - imaging the day you come home after a hectic day in the office. The only thing you would wish to get the things done with one touch through your mobile devices. Whether it's about getting food, grocery, house-hold services or watching movies. People would want their life to be more easy, convenient, and comfortable. In this case, many of us will order from the various apps which might help you deliver on-demand services with on-demand delivery apps.
On-demand services have become a trendsetter today. The youth today is playing a key role in adopting these applications and making them successful. The main reason behind the success ratio of on-demand services mobile apps is that they save time and effort. Daily tasks and services have become important, therefore, the businesses or startups are taking this as an opportunity to start a growing business.
If you are an entrepreneur and want to start a business by providing on-demand services, this blog can give you step-by-step information from types to features to the cost of an on-demand app. Before that, you need to be aware of on-demand industry leaders, essential app features, and the development costs listed in this on-demand app development guide.
But, let's find out what an on-demand mobile app is.
What Is An On-Demand Service App?
On-demand services provide hassle-free services to the customers what they are looking for without stepping out of your comfort zone. It's a mediator connecting buyers and sellers. This means when a customer is looking for a particular service, one can find a necessary solution by ordering via the app. Then, on-demand mobile apps charge a small fee on each order made via the app.
Why an On-Demand Delivery App?
As we surely know, this pandemic has changed the demand of every user. Even statistical data is showing a bright future for on-demand business solutions. As per the research, on-demand business revenue is expected to reach $335 billion by 2025. Customers will shift towards a convenient experience, promised by on-demand delivery apps.
Also, research shows that 61% of customers are willing to pay more for same-day delivery. More than 25% of customers may abandon their purchase if the seller does not offer same-day delivery. The on-demand game is leveling up and you need to catch up to remain relevant in the business arena.
Types of On-Demand Services Apps
On-demand mobile applications differ from the various categories of sellers and buyers. Generally, here are three main types of on-demand app end-users.
1. Enterprise to Person (E2P)/Business to Consumer (B2C)
Business to Consumer or Enterprise to Person allows transactions of services or products between providers and customers. In this category, enterprises provide their services to customers. There are many B2C on-demand service mobile apps such as Dominos, McDelivery, Netflix, and more.
2. Enterprise to Enterprise (E2E)/Business to Business (B2B)
Business to Business or Enterprise to Enterprise on-demand apps is developed to connect businesses with businesses. These B2B apps can either serve a single industry sector or multiple industry sectors. Service providers and takes are not the end-users of the service or product.
With this application, organizations connect with other organizations to seek profit. Such applications include hiring, banking, etc. Eventio, Cargomatic, and Catalant are providing this type of service.
Which Sectors to Choose For On-Demand Service Apps?
There are many industries which have witnessed the expansion of their businesses in the on-demand delivery app model.
Here, we are curating some of the areas and sectors where on-demand services have been adopted widely.
Delivery of Food and Grocery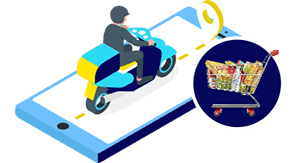 People cannot stay away from groceries and daily essential needs. Even, the pandemic has forced people to not go out and stay home. Hence, they order food and groceries from on-demand food and grocery delivery apps. Therefore, this sector is booming with many On-demand food delivery apps, and you can be a part of it too.
Outsourcing your on-demand application to an on-demand app development company, you can be the next Zomato or Swiggy in the food & beverage industry.
Healthcare or Telemedicine
When are you looking for ideas to develop an on-demand app, don't forget about the telemedicine or healthcare industry. It's a vast industry and also in huge demand as it saves time for both doctors and patients. With these applications, users can book an appointment with the doctor one-on-one on mobile devices anytime and anywhere. Just like a physical consultation.
Apart from that, if you are seeking medical consultation and medicines, you can easily get it done. A doctor can examine patients during an online consultation and provide a prescription.
The best part about on-demand medical apps is that it provides 24x7 services. This app includes doctor's or expert's advice, buying medicine, and calling doctors home in case of an emergency.
Taxi Services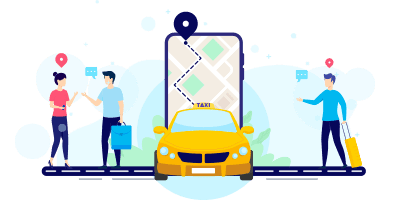 On-demand taxi service applications have witnessed massive growth as it allows users to find, book a cab using GPS and Map Navigation. Also, customers can communicate with their respective drivers in real-time. They can also get the status of their booking, taxi arrival and fare estimation.
It allows users to give their feedback, reviews and ratings.
This transportation and logistic segment is very popular and booming in on-demand apps. You can be a new player to have your own On-demand Taxi Booking app like Uber and Lyft.
Home Service Delivery
People around the world are leveraging on-demand home services like beauty, cleaning, salon, plumbing, movers and packers, etc.
There are home service delivery apps like TaskRabbit, Handy, Homejoy that allow you to hire any professional to complete your household chores.
However, it has its challenges which must be identified and dealt with a pragmatic business approach.

How to Develop an On-Demand App?
Shifting your businesses online and building an on-demand delivery app can seem easier, but you need to do great research and consider several factors before developing such an app. You will have to think about customers, do market research, prepare a strategy to retain and gain new customers.
Therefore, as a renowned Android app development company, we help you develop on-demand Android applications. We are explaining KPIs - key performance indicators that every business should consider to launch the on-demand delivery app successfully.
Identify Target Audience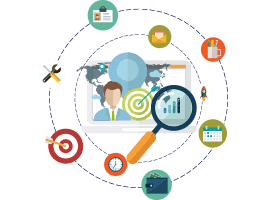 The initial and foremost step when you develop an on-demand app is to identify the target audience. Not every industry is ready to accept the on-demand business app. Some businesses remain traditional only. Hence, it's mandatory to identify the right industry for your business.
Some industries are ripe enough to adopt on-demand business solutions. You can step into food and beverage delivery. There's no way you can find any loss or decreased ratio in food delivery. With every cafe and restaurant opening in every corner of the city, we need third-parties to provide delivery of food to their customers.
At the moment, transport and logistics are seen around on-demand app development.
Study Your Competitors
If you drive your business in any industry, you should know every move of your competitor. Since they might be in the industry for a very long time, you could get some ideas, their mistakes, customers' honest opinion, ratings and consistency of their technological evolution.
Spend some more time on your competitors and their moves. Do every bit of research, you never know which idea struck surfing in the app world.
Define Strategies
After knowing your end-users, you should do proper research on market trends and expectations of your prospective customers. It helps you define goals and strategies for mobile app development.
Android developers can create a prototype for your app to get a clear insight into your app. By referring to your competitors' apps, you can get more ideas for developing an on-demand app.
Go For Partnership
If you are looking to develop B2B apps, you need to establish a partnership with providers and receivers. In case, if you want to develop a P2P app, you need to form a partnership with the providers.
Partnership can be a major factor in growing your business from ensuring seamless operations to promoting your app. On-demand apps publishers take a cut out of every transaction made on the app platform. You have to negotiate the number with them before creating the revenue model.
Make Informed Decisions
It's always been good to know your competitor's moves and activities before developing an on-demand delivery app for your business.
You should see what big players are doing in your industry and set the footprint by implementing new and additions features to it. For example, if you are planning to develop an online taxi booking app, you can do thorough research on Uber's business model.
Push Notifications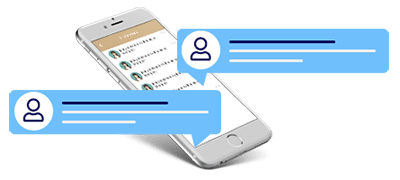 Push notification can give a push to our business revenue. It helps organizations send personalized messages to customers and gives a personal touch. But, at the same time, there's always a risk of developing an annoyance for the app users if notifications are excessively used.
Therefore, you need to make proper planning for sending notifications to users. You must maintain a subtle balance between a regular informative notification and annoyance while sending push notifications.
Set Loyalty and Reward Program
Loyalty and reward programs are one of the most efficient and cost-effective methods to promote your services and products. It can make your customers feel valuable for your company.
You could provide a referral bonus, discounts, and coupons to gain users and retain them on your app. With this, you should take care of the interests of your target audience to get an optimum outcome.
This will expand your user-base as more users would get attracted to take the benefits of these offers. Before introducing any offers, ensure that you carry thorough research.
Customer Support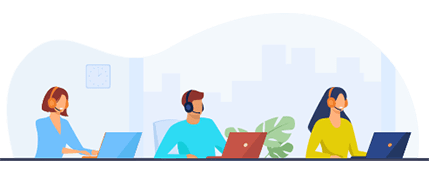 If you are offering services and products to the customers, it's essential to provide quick support. If they face any issue, they will always knock on your door irrespective of time. And you have to be ready to thirst their queries with an immediate solution.
Customer support is another important factor in on-demand delivery apps. It's useful as it resolves the problems faced by your end-users.
It's also useful when your user is unable to contact any of your delivery executives. In such cases, your user can always reach out to the customer support and get it resolved.
Conclusion
Developing on-demand applications for Android and iOS requires a combination of skills and experience; therefore you need to find a reliable, trusted and experienced mobile app development company.
Having said earlier, due to the COVID-19 pandemic, the on-demand business has been booming and witnessed a spike in business. In the coming days, many industries like food, house-hold, grocery will shift their business from offline to online.
On-demand delivery apps are in huge demand nowadays but don't expect them to be a short-term trend. There are many on-demand app development companies which can help you out developing on-demand delivery apps for any platform. And if you are planning to develop an app for Android and iOS, then contact the best Android app development company and iPhone app development company, The One Technologies respectively. It's a right and better time to invest in the on-demand industry. However, further, a mobile app development company can guide throughout the way.