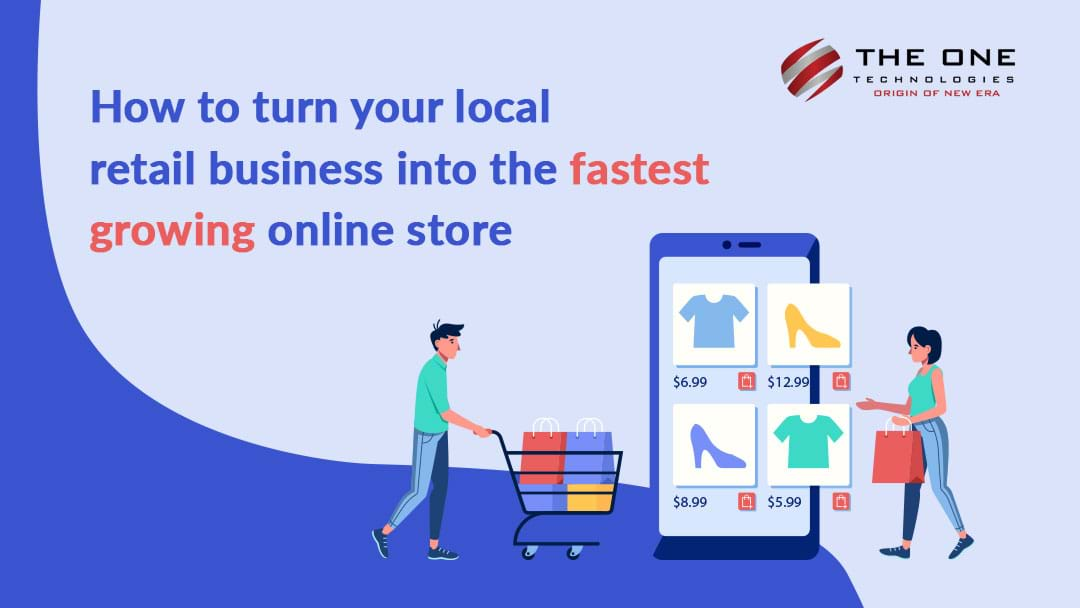 Are you into a business and it's just limited to the local area? Or want to reach out to the broader area of customers, but don't know how? Well, the word 'business' itself is enough to make it big and conquer the world by just developing a website. The good news is, nowadays, it's not very difficult to develop an eCommerce or any website for your business to sell the product or endorse service. No matter how small or big your business is or what industry you are in!
To develop a website, you are not responsible to code it or carry the burden of managing it. Well, in this time of technology, it's your responsibility to find out the best and experienced Web and Mobile App Development Company or eCommerce Development Company, who understand your requirements and deliver the same as you need.
Whether it's running an online eCommerce story only or adding online shopping to an established brick-and-mortar business, web sales are necessary and help you boost your business. Moreover, as per the report by Statista, online buyers are expected to surpass 65 % of internet users worldwide in 2021. For this reason, many retailers are establishing their area in the eCommerce market or in the digital world.
Though, for every retailer or business, it's a quite challenging step to building a successful online store and to know what products to sell. Perhaps the most common thing people think about business websites is that they must offer products or items to buy, accept credit cards and process financial transactions, and so on. No! That's not the truth. That's their misconception.
While eCommerce websites are covering the market and digital world, the vast majority of business websites still consist of information rather than purchase-oriented. If you're into selling products or services, that means you should consider developing an eCommerce website.
But if, like, most businesses, your products, and services are not intended for Internet sales, you still need a web page or website of your own. And you can get one quickly and economically.
Having a web page or business website isn't just about selling your products, brands, and services — it's also about providing something of value to potential customers across the globe.
All You Need to Create a Beautiful, Fully-featured Website
While opening an eCommerce business or developing a website can be relatively easy, you need some things to get started. Here is all you need or must have to open an eCommerce business.
1. Choosing a Domain Name

Before you step into the online world, you will have to register or choose a domain name on the web. This is your online address at which shoppers can find the business' website. Most of the business domain names end in either ".com" or ".net" or ".in". Your domain name should match the name of your business as closely as possible.
Once you finalize with the domain, you can get it developed and hosted on the web by an experienced eCommerce Website Development Company or Website Development Company in India.
2. Hiring a Web Hosting Service
After selecting a domain, now you will need a web hosting service to publish your website online for shoppers to see. It's not a that difficult job to look out for a reputable and trustworthy web hosting service provider. Find out what other services and features are provided by that service provider.
Also, make sure, in future - you will be able to expand your business and upgrade it and your web hosting service can allow changes and additions, quickly and economically.
3. Make Your Website a Mobile-friendly

Just as important as your website, a presence on mobile devices is more important than ever, with more people using smartphones and shopping from there. So, your website needs to be optimized for mobile, that means, it dynamically changes size and layout for easy browsing on smaller screens. You can also develop a special mobile app that can be downloaded from app stores by customers with the help of Mobile App Development Company.
4. Add a Shopping Cart Software
You need a shopping cart software if you need to sell items from your eCommerce website to your customers. This program will allow shoppers the chance to search the inventory of business to see what's available and select items they want to purchase and eventually buy them.
However, many shopping cart software options include features for controlling inventory, setting up shipping and calculating taxes.
5. Set Up Your Payment Processing
Since online retailers can't accept the real cash payments via the website, they need a merchant service provider to handle their payment process - internet banking, credit & debit card, wallet, visa cards, etc. By setting up third-party payment gateways like PayPal, Stripe, Authorize.net, etc, you can collect the money. This service acts as a bridge between the business, customer and credit card company.
Without setting up the payment gateway or a merchant services provider, a small business has no way of collecting money from customers except Cash on Delivery.
6. Implement Analytics Into Your Website
By implementing analytics into your eCommerce website, you can track user stats, get to know about their behaviors and know them in a detailed manner. For example, if a user lands on your website, you would be able to know how he/she purchases the product, what's their transaction history, what's their purchase pattern, and what other products they liked. Tracking user behavior is very important and necessary as it helps you improve good user experience and expectations.
7. Let Your Website Do The Talking With Marketing
Every online business has a successful strategy for attracting customers to their websites. Without a proper plan, you cannot turn a huge profit easily. There are various marketing options available for your business to do digital marketing - SEO, Pay-per-Click (PPC), Social Media Marketing, Email Marketing campaigns, etc. Your website should be integrated with your social media business pages and have links. This way, you can offer to subscribe to users for electronic newsletters and keep them updated with your latest products and services.
Still, wondering how having a website will help you grow your business online?
Well, here are five reasons why every business needs a website:
Why Your Business Needs a Website
1. Your Customers Want You Online
If this were the only reason on the list, it would be enough. Give a thought to it. Now, put yourself in the shoes of the customer, and tell us. Would you really trust a business that doesn't have any website?
If you are not having a website for your business in this digital world, that's pretty much sure, your customers may look elsewhere. Have a look at this list of things that customers say they want from a business website.
2. It Gives a Social Identity
As per the survey, 90% of customers claim that online reviews influence their buying decisions. You could have a look and rely on Google, Yelp, and other review sites to host reviews for your product, but you can kill two birds with one stone on your own website.
And on top of it, genuine customer testimonials create a great impression on potential buyers.
3. You've Got a Power to Control
It's true that you cannot control what others say about you or your business on social media platforms, but you can influence public perception by creating your own story via a business website.
Blog marketing or guest posting helps business owners or retailers get their message and personality in front of their target audience faster than print ads or snail mail brochures.
Moreover, integrating your social media channels with your content or web page makes it easier to share.
4. You Will Show Up In The Search Engine
Having said earlier, most of the customers perform online research before making any purchase from a website. This really means, they just go to Google and type in one or more keywords, like "best mobile" or, if they know what exactly they want, they will type. "Best android mobile in 2020."
So, now you have understood the importance of having a website. And if you don't have one, the chances of showing your business up on the search engine results page are zero. But if you have a website, then you can make it SEO friendly and therefore, chances of ranking on Google's search result is higher and more visible for the potential customers.
5. Never Keep The 'Closed For Today' Sign
Obviously, nobody would want to work at 3 am, but some people like to shop then. Having an online business or eCommerce store means that you can sell your products or services all the time, any time - not simply during office hours - 10 am to 7 pm.
An online store can surely boost your revenue, especially when you factor in additional customers who are not restricted by geography. By just selling your product on your portal, doesn't end here. But you have to be proactive for customer service, client relationship building, brand recognition, marketing campaigns and almost every other element of the revenue stream.
Conclusion
Every business needs a website. With all of this given essential information, you're ready to build your first eCommerce website today. But to conquer the digital world with your website, first, you need to join your hands with eCommerce Development Company and develop an eCommerce store as per your requirements.
The One Technologies can guide you through choosing a domain name, developing a website, integration to maintenance, and get you on the right path to success. We know what you need for your business irrespective of industry and have a talented team to offer Digital Marketing Services help in every possible way - and we want to use it to grow your business and generate revenue.