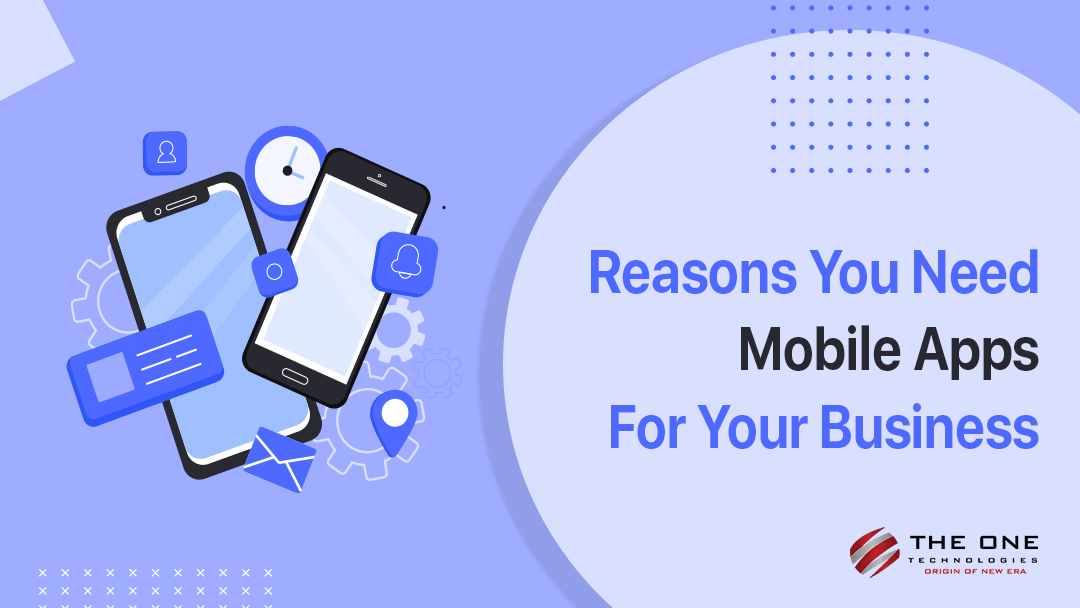 In this digital era, one of the effective and efficient features of every business is being a multi-channel. Establishing an effective presence in those channels which provide contact with potential customers becomes a vital business challenge.
Mobile applications are considered to be one of the most convenient, powerful and effective tools which help you cover a wide spectrum of an audience in order to grow your business. As we know, every person is dependent on the cellphones and they are reaping the benefits of mobile devices. Therefore, mobile devices continue to grow in this market.
Whether you own a startup or large industry, you should adopt the mobile application for your business irrespective of your industry. We are aware that mobile applications have become an important marketing tool for effective business. It's very important to stand out from the competitors by developing a mobile app irrespective of business size.
A mobile app development company can help you in developing an incredible and amazing mobile application that creates your brand identity. It's completely your choice whether you go with Android app development or iPhone app development. This depends on your industry, target audience, and budget you have.
So what are you waiting for? Here are several factors that every business owner should think of mobile app development for their business.
Table of Contents:
1. Be Visible to Customers at All Times
A report says that an average American spends around 5.4 hours a day on his/her mobile device. In fact, only a handful of all mobile apps constitute the main part of total usage. On the other hand, to find the application on the mobile. The user has to unlock, scroll, and glance over the device.
As human's minds visualize and record unconsciously every text, image, and icon with simple scrolling down. This can be an advantage for your business. It works - even if this process gets unnoticed.
2. Increases Customer Engagement
Mobile apps are a great way to reach out to your customers and engage them with your brands. They encourage you to offer more engaging activities than web apps. Apps can help your business to connect with your potential and existing customers for better engagement. Precisely, they act like gentle reminders that remind your customers back to your business.
An app lets your customers browse, shop, and interact with a brand in a more effective and convenient way. With the touch of their fingertips, they can easily access the information. As a result, your customers reach your brand very easily. However, the more often you engage with your customers, the more likely they are to purchase your brand or leverage your services.
In this competitive world, the impact of your brand could be decreased on its customers. As mobile applications continue to expand businesses to connect with customers. It allows businesses to increase interactions and make true connections with their customer.

3. Builds Brand Recognition
When you offer any product or services, you would want people to leverage your services or recall you first. And a mobile app can surely help you in developing brand awareness and recognition. The more often users get involved with your application, the more likely they are to decide to order your services.
Moreover, you will include in-app offers, promotional discounts to keep a customer engaged. This will help you increase your sales.
4. Create a Useful Marketing Channel
Apps are multi-functional dimensional which satisfy both customers and business owners' thirst as well. They provide various functions such as your company or product information, the cost of products or services, search features, user accounts, direct messages, news feeds, direct booking, and much more.
With the rise of mobile apps and social media platforms, the communication gap between companies and customers is greater than ever. But in this competitive world, it's not easy for you to reach your customers without paying for advertisements.
But due to mobile applications, businesses can create a useful marketing channel for their customers. With in-app notifications and mobile push notifications, businesses can grab the attention of users and hold better relationships and gain instant access to the customers.
In-app notifications are information that users can only receive when they open the app.
Push notifications are those which users can get without opening the app.
5. Better Customer Service
Whenever a user lands on your website or purchases a product, they expect quick customer support. Apart from that, prompt response to their queries and quick services are what they expect. However, human customer support can't stand up to the customer's expectations all the time. If they have any queries at midnight or need support, the human assistant can't answer their problems. This delay can be considerably reduced by the use of mobile applications which lets customers connect with assistants and get an accurate response to queries in an instant.
By integrating Chatbots, your business can also give answers to queries. Mobile apps acting as helpdesk assistants provide enhanced customer service by providing instant resolutions to problems.
6. Customer Loyalty Growth
With mobile apps, customers can easily book a table, order food or pay their bills. An app plays a powerful tool to increase loyalty. By integrating loyalty programs into your mobile app, you can give customers good discounts, bonus points, and promotions.
By personalization tools, you can notify customers about a new product launch, discounts, and promotional offers as well. You can offer users who have installed the app access to exclusive offers and special bonuses.
If people want to get additional information about your company, or products and services that you offer, they can always do it 24x7 with the mobile app. Constant interaction and engagement with customers increase loyalty and in turn, a good loyalty level stimulates sales.
Conclusion
Mobile apps can provide plenty of benefits for every business. If you are still unsure whether you need a mobile app, I hope this article will give you a clear idea to make a mobile app for your business. A mobile app is highly engaging and provides many features to both customers and businesses.
To improve your product or service, never shy away from experimenting with new technologies for building a loyal and permanent customer base. Hence, mobile app development is mandatory for your business. If you have any idea and are looking to build a mobile app, then connect with the best mobile app development company in India. The One Technologies is the renowned Android app development company and iPhone app development company in India, which helps users to develop both iOS and Android apps for their business. We aim to develop secure, robust and customer-centric mobile applications for Android and iOS from scratch to full-fledge.