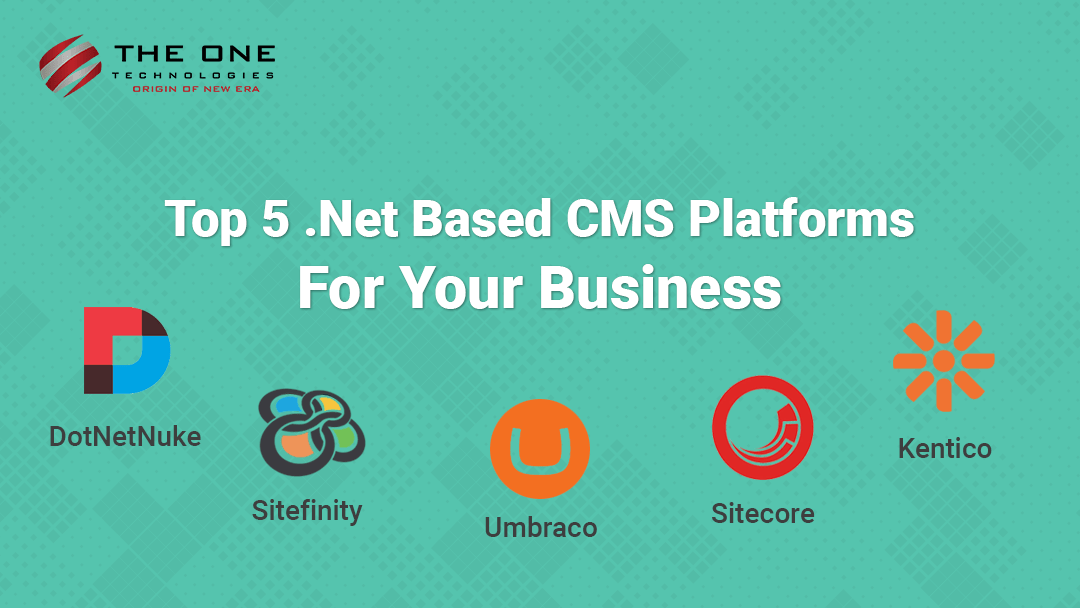 If you own an online business that's dealing with a lot of content, you may find several options to choose from. Today, there are many Content Management Systems (CMS) available in the market and each offers some unique and interesting features that help in website authoring, administration as well as collaboration.
From marketing to sales, human resources, and administrative, CMS helps you work flawlessly in every department. But, now the question arises, how will you come to know that this CMS development platform will be the best choice for your business. Therefore, as the top-notch .NET Development Company, at The One Technologies, we focus primarily on .Net development. Hence, we have gone through five various and top .NET based CMS platforms and compared them based on features, costs, user-friendliness, and more to help you determine which is the best fit for your business. But, before that, let us make you understand that what's Content Management System is.
What's CMS - Content Management System?
CMS is a software which is used to manage web content, where you could develop, create, and publish different content types. This content is stored in a database and displayed in a presentation layer in the form of templates. Here CMS consists of amazing features, which are:
To create and format content
Content can be stored in one place
Publishing to make content live
Workflow Management to assign rights and responsibilities to the author
Best .NET Based CMS Platforms
DotNetNuke (DNN)

DotNetNuke - DNN is an open-source, extensible, secure, and scalable CMS which is based on Microsoft's .NET framework powering over 800,000 websites worldwide. DNN is one of the most popular CMS based platforms which comes with a premium version and also a full set of features.
The platform allows creating secure, rich, modular, and highly interactive websites and applications. It comes with in-built tools and supports custom-developed extensions together with full backed support.
Top Features
Security
The security service of DNN software has passed various vulnerability tests by government official agencies and financial institutions.
Multi-site Management
It offers excellent multiple website management to run hundreds of websites high-performance and scalability.
User Management & Workflow
DNN allows developers to manage the entire website and define the permission of admin access of a particular page to business owners and help to manage the workflow among the users.
Best Ecosystem
DNN is adaptable to all types of businesses with a clean ecosystem comprising a community of thousands of developers and service providers.
Sitefinity

Sitefinity is next-generation, reliable, and extensible CMS for creating compelling websites, intranets, portals, and blogs with extraordinary performance and easy to manage admin panel. Sitefinity - CMS platform is designed to meet specific business requirements of various sectors and has become a leading CMS in the market.
Sitefinity offers plenty of good features for the enterprise. One of them is an easy-to-use drag and drop editor for adding new content to your website. The Sitefinity CMS has been developed by Telerik. Since Sitefinity doesn't own its cloud hosting solution, it can be hosted in AWS or Azure. This CMS platform is designed based upon the business needs of various sectors and is a proven industry leader.
Top Features
Transforming Digital Experience
Sitefinity helps to transform the digital experience for the content editors and generate higher ROI.
Multi-Channel Management
It offers multi-channel support and helps to manage the Web UI for professional CMS easily.
Personalization
It offers valuable niche segments with tailored communications and brings in sales for the business.
High User Engagement
This helps to centrally manage the digital experience and delight customers scaling up the engagement rates.

Umbraco

Umbraco is a fully-featured open-source CMS that gives the flexibility to run any website. The platform powers small campaigns as well as brochure sites and complex applications too. Umbraco is easy to learn and use, makes the platform perform for the designers, developers and content publishers alike.
Umbraco is one of the outstanding web content publishing software which requires no licensing costs and is developer-driven. Having more than 300 extensions, Umbraco developers can easily enhance the product with custom functionality. The modern UI, pure .NET architecture, and active community will make you choose the Umbraco for your CMS development. Therefore, it serves as an ideal platform for development companies.
Top Features
Highly Responsive
The CMS can easily be edited and managed because of the responsive design and architecture of the Umbraco CMS platform.
Strong Ecosystem
This empowers the Umbraco developers due to a strong ecosystem and easy integration with third-party tools.
Unique Features
This CMS consists of some unique features that include a 302 redirect management system, a health check dashboard, and a device preview.
Sitecore
Sitecore is the most advanced and enterprise-ready CMS that supports multiple large-scale websites. It provides a set of features and a large partner network. However, these features cost a developer higher, making Sitecore the most expensive option. It also comes up with powerful load balancing functionality and this makes Sitecore the best to use platform.
It's a platform that combines customer data and other marketing automation capabilities offering a great user experience throughout the journey. Hire ASP.NET developers to dive into the success road choosing the Sitecore.
Top Features
Multilingual CMS
The websites created with this CMS support various languages. Therefore, you can reach out to a wider audience.
Headless Architecture
Since it offers separate frontend and backend, it helps to reduce dependency and makes essential changes quickly.
Personalization
With this CMS, you can deliver personalized content to the audience and offer them a better user experience.
Kentico

Kentico is a fully integrated ASP.Net cross-platform CMS which is developed for small to enterprise-level websites. It offers a wide range of features to build websites, intranets, community sites and e-commerce solutions on the .NET platform.
Kentico supports online marketing, SEO, multilingual websites, and e-commerce platform services and can be run on-premise and in the cloud.
Top Features
Multi-site Support
The all-in-one CMS of online marketing and e-commerce platform which supports multiple website management and UI.
Cross-Platform
It offers cross-platform features and fully-integrated across multiple platforms.
Inline-Editors
The inbuilt inline editors make it easy to adjust the content and use of the widgets in MVC page builder is enhanced within a click.
Widget Sections
With this, developers can allow marketers to decide which layout or sections need to be kept, whether it's one of more sections.
Conclusion
If you want to choose a CMS, you can choose the CMS which is suitable for your business and could generate a great revenue out of it. The choice is all about balancing the features you need without spending too much money on those features which are rarely to be used.
At The One Technologies, we will help you choose the right and suitable CMS for your business which adheres to your requirements and budget. We are a leading ASP.NET Development Company helping you plan everything from scratch to a fantastic project. Hire ASP.NET Developers from us to boost your business.