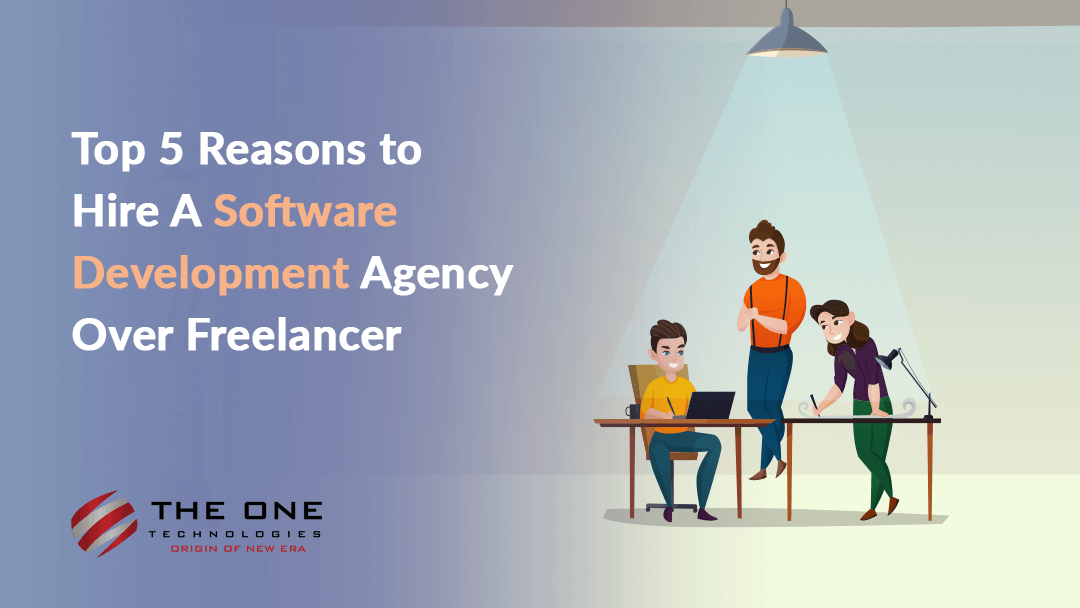 Being an entrepreneur, starting your own venture seems exciting. During the initial stage, your ultimate goal would be keeping your operational expenses minimal and gaining more profits. And, obviously, by now, you have decided to develop a software project and now must be surrounded by questions that whom to choose - whether to hire freelance developers or hire software development company! Well, it's really very difficult to decide as both options have their pros and cons. And in the hustle of squirrelling money, many business owners or entrepreneurs end up making the worst mistake of hiring freelancers or freelance software developers for their company. While there are certainly benefits to hiring a freelance software developer, hiring a software development agency will offer you so much. In this article, we are going to explain to you why!
Reasons to Hire a Software Development Agency
Perhaps, you might have found a dedicated and high-skilled freelance software developer or freelancer. There are some good ones out there as well. There is no harm to approach them as well on Upwork, YouTeam or Fivver and check out their reviews and portfolio. However, it's not possible for them to know everything, even if they're armed with much experience and in-depth knowledge. But it's much more convenient work with a professional software development company that can provide you with a team of experienced developers for your project and look after the technical part from developing to deploying phase.
Since the development company has a team of versatile developers, they are more skilled in certain areas over others, and that's the beauty of hiring a software development agency. With multiple developers, the team can bring something special to the table. Let's take a closer look at why it's better to hire a software development agency.
1. Reliable for Big Projects and Startup Development
An offshore software development company can offer a full software development cycle. They help you in each way from consulting, business analysis to business idea evaluation. These steps are very important, especially if you are new in business and trying to build your brand. The whole process requires experts from different fields like developers, QA engineers, designers, business analysts. Each expert from the respective field plays a unique and important role, unlike freelancers who are more like all-in-ones.
A software development company assigns a task to the particular professional who is an expert in that area, works adhering to the deadline and meets customer's requirements. The company is responsible to assign a project manager as well as for handling the whole project and communicating with the client when it's required.
In short, unlike a freelance developer, a software development agency can take care of your product or service from idea to launch.
2. Team Quality and Scalability
Since the software development agency is flexible and able to provide you with highly skilled and experienced tech-savvy, you can scale your team up or down depending on the changing requirements of your project. By hiring a software development agency, you can choose a flexible model as per your project requirements and communicate with the project manager whenever you wish.
On the other hand, freelance software developers are now well-versed with other technical skills or flexibility. So you need to do that on your own. And even if you are going to hire other professionals, that process might take a while.
3. Diverse Expertise
Another advantage of hiring a software development company over freelancers is diverse expertise. Hiring a software development company means that you hire a pool of professionals - designers, developers, managers, QA experts, etc with vast knowledge and skills. The developers have worked with various types of projects and therefore are having great expertise. They're almost always a skilled expert ready to sort out a given issue at any time.
Even when it comes to hiring a software development company, some of them are specialized in delivering eCommerce, AI, Blockchain industry projects. Thus, they understand your needs and latest trends that are happening in the current time. They can also understand which technology to use for a better result.

4. Project Management
A software development company doesn't just write code for your project, but also manage the task and collaborate with the internal team. The project or development phase of your product becomes much easier when you hire a development agency instead of freelance developers. Business analysts gather the project requirements from the client, analyze them, make recommendations, prepare a technical document and estimate the scope of work.
The software development company constantly organizes the meetings to ensure that everyone knows at which stage the project is and avoid mess during the development cycle. Also, a project manager takes care of everything from client communication to meeting the deadlines. You are not required to hire any CTO or a project manager who handles such things, but the agency will assure that role by assigning a dedicated manager to your project. Such managers create a bridge between the client and the development team.
5. Latest Technologies and Trends
To stay ahead of the competitors, each organization adapts the latest technologies and implements development methodologies and standards for your project. The companies are constantly evolving and improving the techniques and turn-around-time. They are aware of current software, technology trends, and new programming languages. Thus, they can provide up-to-date solutions.
Conclusion
To sum it all up, here, we can say that it's not much of a comparison of freelancers vs software development agencies. If you are looking to build something serious and good one, then the freelancer will not be a good bet. A software development company plays a significant role during your project development cycle and teamwork ensures to get your job done right and on time. In order to receive the final user-oriented output, you will need to hire a software development company that puts its best foot forward to ensure that your goals are realized. We hope this article will help you make a wise choice.
The One Technologies takes teamwork to the next level by providing the best software development services. Our blended and versatile team provides you with high-quality software products and web development services at an affordable rate.