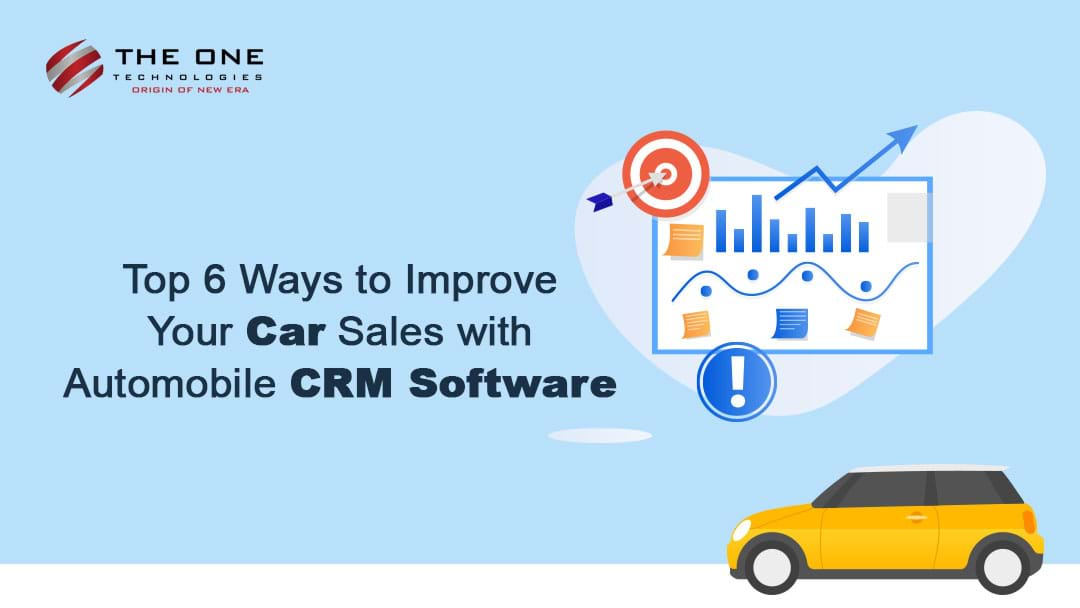 Car dealerships go to any extent - from emotional appeals to wacky slapstick (like Elon Musk smashed the Tesla Cybertruck's windows last month, right?) - to draw the attention of people and drag them into their showroom.
These marketing tactics can grab attention, but the question is, what drives buyers to the dealership?
Well, the industry you are talking about - Automobile industry has gone through a lot of major changes in the past few decades. The technology has been a game-changer for car salesperson. They have adapted their tactics and been utilizing in their job to perform better. Thus, walking along with time and technology, it has opened the door of opportunities for car buyers to find a dealership they might never have even reached out before. This allows car dealers to sell more cars and build a more powerful relationship with customers. To make this new way of selling cars and retaining customers is as easy as possible with Customer Relationship Management (CRM).
A CRM or Customer Relationship Management system doesn't just automate working processes, but also makes the task of communication and interaction between customers, manufacturers, and dealers more efficient.
Businesses can leverage many functions, features, and advantages by implementing a Customer Relationship Manager (CRM) software. The research said that 87% of the people use the internet to find out the price, ratings, and reviews of the car they want to purchase, while 63% of car buyers were likely to purchase a car online in the future.
48% of users or buyer starts with online research.

First, what is Automobile CRM?
CRM stands for Customer Relationship Management. It's software to manage and build a relationship and communication between customers and prospects.
This CRM is specifically designed for automobile car dealers. You will find many CRM for various types of business, but this automobile CRM is designed differently for car dealers.
So, now the question comes, why you must choose an automobile CRM over general CRM for your car dealership business?
Well, let us tell you about that. The automobile CRM is specifically designed for car dealers in such a way that helps to store customer data and manage the relationship with your prospects. It allows you to have customer's records, leads, and opportunities.
Whereas, on the other hand, general CRMs don't have the features that make your car dealership function effectively. They may have other features which you may not use for your car dealership.
In this article, we will let you know how to find the perfect automobile Customer Relationship Management Software which is explicitly suited for all your business needs and boost your dealership sales.
How Automobile CRM Software Can Increase Your Car Dealer Sales?
1. Increase Sales and Minimize Lost Deals

In this competitive market, it's really very important for dealers to reach out to potential buyers before they left out with competitors. When it comes to automobile CRM, it allows dealers to connect with various genuine clients at various points across multiple media, such as online interface, via mobile applications, social media platforms, and even by connected automobiles. CRM software has a tool that allows salespeople to stay engaged with customers and close more deals.
There were such cases where many potential sales deals got lost or dropped because something in the sales process was forgotten about. Now based on various phases of the sales cycle, automobile CRM lets you create a plan with specific tasks which helps salespeople close more deals and keeps track of more of the specific.
Dealership can provide accurate insights about the sales and customer data across all available channels and can invite them to the showrooms to make that winning sale. Engaging customers right from the beginning journey forms the buyer-seller relationship and that will convert the user into a buyer as well.
2. Personalized Message
There are a number of ways through which you can be connected with customers and can increase customer loyalty. However, by creating personalized messages especially for them on their big days like birthdays, anniversaries, or etc. This can be done with great usage of automobile CRM software as it saves the dates and reminds you to send notifications.
3.Constant Communication
You have to be in touch with buyers constantly and help them with answering their queries or inquiries. Prospects often encounter questions about model details, availability and pricing during the first call. And it's a completely salespeople's duty to quench their thirst. Adopting automobile or automotive CRM manages text messages or emails or call communications and gives valuable insights into customer requirements.
4. Data Management
Managing customer data requires an ample amount of time and manual labour. But with the help of automobile CRM software, dealers can now get over this tedious task and work entirely towards building valuable customer relationships.
Automotive CRM has the ability to manage the data in a very appropriate format in one unified location.
The details like vehicle records, service expenditures, model preferences, and communication history can be examined from one centralized locus. With data management panel, dealers can schedule test drives, appointments, follow-up calls and be in constant touch with them within the bounds of customer's up sheet.
5. Automate Your Tasks
Automation is one of the most important factors in Customer Relationship Management software. Automobile CRM software schedules tasks and automates it when possible. That makes the lives of your sales' reps easier, as well as your own as a person in management.
6. Custom Reports
The road to success behind every business is constant analytical analysis. Valuable data, analysis, and custom reports unveil the insights about your trends, business, markets, patterns, and behaviours. With this Automobile CRM software, you can create a customized report on any aspect of your business. This system can allow to analyze data, generate reports, track sales performance, produce benefits or losses, and provide you with an accurate business image.
You can have the power to find out which vehicles are more popular with your customers or the area that attracts the most customers. Bookmark this valuable data and reports and push yourself to improve revenue and increase growth.
Combining Sales and Support together in a package that is offered to customers hand in hand can truly help you boost profits.
The Automobile CRM software can maximize your business profits with the help of:
1 – Lead Management tools that help you quickly score leads and set up follow up notifications that help you prioritize your prospecting.
2 – Sales Reporting tools that give you data on projected targets, star performers, territory wise sales reports, a real-time feed of your sales funnel and much more.
3 – A Mobile CRM that helps you use geofencing tools to allocate multiple meetings to your sales team with prospects along with the same pin code. You can also use the daily planner to allot leads to your team, so they have a set to-do list on any given working day.
The CRM Support Module can maximize your business profits with the help of:
1 – A Live chat option that can be integrated into your website. The live chat brings all chat tickets straight into the CRM as soon as a customer engages with your bot. So if your customer has any hesitation about making a purchase, you can immediately clear out his fears and possibly close a deal.
2 – An Omnichannel Ticket Inbox that collects inquiries or issues from multiple platforms including phone calls, emails, social platforms, and social media accounts. This can help you provide customers the high touch support needed to close sales.
3 – A Customer Supporter lets you call, email. SMS and even reply to social posts about your product from a single window.
Conclusion
Developing a car dealer automobile CRM software costs you higher. Because of this, every business would make sure and expect that developed CRM software is of the highest quality. And that's why it's advisable to hire the best Automobile CRM Software Development Company that not only satisfies your needs but also offers the best CRM Software Development Service.
Hence, your search ends here! The One Technologies is just that company to give you exactly what you are looking for. Our talented and experienced professional developers can deliver the best Automobile CRM software which is extremely compatible with your business and can minimize your manual and labour task.