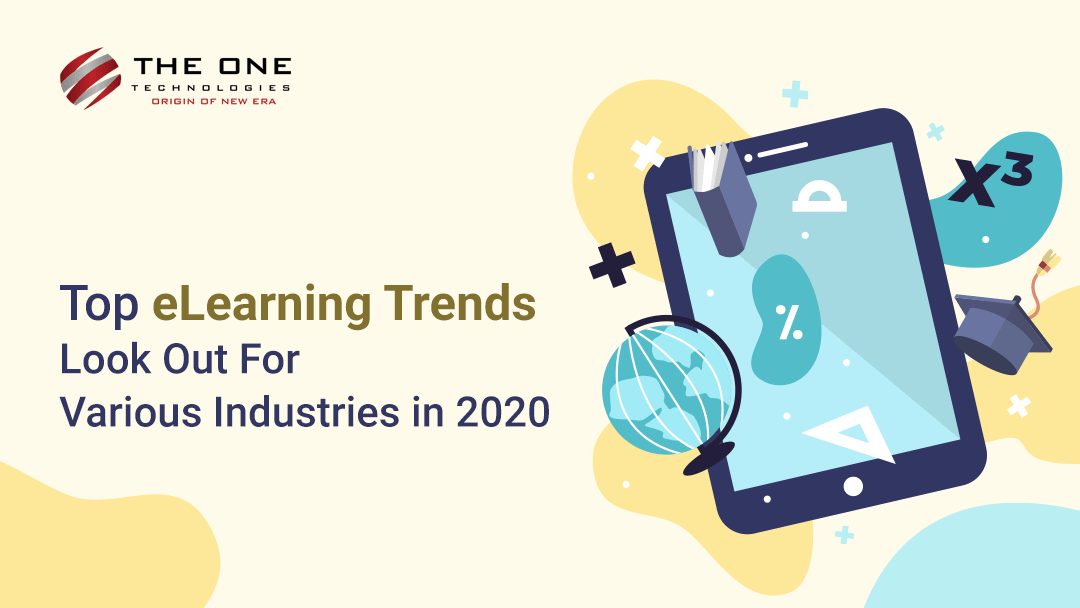 We're in the first month of 2020, and it's high time to discuss the trends that will shape the future of eLearning in the coming years. As 2019 winds down and we move into a new decade, it's not only important but also exciting to look forward to what 2020 offers for the eLearning industry. The eLearning sector is ready to rise yet again and is expected to increase 11% by 2020. As per the report, the global eLearning market is expected to grow $398.15 billion by 2026. If you are looking for a larger share of that market you'd do well to know the trends and stay ahead of your competitors.
When we talk about education, the education industry has adopted digital learning as a reliable way of delivering instruction, assessing student progress and supporting better academic outcomes. There are plenty of students who have enrolled themselves in virtual classrooms and take online classes, write online assignments and get their grades, to finally earn a degree online. Educators or teachers enjoy the new ear of connecting with their students online, create more engaging learning materials and being able to personalize their instruction.
The method of online learning and teaching has become very popular over the last few years and there are no signs of slowing down. By keeping that in mind, it's really important to keep an eye on the evolution of digital education or eLearning trends that are currently shaping up in the industry. As per the survey by Edgepoint Learning, 39% of millennials want to see more virtual education in the workforce by 2025.
The One Technologies has in-depth domain knowledge about eLearning industry and delivered multiple projects for various eLearning Software Company. In this blog, we are going to discuss what will be in demand in the year 2020. Here are some of the top eLearning trends in 2020 that will dominate in the coming years or so.
1. Learning Experience
One of the eLearning trends we are expecting in 2020 is the Learning Experience Platform (LXP). The engagement is a must needed factor in L&D and it's also necessary to deliver the best learning experience to your learners to generate ROI. So, with the help of the Learning Experience Platform (LXP), you can easily convey a personalized learning experience to your learners. It's somewhat like a content provider. It aims to help instructors create a self-directed learning experience for their learners with all the modern industry trends. That's why some of the largest enterprises have already implemented LXP for their business.
LXP is the trendsetter or is a system of the future. It looks like a content provider or media-sharing website. For example, LinkedIn Learning is offering video courses taught by experts in the field of technology, creativity, and business. We can also consider Netflix or YouTube for leveraging LXP.
2. Big Data in Learning
You can see ample changes in the modern workplace like mode of work, the behavior of the employee, and learning habits. These types of data are collected from the student's activities and performance. This is called Big Data. But the volume of this data is beyond the ability of the traditional database to capture, manage and process with low latency. This is when Big Data Analysis comes into the picture. Big Data Analysis helps to structure and present the data in suitable formats. Big data is about harnessing the power of the data collected by systems like MLS, Social Media, and more, you use.
Big Data Analysis tools help you track the performance of each student. That makes learning more personalized. It also lets you know how the training impacts your ROI. By gathering and analyzing these data, organizations can implement new methods and theories of their learners. It tracks the activities of learners during learning sessions such as when they make mistakes, the difficulties they face and more. The system provides insights that enable you to tweak your learning process and methods to make it more adaptable.
3. Video Learning

Is there any better mode of training right now than video? I guess No. Over the last couple of years, the video has been an important factor in the growth of video-sharing platforms. For example, one billion hours of video are being watched by users every day. Video learning is more engaging, appealing, and interactive learning session for learners.
Students or learners always prefer the video learning method to gain knowledge over the content-heavy written form. As per the Wyzowl survey, 68% of consumers prefer watching a video over any other form of learning sources. This stats reveals that learners would prefer to see and learn everything from videos in the format of demos, explainers, interviews, and how-tos.
Since it allows learning flexibility, users or learners can watch the videos at their own pace and multiple times until they understand the concept without keeping the rest of the class in one place or waiting for others to catch up.
Teachers are finding it easier to create video content for their subjects, recording their learning sessions in a modern format and uploading them anytime. There are plenty of online tools available which are free to support their teaching activities, from lectures to provide feedback to students.
4. AR, VR, MR for eLearning

Augmented Reality (AR), Virtual reality (VR) and Mixed Reality (MR) are becoming increasingly popular in corporate and eLearning sectors. These technologies transform learning by redefining how learners experience and interact with them in the real world. There are several Fortune 500 companies, such as Boeing, UPS, and Walmart have already started using VR into worker education programs to train their employees. This enhances the learning experience and performance support.
Mixed Reality (MR) allows trainees to interact with surroundings created by a mix of real and virtual worlds. It lets you understand how things work.
5. Gamification and Game-based Learning
Gamification and Game-based learning are actually not the new norms in the market, but it's one of the oldest trends actually. Games are used by Game-based Learning (GBL) to deliver defined outcomes during the learning process. On the other hand, Gamification is the broader application of a concept that turns the entire learning process into a gaming experience.
Gamification and game-based learning are being integrated with real-world applications. For example, as per the record statement by cloud-based CRM solution market leader Salesforce.com, since 2015 its gamification approach made customer engagement spike dramatically.
Gamification adds some fun into the learning process and makes it more entertaining at the same time by using game mechanics like gathering points, getting badges, or winning trophy. This helps in customer engagement and boosts retention rates and reduces the course dropout rates.

With the rapidly growing world of eLearning, there are various industries in the world which have adopted and implemented this learning method to train their employees effectively. Training is not a one-time session and for this, eLearning is one of the finest options because a company needs to invest only once. With multiple times, these online training programmers can be used to train the number of employees.
Here are a few industries where eLearning can be implemented.
1. Education
Nowadays, Academic Learning has been accepted and adopted in schools and colleges/universities to keep students engaged and meet standardization requirements. Many academic institutions have implemented eLearning along with face-to-face instruction. This is the most convenient and proficient way to teach students.
2. Healthcare

The demand for nurses, physical therapists, doctors, and other healthcare specialists are increased to meet the diverse needs of an aging population. Reports by the Bureau of Labor Statistics states that more than half of the occupations within the healthcare industry are expected to increase 38% by 2024. The healthcare industry is one of the main reasons for the rise of the economy. eLearning in the Healthcare industry allows medical professionals to learn with relevant and effective materials and information without disrupting their schedules. Information about diseases, methods of treatments, medical technology, drugs is easily and quickly updated.
There are numerous drugs being produced in the market every year, and this makes it necessary to give training sessions or introduce new features to their salespeople. Thus, this can be easily done with the help of an eLearning facility. The training session can be seen by them anytime and from anywhere. This gives the proper training to them without having a resource of manpower. Even this course can be updated very easily and rapidly.
3. Retail And eCommerce
The report of The National Retail Foundation (NRF) says online retail sales have grown even more at a rate of approx 12%. eLearning enables retail industry and retailers to learn - usage of inventory management software, security compliance, and discreetly inform employees about product changes while they are engaged with customers. Retail companies that use eLearning are much ahead of their competitors.
How eLearning Can Benefits to Your Industry
Those companies who are looking forward to implementing a new training program, the advantages of eLearning should take them a step ahead. Here are the top benefits that your company stands to gain by implementing eLearning as its primary training platform.
It isn't as tedious and boring as the old school learning models.
It reduces training costs.
It's flexible and convenient thus yields better results.
It leads to higher employee retention.
eLearning improves performance and productivity.
It's easily accessible to anyone.
It personalizes the training experience.
Conclusion
The global eLearning market is growing fast and the workforce is driving towards more online courses than ever. Students from across the globe opt for eLearning or online learning rather than old-school methods. Apart from education, having said above, many industries have adopted technology and driving on the track of eLearning.
We expect VR/AR-based courses, gamification, and big data to drive the industry as the greatest trends of 2020. Definitely, we cannot predict the future, but these technologies will surely rule the industry. Whatever it may be, the growth will be great and we can't wait for you to see what direction it takes throughout 2020. So, if you or your business have not utilized this eLearning method, approach the renowned mobile app development company, who can save you from running behind your competitors. Get ready for the amazing experience of eLearning because the future is here.