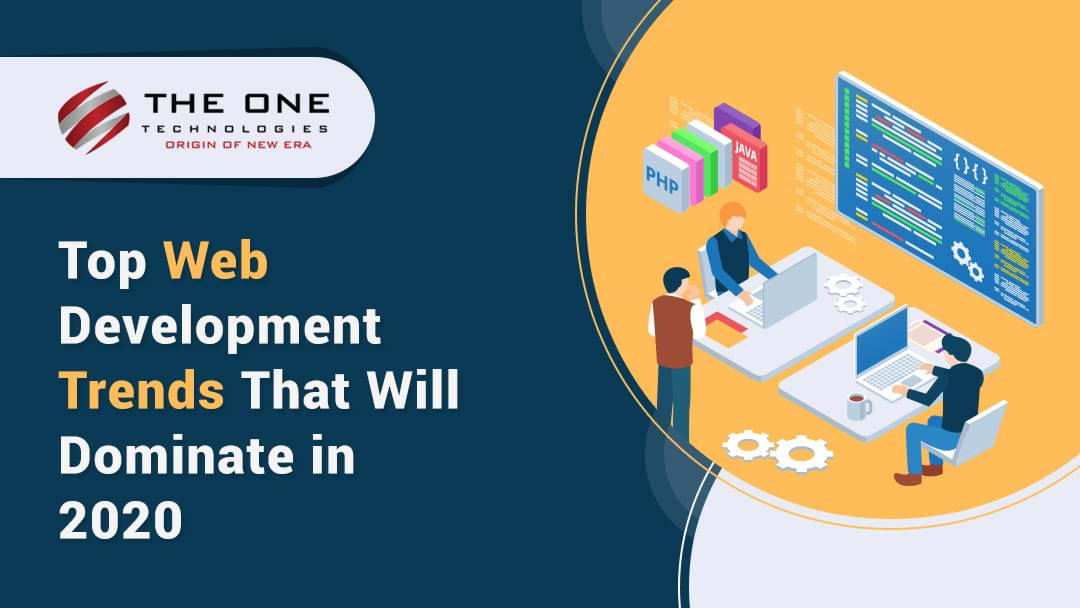 With the time evolution, web development keeps on changing. Many new technologies keep on adding and emerging with it. In 2020, web development will witness a plethora of possibilities that will set new trends.
Web developers are going to adopt the new technologies, experiment with new tools & techniques, and reinvent previous techniques. At the same time, some web development trends of previous years will not go away but continue to evolve in 2020 and beyond.
To keep walking along with the trends, every business should have to remain up to date with trends by implementing in their websites. They should hire web developers or contact the experienced web development company, who are abreast of the latest web development trends and can help you develop, maintain, and integrate your websites with the latest technologies.
To keep up, you need to know the latest and top web development trends and technologies that will dominate in 2020.
Here are the top eight.
1. Progressive Web Apps (PWA)
Progressive Web Applications (PWA) are considered as the next big thing for mobile web users in recent years. Progressive web apps use the latest web technologies to provide an app-like experience. It brings together the best of both web and mobile apps.
In a nutshell, PWA is a website which looks and behaves like a mobile app. It provides a secure, responsive, and connectivity-independent app-like web experience. It makes the website browsing experience better by bringing it closer to the functionalities of the native mobile applications and making it extremely user friendly.
As per the research, mobile devices dominate over other devices such as desktops or tablets. Let us be clear, there's a serious gap between using mobile apps and mobile browsers.
Examples
Here are renowned companies that have already built a PWA and leverage its benefits for their business:
Alibaba
Forbes
Twitter
Virgin America
The Washington Post
2. Accelerated Mobile Pages (AMP)
Accelerated Mobile Pages or AMP is one of the greatest web development trends. It helps to speed up the page performance and decrease the risk of leaving it by a user. AMP was initiated by Google to ensure that the desktop websites are able to match up to the amazing user experience provided by mobile websites.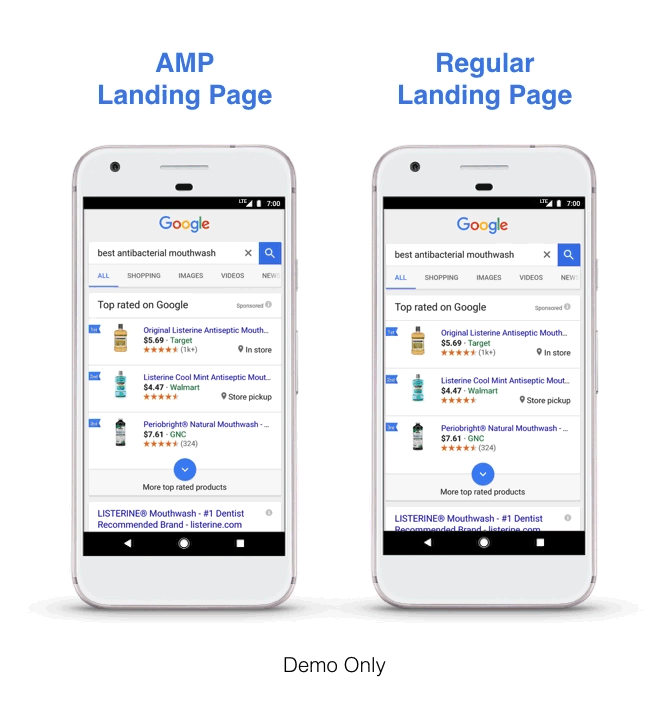 AMP performance vs. regular landing page (Source: Google Ads Blog)
You will find similar things if we compare AMP with PWA technology. The difference is that pages become accelerated due to the open-source plugin recently developed by Twitter and Google. AMPs are optimized pages that could operate smooth, fast and have a simplified and yet convenient design with only basic features compared to full-scope web products. AMPs are mobile-friendly and their content is always readable.
In short, the introduction of AMPs was to improve the loading speed of the website.
3. Single Page Application (SPA)
A single page application (SPA) is a web app that loads as a single page and doesn't require the loading of whole new pages. It interacts with the users by dynamically rewriting the current page rather than loading entire new pages from a server. It reduces the loading time of web pages by using JavaScript to load content.
These SPAs don't require additional waiting time and render web pages in the user's browser. This is why users get a smooth experience, free from any interruption, just like a desktop application.
With SPAs, you can get fast loading speed, easy debugging, reusability of the same backend code, effective caching of any local data, and offline functioning.
Google, GitHub, and Gmail are the best examples of Single Page Applications.
4. AI and Chatbots
Many businesses work across different time zones and have representatives on various continents. This definitely proves to be a better service to the customers. However, it's a complex and costly task. But what if you cannot offer your customers services at midnight? Well, in such cases, AI and chatbots come in rescue. This means chatbots will surely replace support managers and provide 24x7 customer support which is needed in this case.
Web development trends are shifting towards automated, instant client support, Chatbots powered with AI and Machine Learning. It's proven to be a worthy long-term investment. We can surely expect chatbots and AI to become more prevalent in the coming years.
By adhering to AI and chatbots, you can surely rely on bots for 24x7 assistance. They are ready to give you answers to FAQs, connect with the right human client assistant, book an order, etc.
As per the report by Gartner, by 2020, over 85% of customer interactions will occur without human interactions. Many people have predicted that chatbots will form the foundation of customer engagement for consumers across all AI integrations between 2020 and 2025.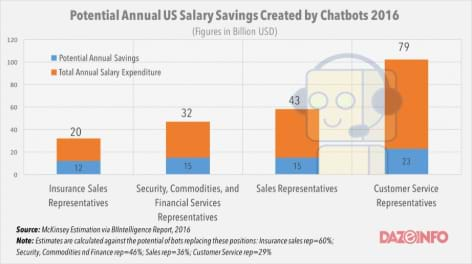 (Source: Dazeinfo)
Savvy businesses are already saving a lot of money by employing bots instead of humans to support customers. It says they have saved around $23 billion just by implementing chatbots.
5. Voice Search Optimization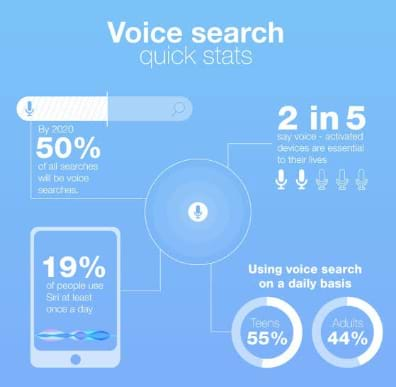 (Souce: Business2Community)
Since the introduction of voice search, it has already created a great impact on the web. It allows users to speak to the device to search results for their queries. Users can easily get the result by speaking rather than typing in words. This way you can display the results.
As you can see, there are many voice assistants available like Google Home, Alexa, Siri, Cortana, etc.
As per the research by Gartner, by 2020, about 30% of all searches will be done without using a screen. Smart speakers are rising year over year. The Activate outlook says there will be about 21.4 million of them in the US by 2020.
Digital voice search assistants are becoming very popular and when people start to use them right, they will open numerous opportunities.
Since they are affordable, smartphones are implementing them.

6. Push Notifications
Today customers want a convenient way to get information regarding products or services. They engage with brands across more touch points than ever before.
Push notifications are a powerful marketing tool to enhance the overall experience and efforts of the company. Websites and mobile apps are leveraging the benefits of a push notification with digital marketing.
Push notifications are powerful solutions for visitors, having the potential to transform remarketing effectiveness based on how timely, relevant, and precise the notifications are.
7. Motion UI
We all know that your website stands for your brand and image of your business. So, every business strives to be as engaging and attractive as possible. Smooth animation is becoming more popular and necessary for the website. This web
Web developers and users are looking for simple yet intuitive things.
Motion UI library is a perfect solution to capture users' attention with beautiful animations. The library is capable of animating design elements with grace and lets developers play with them as they want. It's flexible enough and works with any JavaScript framework which makes it a great option for many use cases.
Motion UI is all about making things bounce around on the screen. Common elements include animated charts, photos. Text, 3D objects, lines, background graphics, and exquisite headers.
8. Responsive Web Designs
While web development trends are adopting new techniques, some old ones as responsive web design are still out there on the scene. Responsive web design is one of the strongest trends that the web has ever experienced. Due to portable working frameworks, we have seen such a complete change in web development.
Mobile devices have been ruling the world, so should you. One responsive web design will serve users, irrespective of devices they are operating. This is set to simplify the life of developers.
Conclusion
As web development is continuously evolving, we must keep updated with the latest trends in web development. This can be done by referring to the most recent blogs, looking at various websites, and choosing the right web development company.
If you are planning to update your website with the trends in 2020, it is definitely a good thought to look through the modern trends in web development. You should definitely implement the trends if you are contacting the right web development company.
The objective is to design and develop a website that will serve a large number of the target audience. The above top 8 web development trends that will dominate in 2020. So better contact your web development company today!