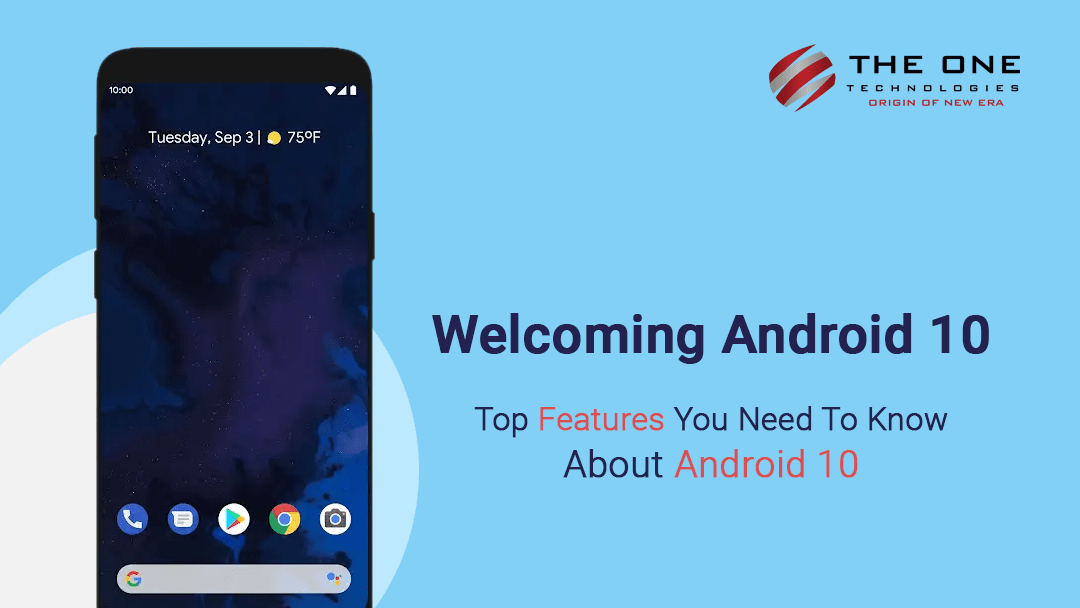 Finally, it's 10. Android 10 !!!
The next, fresher, and the latest version of Android is here.
And this is for the first time in Android history that, Google has stepped away from the tasty dessert name to accompany it.
Yes! You heard it right.
Android Q is officially called Android 10, and it's being launched with a lot of goodies to go along with it. It's officially rolling out first to Google's own line of Pixel phones, then to other devices.
Curious to know and learn more?
Well, here's amazing features and everything you need to know about it!
A Dark Theme Mode

Finally!!! Yyyaaayyy!
This is the new feature that users have been waiting and wanting for a long time. And it's finally here.
This dark theme mode can be activated and deactivated at any time via Quick Settings toggle or when you activate the battery saver option. Along with this feature, Google has also created a new API that helps developers to enable dark themes in their apps as well when the system-wide one is turned on.
To some of the apps, who haven't utilized this feature, may soon adopt the API, but right out of the gate, most Google apps and the main UI adhere to Android 10's wonderful dark mode.
Bubbles
Have you ever used Facebook Messenger's Chat Heads feature yet? Have you really liked it? If yes, then you are definitely going to love this new Bubbles feature of Android 10. Bubbles just work like Chat Heads which pop up the message or notification above whatever is on your screen. Google wants developers to be mindful and careful of what types of apps use Bubbles simple because a queue of notifications showing up on your screen, regardless of what you are doing, would get really annoying fast.
Users have to drag bubbles to any part of the screen and tap to expand the notification view and composition tools.
Smart Reply in All Messaging Apps

Are you really tired of simply replying to what you were supposed to say to your friend in response? Well, this feature is for you, mate!!!
Smart Reply is one of the smartest and useful features that every user would love to use. It predicts what you are going to say in response to a message.
You might have used Google's Gmail. I am sure it might have helped you save a lot of time by just predicting your response based on the received email. This feature is currently available for Google apps, but it's now rolling out to all messaging apps in Android 10.
This means you can now get suggested responses in the messaging apps such as WhatsApp and Facebook Messenger.
These suggestions or smart replies are made using on-device Machine Learning (ML), maintaining user's privacy as the relevant information is not sent to Google's servers.
Gesture Navigation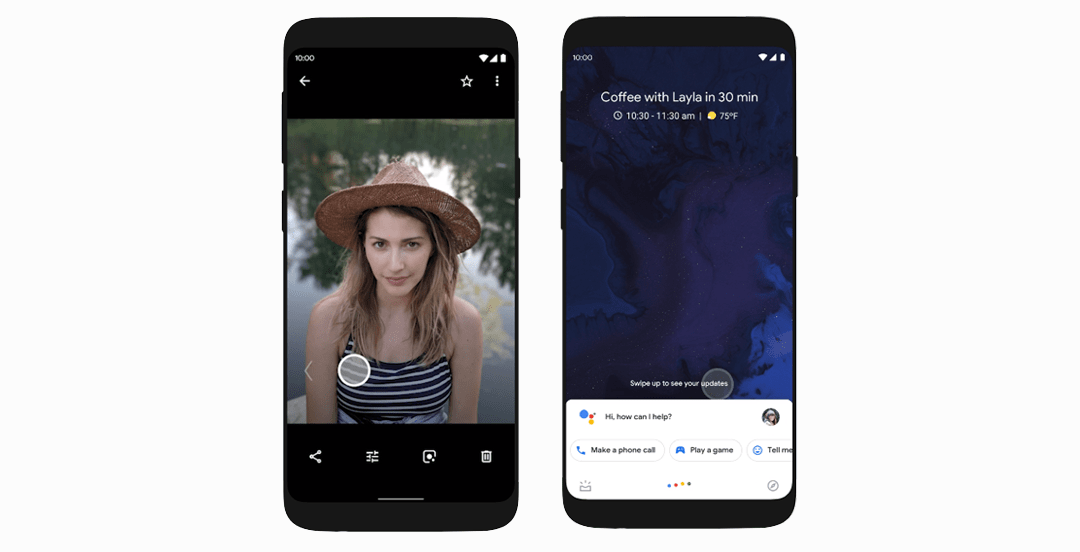 Android 10 adds a new feature to the Android platform called Gesture Navigation which slimmed down the navigation bar. Instead of using the staple navigation buttons, users can go back to the home screen by swiping up from the bottom of the screen, go back by swiping from left rather than tapping a button. Swipe up and hold a long to access recently opened apps.
So, now wondering how to get your Google Assistant? Swipe diagonally from the right or left button of your screen and hold until it appears. Also, the assistant gives you its own button on the home and multitasking screen.
This feature allows you to work on the full screen which delivers a richer and more immersive experience.
Live Caption

To make Android more accessible, Google has added a new feature called Live Caption, which is only available on the new Pixel 4 and Pixel 4 XL, but soon Google is planning to roll out for other Pixel devices also.
Basically, Live Caption feature is based on the technology developed for YouTube. It's a completely on-device feature, means you don't require the internet to have this feature. It provides a real-time caption for just about anything on your phone where someone is talking.
Byt tapping the volume button and the icon below the volume slider, Live Caption feature will automatically add subtitles to videos, podcasts, games and audio messages or any other form of media where words are spoken. This feature is beneficial to those with difficulty in hearing or when listening to audio in a noisy environment.

Focus Mode
Apart from your parents, now Google also wants you to put down your phone for some time and concentrate on other things. Well, that's the new feature - Focus Mode allows to turn off notifications for certain apps and wants users to avoid such apps during a period of time. Those apps become paused, greyed out and notifications are hidden. Once you turn off this Focus Mode, you will start receiving notifications from all apps.
Better Privacy and Security
Android 10 puts privacy and security control front and center. Privacy section allows you to have the request of app permission for things like calendar, location, camera, contacts, and microphone. You can even choose to share location information only while the app is in use - similar to how location permissions work on iOS.
Sharing Shortcuts

Previously, many users have criticized the sharing functionality for being slow.
It's really good, finally, Android has addressed that issue and come with new Sharing Shortcuts. Basically, this feature allows developers to create a new option in the share menu that will share a file or photo or any data in a specific part of another app much faster than before. It's much faster than the legacy menu.
Foldable Screen Support
In the trends of the foldable device, Android is quickly adopting the foldable phone trend too. Devices like Galaxy Fold and Huawei Mate X, Android 10 enables this feature for better support for detecting when an app has been paused (perhaps when a display is folded) and when it needs to be resumed (after opening the device), multiple-display app switching, as well as enhanced support for resizing of apps.
Dynamic Depth for Photos
Android 10 brings a new dynamic depth effect to photo, which consists of a JPEG, XMP metadata related to depth-related elements, and a depth and confidence map embedded in the same file on the device. This means users will be able to edit things like bokeh and blur to photo within your apps.
Conclusion
That's the complete wrap of Android 10 features. You can surely install or upgrade your smartphone with Android 10. If you are a Pixel user then familiarize yourself with these amazing and new features.
Well, if you are planning to build your next android app, then get in touch with the best android app development company.
Hire android app developers who will help you to target a larger audience and to make your business accessible. You will get a newly developed Android 10 with android app development services.