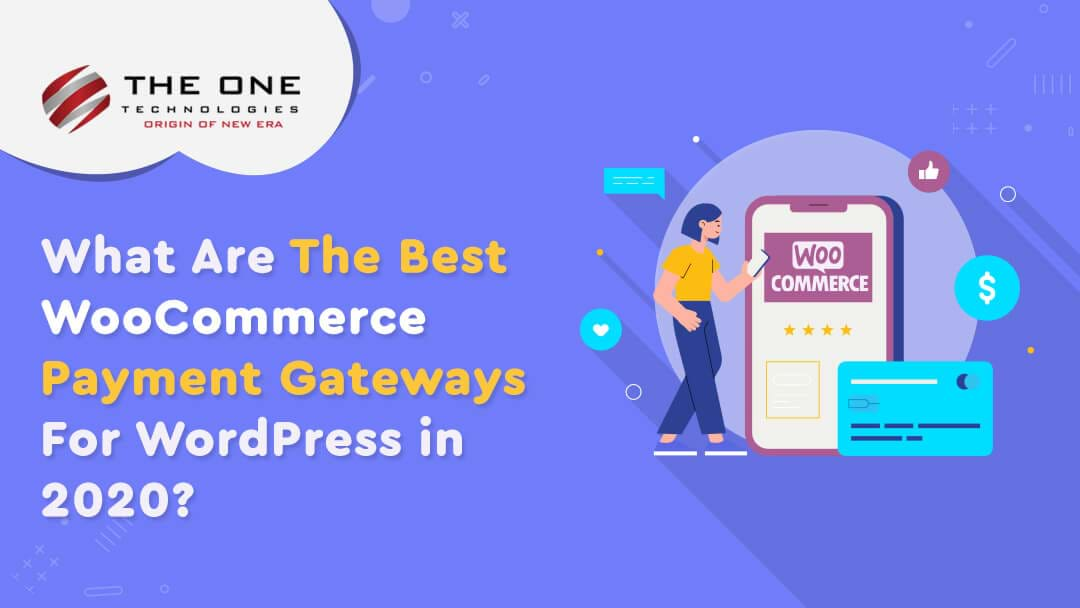 If you are planning to set up an eCommerce store using WordPress, setting up the right payment gateway is the primary factor that you have to consider. Your customers would ideally want to see their preferred mode of payment listed on your WordPress website. While you cannot have control over the designing and coding of payment gateways, you still have to carry the responsibilities for any software hiccups that may occur.
When it comes to finalizing the procedure with payment, you have to be more careful as it may affect your business and lose customers' interest as well if they find it vulnerable or unsecured. Therefore, you have to make a crucial decision by choosing the right WooCommerce payment gateways for your eCommerce store.
But, before listing out the WooCommerce payment gateway services, let us make you understand what's a payment gateway.
What Is A Payment Gateway?
A payment gateway is an essential third-party tool which will be integrated with your eCommerce store allowing store owners to accept and process payment from online customers. In a nutshell, it's a method of accepting money from customers and transferring it to your bank. It's a great process and method to accept the money rather than relying on contact forms for manual processing.
When it comes to an eCommerce store, payment gateway integration is the main feature of the WooCommerce store. Payment gateway services are the mediator that makes the payment by the customers reach you. While setting up your WooCommerce store, it's mandatory to set the payment gateway integration as well. Ensure to make it secure and fast. Because one flaw may lead to loss of trust in your WooCommerce store.
Best WooCommerce Payment Gateway Plugins
In recent times, you will find many efficient payment gateway plugins available with advanced features. You can surely choose the perfect one as per the requirements of your business. Well, in this article, we are curating 5 top-notch WooCommerce payment gateway plugins. Let's hear it out.
1. Stripe

Stripe by WooCommerce is a fastest-growing payment gateway that allows you to accept payments directly to your WooCommerce store for the web as well as mobile. This stripe is capable of handling recurring payments and can process refunds automatically as well. The most popular WordPress customization plugin supports it and there is also a free Stripe WooCommerce extension available.
Stripe also accepts credit card payments on your WooCommerce store. It also accepts Visa, MasterCard, American Express, JCB, Diners Club cards, and even Bitcoin. It also lets you integrate with the Web Payments API through which your customers can easily make the payment details set up on their mobile devices or browsers.
You will need an SSL certificate to encrypt the data exchanged between your server and the bank so the store cannot cache the entry of confidential information.
Features:
Integrates Stripe Payment Gateway to your WooCommerce store.
It supports Apple Pay, Google Pay, and Microsoft Pay.
Seamlessly works using Stripe API.
Only works in some part where Stripe is supported.
No setup costs or monthly fees.
Received money will be transferred to your bank in a two-day basis.
Fees:
Tax 4% on each transaction plus 0.25¢ for European cards
Tax of 9%on each transaction plus 0.25¢ for non-European cards
Currency:
Stripe supports processing payments in 135+ currencies.
Country:
Stripe is available for businesses in 26 countries.
2. PayPal Pro

PayPal is one of the oldest and trusted payment platforms on the market when it comes to processing payments. PayPal offers complete protection for buyers and sellers, allowing users to access all the credit cards, bank accounts, and addresses they want.
As a renowned pioneer in the payment industry, PayPal offers a wide range of services for personal, business and eCommerce stores. Hence, a business owner using WooCommerce to run their WordPress store can use this feature-rich payment gateway service to sell their products in a safe environment. This add-on has In-Context Checkout which meets all necessary security requirements for an eCommerce store. Also, it will not allow you to change the theme of your website. In-Context Checkout makes use of a modal window on PayPal's servers. But customers will be redirected to your website once the checkout process is done.
PayPal is available in dozens of countries, but every country carries out some restrictions on it. So, before implementing, ensure it's supported in your country as well as your target audience.
Features:
Integrates PayPal payment gateway in your WooCommerce store.
Support In-Context Checkout that uses a modal window hosted on the PayPal server where users can provide their secured information.
No need for API as it allows you to connect to PayPal with a click of a button.
Fees:
9% + 30¢ per transaction for local payments.
9% transaction fee for international payments.
Currency:
PayPal accepts more than 20 currencies including USD, GBP, AUD, and CAD, etc.
Country:
PayPal Pro supports businesses in more than 200 countries.

3. Braintree

Founded in 2007, Braintree Payment Gateway is the best and very simple solution for you while you are looking for a free option.
It is a PayPal company, therefore it can be most trusted for your business. In addition, it costs nothing for monthly fees. Using this plugin, you can add a dedicated payment option straight on your product page, cart page, and even at the top of your checkout page.
Braintree protects your data, complying with the Payment Card Industry (PCI-DSS) security standard. Due to its advanced feature, it detects the fraud and threats occurring in the system and saves from it. Therefore, you can leave with all your confidential and sensitive information because these are your property here.
With Braintree, you can accept payments from PayPal, all Apple Pay, Venmo, credit cards, Android Pay, and also Bitcoin. It also offers regular payment, strong reports, and split payments.
Features:
Accepts Google Pay, Apple Pay, Venmo, PayPal, and PayPal Credit.
Accepts both debit cards and credit cards.
Support for 3D secure 1.0 and 2.0.
SAQ A PCI Compliant.
Option to create your custom payment form.
Automatic Payment Confirmation.
Easy to use, install and configure.
Fees:
For each transaction, Braintree withdraws 2.9% + 0.30¢.
Currency:
Braintree currently supports 135+ currencies.
Country:
Braintree is available in 45+ countries.
4. Amazon Pay

Amazon Pay is a well versed online payment service by online eCommerce giant, Amazon. Amazon Pay is trusted among many WooCommerce websites.
With Amazon Pay, customers can pay through their Amazon accounts and customize their settings as per their convenience. Amazon Pay allows millions of Amazon customers to order from your website using the information they have on their Amazon account.
The major advantage of Amazon Pay is that you don't need to enter payment information on the third-party website. It definitely stands out as an important intermediary between a merchant and a customer. It costs no additional charge for creating and using an account for the end-user.
Features:
Displays a customized "Thank You" page when your customer completes the transaction
Shows the Amazon Pay Transaction ID
Shows the Seller Order Reference ID
Displays Transaction History Log
Has Mode of Transaction Sandbox and Live
Fees:
Amazon Pay charges a domestic processing fee of 2.9% and an authorization fee of $0.30, plus tax where applicable.
Currency:
AUD, GBP, DKK, EUR, HKD, JPY, NZD, NOK, ZAR, SEK, CHF, and USD.
Country:
Amazon Pay is currently only available in the USA, UK, Germany, France, Italy, Spain, Luxembourg, Netherlands, Sweden, Portugal, Hungary, Denmark, and Japan.
5. Authorize.Net

Authorize.net is a popular WordPress payment gateway plugin among many businesses because it boasts a lot of features. Due to its fraud protection tools, it provides PCI DSS certified services which safeguard both potential customers and eCommerce business owners from fraud.
Authorize.net is the best-known payment gateway and is enterprise-friendly than other payment gateways. It accepts all major credit cards and debit card payments and also handles refunds, subscriptions and pre-orders. Customers can also save the payment details for their next purchase.
To use this Authorize.net, you need to set up a merchant bank account and sign up for the service which starts at $25 per month on top of the usual 2.9% plus $0.30 per transaction fee. This payment gateway integration service is available to the citizens of US, Canada, UK, Australia, or Europe only but payment can be accepted globally from any user with a valid payment method.
Authorize.net plugin gives users a reminder for automated payments for future transactions. It's quite compatible with other significant plugins like Shopify, Moolah, Wells Fargo and more.
In nutshell, Authorize.net can be an excellent option compared to PayPal if you'd rather not use the latter directly.
Features:
On-site checkout process.
2.9% + $0.30 transaction costs.
Available in the US, Canada, Australia, UK, and Europe.
Allows customers to py using any major credit cards and PayPal.
Free:
Authorize.Net Payment Gateway WooCommerce Addon
Paid:
WooCommerce extension for Authorize.net CIM ($79).
YITH WooCommerce Authorize.net payment gateway ($79).
Authorize.net Credit Card Gateway for WooCommerce ($29).
Conclusion
Payment Gateway Integration or Payment Gateway Plugins are great to install especially if you own a WooCommerce store and wish to accept online payments. Apart from given payment gateways, you will literally find hundreds of payment gateways in operation online. We've just scratched the surface of this complex but critical aspect of your online business.
So, while choosing the right payment gateway for your WooCommerce store, you should consider all the features and check whether it will satisfy your requirements or not. Hene, choose a payment gateway plugin that offers your customers their favorite payment methods as well as one which will help you to increase your revenue.
As a prominent WordPress development company, The One Technologies provides WooCommerce payment gateway services to our customers ranging from startups to large enterprises as per their requirements. We work closely with their requirements and come up with the best custom plugin development solutions. So, as an expert, we have picked our best WooCommerce payment gateway plugins for you. Do let us know if you found this article useful and helped in you finding the right payment gateway solutions for your WooCommerce store.
You too are looking for WooCommerce Payment Service, drop us an email or hire WooCommerce Developers from us. Share your thoughts here and let us know which payment gateway you are planning to use.