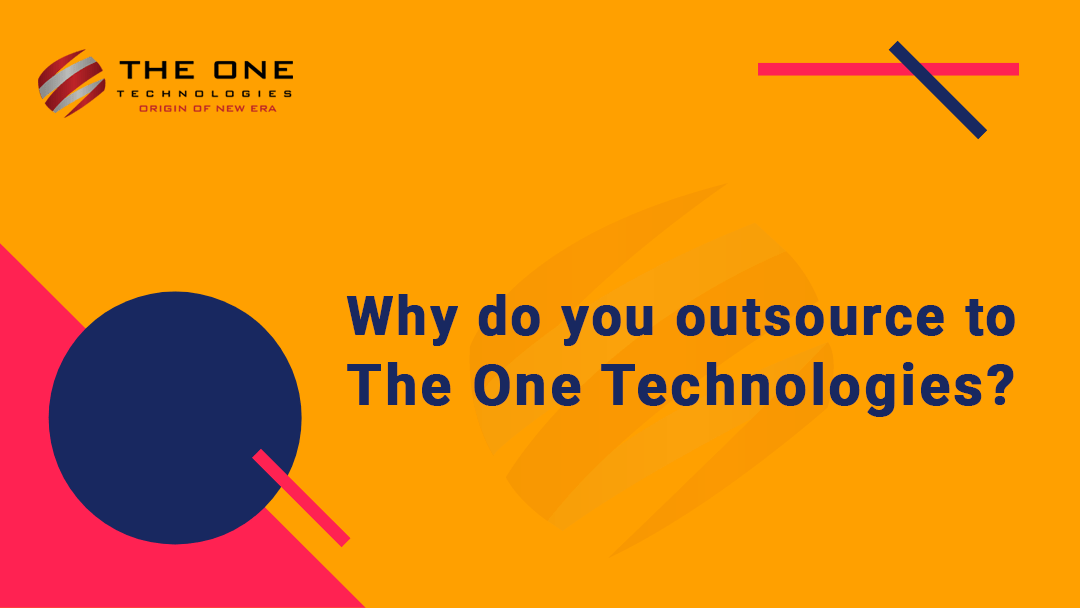 India remains unmatched when it comes to its vast pool of skilled and talented human resources in the industry of web and mobile app development. India has emerged as one of the favorites and demanding outsourcing destinations for companies planning to shift their business processes outside. You will find plenty of advantages of outsourcing to India, cost benefits and vast IT talent pool are just two. However, you need to be completely informed before outsourcing to any IT company in India and this article covers everything you might want to know.
As per the recent survey, 80% of companies in Europe and USA choose India over any other country for their outsourcing requirements.
The justification of all the above statements lies in the best outsourcing web and mobile app development company in India, you might be looking for it. And the outsourcing company, The One Technologies itself plays an important role to satisfy customer's requirements while delivering cost-effective and quality product services.
However, there are many outsourcing competitors out there, but The One Technologies has managed to outwit all others and loom as the top outsourcing harbor.
Let's share some of the advantages with you that why you should outsource your project to The One Technologies.
Reduced Expenses
It directly impacts your costing when you outsource your project to a country with lower production cost, lower cost of living for employees which means lower pay scale and operational costs.
The per-hour rates for several technology stacks have not changed in the last decade if you adjust for inflation. I can only guess that the technology supply is catching up with demand at a pace faster than it has ever. (I'd like to see come counterpoints and alternate views)
This is probably one of the most attractive advantages of outsourcing with us where one can expect the best services at the best price.
Ability to Upscale Fast and Giving Access to New Technologies
Custom application development is going to be a difficult sell for several generic outsourcing firms.
Mobile devices will play a huge role in IT outsourcing, as mobile device users will soon exceed the number of PC users.
You can Buy Specific Market Experience
The One Technologies has been fortunate enough to look at some of the best outsourcing firms from very close quarters. From what we see, traditional project management in remote situations (tool-based) would leave a way to a very collaborative/human touch approach (Telepresence & Agile are becoming mainstream). We know a team that's on hangout all the time with customers and they intersperse coding with quick conversations. The always-on chat is projected to the wall. Very effective!
Vendor evaluation and selection is a data analytic problem that is not dealt with that way. Given proper attention to research in this area, outsourcing failures will reduce. Someone has to solve this as a data problem (Hopefully it's us!)
Access to a Global Talent Pool
In this ever-changing technological world where every new day, something new is expected it becomes difficult sometimes to match the pace with the increasing competition and hiring an in-house team that gives rise to overhead costs.
In such cases, outsourcing services become a boon where one can find a variety of skilled and experienced talent without increasing the headcount.
Freelancing & Moonlighting is already getting organized. They'd get more secure as well and be enterprise-ready. This would be a big whammy for staffing & outsourcing firms that sell bodies.
Offices are considered an "obsolete way of doing business" as the boundary between office and home will become less distinct with workers often working from home.
The abundance and easy availability of dedicated offshore developers makes India tick faster and better when it comes to offering a large and intricate solution in time.
Change and Project Management
There is always a need of expertise when it comes to implementation. This is one of the riskiest areas in technology but at The One Technologies, our team deals with it all the time and will have the systems, processes, and people in place to limit the risk.
Traditional analysts will be challenged by crowd-powered analysis of firms driven by peer-data. (We're working on it)
Significant Time Saving
Companies need a dedicated team to specifically address problems like software maintenance and support which is quite time-consuming. This can be resolved easily while outsourcing as technology companies are usually providing their clients with ongoing support and software maintenance.
Hence, the direct result of IT outsourcing is the reduced time that might be needed by an in-house team to tackle problems.
Offshoring to a qualified and experienced team will also save your in-house recruiting and training expenses as well as time. Moreover, If there is a significant time zone difference with the partner company, you get the benefits of round the clock business operations.
Business Support
Business process outsourcing gives privilege to the company to work smoothly even if there is an internal issue faced. That means the part of the services outsourced will not be affected because of it.
The company can get the benefit of the ongoing process even if some employee is suddenly unavailable as in most of the cases, IT outsourcing companies have a team of employees on the bench who are very much capable to take up that role quickly.
In many cases, tech partners are not only limited to support the companies technically but also sometimes unite business parts in a way that can produce the best outcomes.
Conclusion
India has evolved as the epitome of software outsourcing hubs in the world because of its hugely talented and specialized labor pool, price-quality ratio, and strong corporate standards.
Many companies, in recent times, have shown an inclination towards outsourcing maximum functions to outsourcing companies in India. As a renowned and experienced, outsourcing company in India, The One Technologies is providing top-notch services in web and mobile app development.
With decades of experience and expertise in global web and mobile app development, we have gained the confidence of clients from all across the world. Consequently, it is apparent that The One Technologies - trusted software outsourcing company in India, has managed to carve a niche for themselves by offering not just quality services in flexible pricing, but a highly qualified skillful workforce.
Get in touch with our experts and we will let you know how your business can accomplish remarkable growth from our IT outsourcing services.