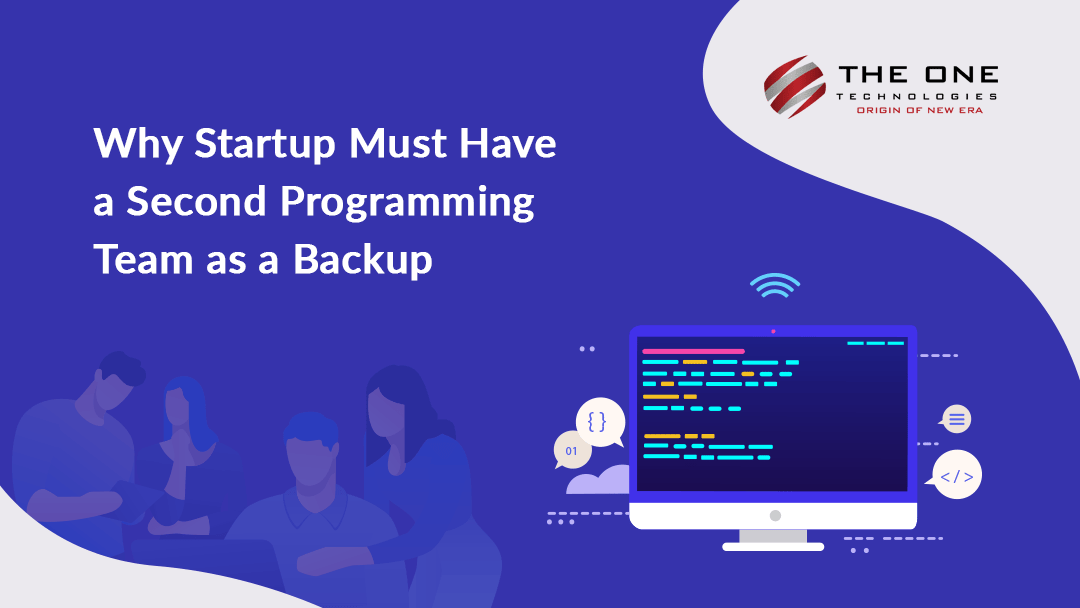 Having a second programming team as a backup is a common practice for startups which cannot afford their business loss in between development processes due to unconditional reasons. Having a dedicated team of developers as a backup has become synonymous to save your startup from a sinking boat. The dedicated team of various sizes and skills are usually available for if your startup faces some problems like - if a developer leaves the ongoing project or if developers hike their rates or your software outsourcing company is shut down.
Whatever you plan to produce - a website, a mobile app or a game, or an e-commerce portal, you don't need to worry about anything if any of the circumstances do occur. Having a backup team makes your work easier and flawless. And this is why we'd like to share some thoughts and insights into this so you could be informed better and get your programming team as a backup ready.
Why Startup may need a Second Programming Team?
Large, complex, and time consuming projects (avoiding the risk of changing developers in the process)
Developers that could possibly leave your team;
Development involving multiple technologies, frameworks, third-party services, etc. (i.e. with a certain level of unpredictability and risks).
Why a backup programming team is essential for StartUp?
When startups are approaching to work into the development sector, they are always far behind the enterprise or the companies who have been into the industry for many years - in terms of - infrastructure, talents, experience, funds, management, expertise, etc.
As a startup, if you want to grow in the development industry, it's not an easy thing to survive without having future planning. There might be some reasons that startups may face in the future and that could be affected on the client's project as well. This way they can end up either losing a project or a client. However, having proper planning or a backup might help you save from the sinking boat and help you deliver the project without having any troubles.
As we already know that a startup has already one programming team or a few developers, but here are some of the essential reasons why a startup must have a second programming team as a backup.

Your existing software outsourcing company may close the door
Well, there are certain things startups should look upon while outsourcing your project to another company. We never know what may tomorrow bring to us. There are many unpredictable things and uncertainties may happen due to the outsourcing company having to shut its doors. It could be of any reason. And this is when you may get stuck in building a bridge between the client's expectations and your reputation.
If you have a second backup team of programmers, then you can surely leave this hazard to have happened with you. So, it's better to have your backup before the outsourcing company shuts its doors for you.
You existing programming team may ask an unreasonable price hike
As a startup, you do not have enough funds at the beginning. So, you hire developers at a lower rate. If developers are working on the project since the beginning, that team knows how to deal with the code - if any problem occurs and becomes pro at it. However, their expertise makes you dependent on them and you cannot be more reliable on any other developers except them. This is when they'll ask you for a hike or increment. This would be the time when you can not deny them for their appraisal and will have to surrender yourself.
But things like this should not arise if you have made yourself ready with the precaution - backup. Like we said earlier if you have a backup team who is always there with you and no matter how they are good at it, they will walk with you adhering to the policy. You don't need to worry about hikes or increasing the price of your team if your backup is capable enough to carry the burden of your in-house developers.
Your key programmer may resign
Now, needless to say, your team of developers or an individual developer knows the insight of the project. As they are working dedicatedly on a particular project, they play an important role in the development cycle. If a developer or a team steps back from the project, you should have to pay a huge amount for the particular project. Not just about economically, but also manpower, resources, and reputation as well. If a developer or a team resigns from your company, you will not be able to bear the cost of time and money you invested in. And again you are left with no other option.
However, having a backup team ready may help you from ruining your company and reputation as well. If you have a second programming team ready as a backup, you should not worry about any resignation or exit. You can easily pass on that project to the secondary development team and get it finished in your given time period and budget. This way you can save yourself.
Advantage of diversified talent from different Software Outsourcing Company
Sometimes you cannot have a large pool of talent due to budget constraints. But if there's a requirement from the client where you cannot fulfill it with your developers, you need to reach out to the other developers or companies. You can have a plethora of talent from two different companies. So, if one company fails to offer you what you are asking for, there will be another company to have you as your back.
For example, if the client is demanding to make a native mobile application, but you are bound with android and iOS developers. Then you can easily ask to develop a native app from another company that has the native developers.
In this way, you can easily evolve into the process of fulfilling the client's promise. By having a diversified talent from different companies, you will be able to deliver what your clients are looking for.
Conclusion
Don't let other circumstances suffer your business. Having a second programming team as a backup allows startups and midsized companies to concentrate on their project and enjoy seamless service. Every startup owner or entrepreneur can hire a reliable team of software developers, should he devote sufficient time and effort to endeavor. Having a software development company or a second programming team as a backup can lead to a better result.
As a startup owner, you can win the long race only if you have made a backup plan ready. This way, you can survive in any situation and reach your density on a smoother road. And as a plethora of talented and experienced web and mobile app development companies, The One Technologies understands your journey, and destination. We are ready to provide you the support you need during any development process. No matter how many developers, resources, or expertise you need, we will always be there with you as a partner - a second programming team. Get in touch today to know more.