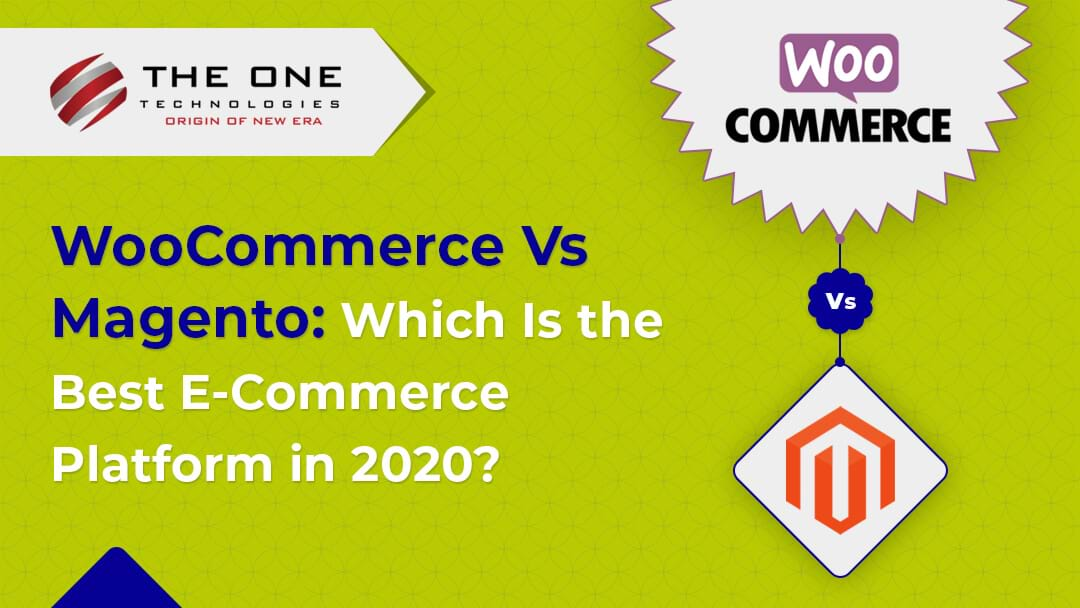 WooCommerce and Magento are two of the most popular and widely used e-commerce platforms along with other major platforms like Shopify and BigCommerce. Magento and WooCommerce are based on the PHP programming language and give you the open-source free version.
So, do you want to develop an e-commerce store, but stuck between which platforms to choose? At recent times, Magento and WooCommerce are two popular e-commerce platforms. Here in this article, as an experienced e-commerce development company, we are going to brief you about the pros and cons of Magento and WooCommerce. So, based on that, you can choose the best e-commerce platform for your business needs.
Before diving into the development phase, you must know that the platform you select for your e-commerce will be crucial for the success of your online business. You must choose the right CMS (Content Management System) so that your e-commerce business can realize its true potential in a hassle-free manner.
What's Unique About WooCommerce and Magento?
WooCommerce is an impactful plugin for the WordPress platform. It consists of all the features you expect from an e-commerce solution while retaining the ease-of-use of its parent platform.
Magento offers one of the best robust features set in the field, which makes it ideal for stores with high aspirations. It's an e-commerce platform tailored to web development professionals, and medium to large online stores.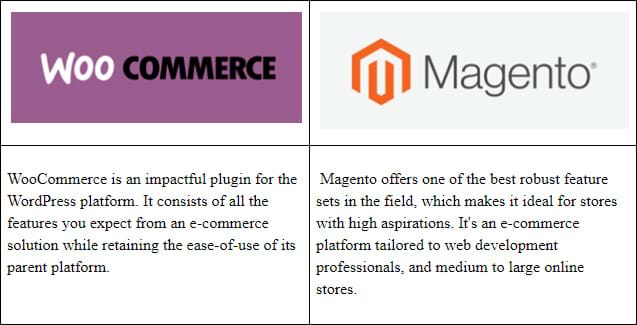 WooCommerce Vs Magento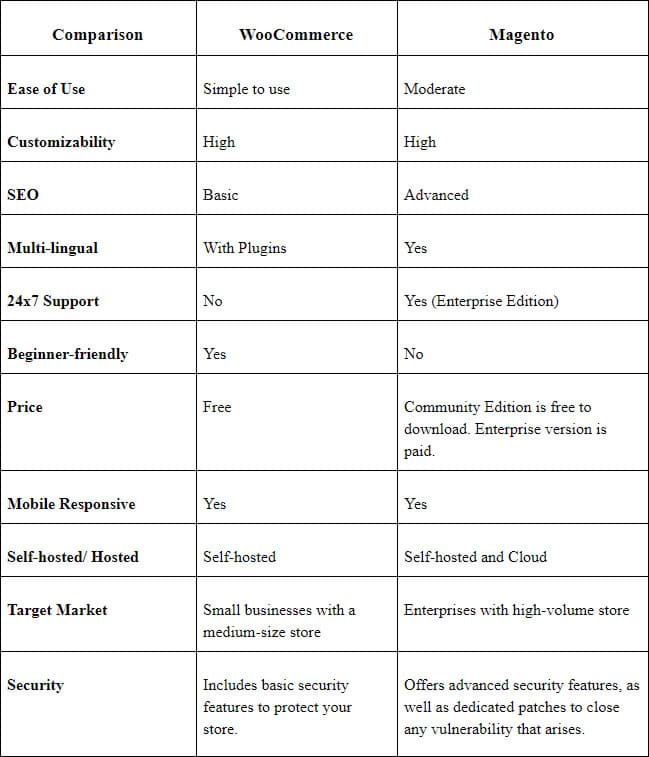 WooCommerce
WooCommerce is a great plugin for WordPress and is an easy to use interface on your WordPress platform. It's one of the simplest platforms to use, understand and maintain. The platform is easily customizable from your WordPress-Admin dashboard. WooCommerce itself is a pretty lightweight e-commerce platform so it's great for simpler e-commerce websites that also have a large content need.
On the other hand, WooCommerce can be difficult to manage and maintain as it demands many plugins to achieve the desired functionality.
Key Features:
WooCommerce supports an unlimited number of products
It offers free plugins to enhance your store
Get your own payment processor of your choice
It offers customized themes for low cost
Easy and cheap for small business – installs within minutes
Pros:
Except for web hosting, setting up a store is free.
Easy to understand and choose, if you are aware of WordPress.
Extensive documentation is available for its users.
Easy to integrate with Google Analytics using an extension.
Offers SSL support, but you need to obtain your own certificate.
Cons:
Not suitable for high order volume and scalability
Requires additional plugins to achieve ideal functionality that can lead to version conflicts and bugs
Minimal out of the box features
Not capable for large and complex catalogs
No enterprise edition of WooCommerce.
Tough to scale for larger sites
If you are not aware of WordPress, you need to learn two new platforms.
Premium themes and extensions cost you high.

Magento
Magento is considered as one of the powerful platforms that have both a free open source edition and an even more powerful Enterprise edition that you can either self-host or use as a cloud edition via Magento. When it compares to WooCommerce, Magento comes up with many loaded features, making it a far more powerful solution.
However, due to being such a large application, it is often more costly software to maintain and develop on. The disadvantage of Magento is that it is not a strong CMS compared to WooCommerce that is built on top of WordPress. Sometimes business integrates WordPress into Magento to make up for this issue.
Key Features:
Consists of hundreds of free extensions.
Easy to integrate with third-party extensions to make payments and logistics easier.
Loaded with plenty of built-in features that remove the need of additional plugins.
Point-and-click interface to improve the usability
Easily integrated with relevant APIs
Simplifies product management
Enhanced search for products
Pros:
Enterprise focused with incredible scalability
Various versions with Enterprise, Open Source, Cloud, and other products
Huge community of quality developers and high-quality agencies
Plenty options for various functionality
E-commerce first product unlike WordPress with WooCommerce
MVC framework for scalability
Strong B2B e-commerce capabilities
Strong product data capabilities for large and complex catalogs
Robust Order Management
More advanced payment and shipping capabilities
More robust promotion capabilities
Cons:
It costs high
Larger learning curve to use
Weak CMS capabilities for content-heavy sites
Larger application with higher maintenance overhead typically
Most extensions cost money
Hosting is fairly costly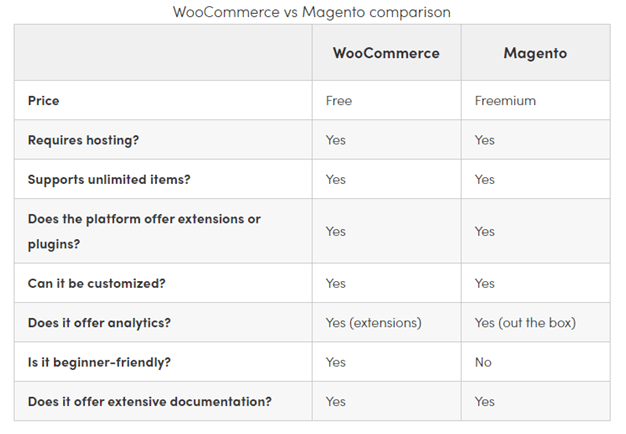 Conclusion
Choosing the right e-commerce development language - WooCommerce Vs Magento is not easy since no single platform will fit the needs of every user perfectly. While some of you may agree to opt with WooCommerce development, others may find themselves more at home with Magento development services.
If your e-commerce store has requirements like large catalog, complex, B2B e-commerce, integration, or any other major custom e-commerce feature, then Majento is the best suitable for your fit. You can also leverage Hire Magento Developers service from The One Technologies. For content-heavy sites, WooCommerce might be a better fit, especially if the content is the focus and e-commerce is secondary.
As a renowned e-commerce development company, we advise you to think of your business needs and then choose the right platform for it. Because it's not always about what you need today, but more about what you will need in the next five years, as re-platforming is an expensive process.
Hopefully, with this accurate comparison, you can choose the most suitable e-commerce platform for your business. So, what's your view on these two platforms? Kindly do share in the comment section.